Unit10: The Flood
Air Bah
The Flood
Air Bah
The people laughed at Noah.
Orang-orang itu menertawai Nuh.
But Noah knew that God had directed him.
Namun Nuh tahu bahwa Tuhan telah berfirman kepadanya.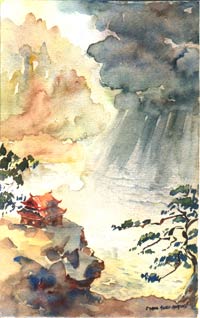 For a long time the ark moved on the waters.
Untuk waktu yang lama, bahtera itu terapung-apung di atas air.
Eventually, Noah opened the window of the ark and release a raven and a dove to see if the water had fallen.
Akhirnya, Nuh membuka jendela bahtera itu dan melepaskan seekor gagak dan merpati untuk melihat apakah air sudah surut.
The raven did not return but the dove did.
Gagak itu tidak kembali namun merpati kembali.
After seven more days the dove returned with an olive leaf in her beak.
Tujuh hari kemudian, merpati itu kembali dengan membawa sepucuk daun zaitun segar di paruhnya.
Noah knew the flood was decreasing and he would soon be able to leave the ark
Nuh mengetahui bahwa banjir telah surut dan dia akan segera keluar dari bahtera.
After another week passed, Noah sent out the dove once more.
Setelah seminggu berlalu, Nuh melepaskan merpati itu sekali lagi.
This time she did not return.
Kali ini, merpati itu tidak kembali.
Noah looked and, behold, the face of the ground was dry."
Nuh melihat dan mendapati bahwa permukaan tanah telah kering.
Then the Lord told Noah to go out, with his sons, and their wives, and all the animals.
Lalu Tuhan menyuruh Nuh untuk keluar bersama dengan anak-anaknya dan istri mereka beserta semua binatang.
"And Noah went forth, and his sons, and his wife, and his sons' wives with him: every beast, every creeping thing, and every fowl, and whatsoever creepeth upon the earth, went forth out of the ark."
"Dan Nuh keluar diikuti anak-anaknya dan istrinya dan istri anak-anaknya: setiap binatang liar, setiap binatang melata, dan setiap jenis unggas dan apapun yang merayap di atas tanah keluar dari dalam bahtera".
The first thing that Noah did when he left the ark, was to build an altar, and make an offering to God for His wonderful deliverance.
Hal pertama yang dilakukan Nuh sekeluarnya dari bahtera adalah membangun mezbah dan mempersembahkan korban kepada Allah untuk perlindungan-Nya yang luar biasa.
The Lord was pleased that Noah did this.
Tuhan berkenan bahwa Nuh melakukan ini.
The account says: "And the Lord smelled a sweet savour;
Disebutkan bahwa: "Dan Tuhan mencium bau-bauan yang harum
and the Lord said in His heart, I will not again curse the ground any more for man's sake;
dan Tuhan berkata di dalam hati-Nya, Aku tidak akan lagi mengutuk bumi demi keselamatan manusia
neither will I again smite any living thing, as I have done.
juga tidak akan melenyapkan makhluk hidup manapun seperti yang telah Kulakukan.
While the earth remains seedtime and harvest, and cold and heat, and summer and winter, and day and night shall not cease.
Selama bumi masih ada maka masa menabur dan memanen, dan dingin dan panas, dan musim panas dan musim dingin, dan siang dan malam tidak akan berhenti.
Then God promised that He would not, destroy the earth by a flood again.
Lalu Allah berjanji bahwa Dia tidak akan menghancurkan bumi dengan air bah lagi.
In order that men might remember this promise, the Lord said: "I set My bow in the cloud, and it shall be for a token of a covenant between Me and the earth.
Supaya manusia mengingat janji ini, Tuhan berfirman: "Aku menaruh busur-Ku di awan dan itu akan menjadi tanda atas perjanjian yang dibuat antara Aku dan bumi.
And it shall come to pass, when I bring a cloud over the earth, that the bow shall be seen in the cloud: and I will remember My covenant;
dan akan terjadi ketika Aku mendatangkan awan menutupi bumi maka busur itu akan terlihat di tengah awan: dan Aku akan mengingat janji-Ku
and the waters shall no more become a flood to destroy all flesh.
dan air tidak akan lagi menjadi seperti air bah yang melenyapkan semua yang hidup.
And the bow shall be in the cloud;
Dan busur itu akan ada di tengah awan
and I will look upon it, that I may remember the everlasting covenant between God and every living creature."
dan Aku akan melihatnya sehingga Aku akan mengingat perjanjian kekal antara Allah dan setiap makhluk hidup."