Unit 16: Endings In - "ing"
Akhiran -"ing"
Pictured Words
Kata Benda Konkret
New Words
Kata-kata Baru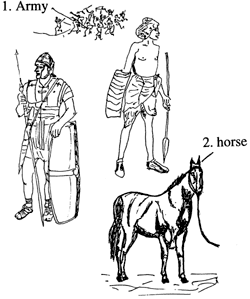 1. army
1. pasukan
2. horse
2. kuda
3. blade
3. pedang
4. angry
4. marah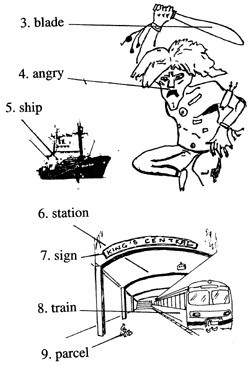 5. ship
5. kapal
6. station
6. stasiun
7. sign
7. penanda
8. train
8. kereta api
9. parcel
9. bungkusan
Nouns
Kata Benda
Adjectives
Kata Sifat
military
berkaitan dengan militer
material
berkaitan dengan benda
Sayings
Perkataan
(now mainly about new words and rules).
(terutama mengenai kata-kata baru dan aturan-aturan).
A horse has high value.
Seekor kuda sangatlah bernilai.
Gold must be given in payment for it.
Harus dibayar dengan emas.
There are all sorts of army men.
Ada berbagai jenis pasukan.
do not get angry, do not get into a fight.
jangan marah, jangan berkelahi.
My friend is missing.
Kawan saya menghilang.
Has he been killed?
Apakah dia terbunuh?
It is a good idea to take a journey in a train.
Ide yang bagus untuk berpergian dengan kereta api.
Trains give good comfort now.
Dewasa ini, kereta api memberi kenyamanan yang baik.
Endings In -"ing"
Akhiran -"ing"
Many words end in -ing.
Banyak kata berakhir dengan -ing.
In this story we have the examples:
Ada beberapa contoh dalam cerita ini:
In the coming year you will have a son in your arms.
Pada tahun depan kamu akan menggendong seorang anak lelaki.
shutting the door on him
menutup pintu baginya
shutting the door on the two of them
menutup pintu bagi mereka
Stretching himself out on the child seven times.
Membaringkan dirinya di atas tubuh anak itu sebanyak tujuh kali.
Words ending in -ing may be both nouns and adjectives.
Kata-kata berakhiran -ing bisa berupa kata benda dan kata sifat.
They help to complete the actions of our 16 verbs.
Mereka membantu melengkapi tindakan ke-16 kata kerja yang kita miliki.
Where wider English uses many verbs, the same range of things may be said by adding -ing to the noun or adjective that relates to the action.
Bahasa Inggris yang lebih luas menggunakan banyak kata kerja maka benda/hal yang sama bisa dinyatakan dengan menambahkan -ing kepada kata benda atau kata sifat yang berkaitan dengan tindakan itu.
There may be many nouns ending in -ing, such as hearing, learning, teaching, reading, writing, feeling and others:
Bisa dijumpai kata benda yang berakhiran -ing, misalnya pendengaran, pembelajaran, (peng)ajaran, (pem)bacaan, (pe)tulisan, perasaan dan lainnya:
Give ear to the teaching of a father.
Dengarkanlah (peng)ajaran seorang ayah
His blessing is on the tent of the upright.
Berkatnya tercurah atas kediaman orang benar
in running you will not have a fall.
ketika belari, kamu tidak akan terjatuh.
go without waiting
segera pergi tanpa menanti
There are also six adjectives with which the ending -ing may be used.
Juga ada enam kata sifat berakhiran -ing yang bisa digunakan.
They are: clean, cut, dry, open, separate, and shut.
Meraka adalah: bersih, potong, kering, buka, pisah dan tutup.
There are also the adjectives: boiling, hanging, pleasing and waiting.
Juga ada kata sifat: mendidih, menggantung, menyenangkan dan menunggu.
with a designing heart
hati yang penuh rancangan
Shame is like a wasting disease in his bones.
Rsaa malu adalah seperti penyakit yang menggerogoti tulangnya.
your vessels overflowing with new wine
bejanamu dipenuhi anggur baru
sweeter than the dropping honey
lebih manis ketimbang tetesan madu
Let the words of my mouth be pleasing in your eyes.
Biarlah perkataanku berkenan di hadapanmu.
Very often the ending in -ing may become an ending in -er:
Seringkali akhiran -ing berubah menjadi akhiran -er:
so is the hater of work to those who send him
demikian pula si pemalas bagi mereka yang mengutusnya
A wise son is a lover of teaching .
Anak yang bijak mencintai didikan.
take them away with the workers of evil
singkirkan mereka bersama dengan para orang jahat
more than the watchers for the morning
lebih daripada penjaga fajar
The Lord is your keeper.
Tuhan adalah penjagamu.
Words ending in -ing may also be used like adjectives after some form of the verb to be.
Kata-kata berakhiran -ing bisa juga digunakan layaknya kata sifat setelah beberapa bentuk kata kerja "menjadi".
They are:
Mereka adalah:
being, coming, doing, getting, giving, going, having, keeping, letting, making, putting, seeing, seeming, taking.
menjadi, datang, melakukan, mendapat, memberi, pergi, memiliki, menyimpan, membiarkan, membuat, menaruh, melihat, terlihat, mengambil.
These -ing forms may be followed by whatever may be necessary to complete the statement :
Semua bentuk -ing ini bisa diikuti oleh apapun juga yang diperlukan untuk melengkapi pernyataan itu:
keeping my eyes from weeping
mencegah diri saya menangis
Blessing will be on her food.
Makanannya akan diberkati
coming down to the edge of his robe
menuruni tepian jubahnya
lifting up your hands
angkat tanganmu
hanging up our instruments of music
mainkan alat-alat musikmu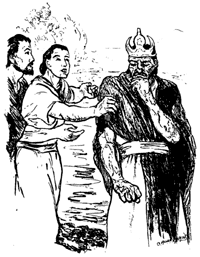 Why Be Washed Here?
Mengapa Mandi Di Sini?
Now Naaman, chief of the army of the king of Syria, was a man of high position with his master, and greatly respected, because by him the Lord had given salvation to Syria;
Naaman, kepala pasukan raja Aram, adalah orang kesayangan rajanya, dan dihormati, oleh karena dia Tuhan memberi kemenangan kepada Aram.
but he was a leper.
namun dia menderita kusta.
Now the Syrians had gone out in bands, and taken prisoner from Israel a little girl, who became servant to Naaman's wife.
Satu kali sekelompok orang Aram pergi, dan menawan seorang gadis kecil dari Israel, yang kemudian menjadi pelayan dari istri Naaman.
And she said to her master's wife, If only my lord would go to the prophet in Samaria, he would make him well.
Dan gadis kecil itu berkata kepada istri majikannya, Jika saja tuan pergi mendapati nabi di Samaria, maka dia pasti bisa menyembuhkannya.
And someone went and said to his Lord, This is what the girl from the land of Israel says.
Diutuslah seseorang dan berkata kepada Raja Aram, Inilah apa yang dikatakan oleh gadis kecil dari negri Israel itu.
So the king of Syria said, Go then;
Raja Aram berkata, Pergilah
and I will send a letter to the king of Israel.
dan aku akan menulis surat kepada raja Israel.
And he went, taking with him ten talents of silver and six thousand shekels of gold, and ten changes of clothing.
Dan Naamanpun pergi, membawa bersamanya sepuluh talenta perak dan enam ribu syikal emas, dan sepuluh helai pakaian.
And he took the letter to the king of Israel, in which the king of Syria had said, See, I have sent my servant Naaman to you;
Dan dia membawa surat itu kepada raja Israel dari raja Aram, yang isinya, Aku telah mengutus hambaku Naaman
to be made well, for he is a leper.
untuk disembuhkan dari penyakit kustanya.
But the king of Israel, after reading the letter, was greatly troubled and said, Am I God, to give death and life?
Namun raja Israel, setelah membaca surat itu, menjadi bersusah hati dan berkata, Apakah aku Allah yang bisa mengambil nyawa dan menghidupkan manusia?
why does this man send a leper to me to be made well?
mengapa raja Aram mengirim penderita kusta ini untuk disembuhkan?
is it not clear that he is looking for a cause of war?
bukankah ini hanya alasan untuk memerangi aku?
Now Elisha, the man of God, hearing that the king of Israel had done this, sent to the king, saying, Why are you troubled?
Ketika Elisa, abdi Allah itu, mendengar bahwa perkataan raja Israel, dia menulis pesan kepada raja, katanya, Mengapa kamu bersusah hati?
send the man to me, so that he may see that there is a prophet in Israel.
suruh orang itu datang kepadaku sehingga dia bisa menyaksikan bahwa ada seorang nabi di Israel.
So Naaman, with all his horses and his carriages, came to the door of Elisha's house.
Jadi Naaman, beserta semua kuda dan keretanya, tiba di depan kediaman Elisa.
And Elisha sent a servant to him, saying, Go to Jordan, and after washing seven times in its waters your flesh will be well again and you will be clean.
Dan Elisa mengutus seorang pelayannya kepada Naaman, katanya, Pergilah ke sungai Yordan, basuhlah dirimu tujuh kali di sana dan tubuhmu akan akan sembuh dan menjadi tahir.
But Naaman was angry and went away and said, I had the idea that he would come out to see such an important person as I am, and make prayer to the Lord his God, and with a wave of his hand over the place make the leper
Namun Naaman manjadi marah dan pergi dan berkata, Kukira dia akan keluar untuk menyambut seorang yang penting sepertiku, dan berdoa kepada Tuhan Allahnya, dan menggerak-gerakkan tangannya di atas tempat yang terkena kusta
Are not Abana and Pharpar, rivers of Damascus, better than all the waters of Israel?
Bukankah Abana dan Parpar, sungai di Damsyik, lebih baik dari semua sungai di Israel?
may I not be washed in them and become clean?
tidak bisakah aku mandi di sana dan menjadi tahir?
So turning, he went away in wrath.
Jadi Naaman berpaling dan pergi dengan murka.
Then his servants came to him and said, If the prophet had given you orders to do some great thing, would you not have done it?
Kemudian para hambanya mendekati dia dan berkata, Jika nabi itu memerintahkan Anda untuk melakukan sesuatu yang sulit, bukankah Anda akan melakukannya?
how much more then, when he says to you, Be washed and become clean?
apalagi jika dia hanya berkata, Mandilah maka kamu akan menjadi tahir?
Then he went down seven times into the waters of Jordan, as the man of God had said;
Lalu Naaman membasuh dirinya sebanyak tujuh kali di sungai Yordan, seperti yang dikatakan abdi Allah itu
and his flesh became like the flesh of a little child again, and he was clean.
dan tubuhnya menjadi seperti anak bayi dan dia menjadi tahir.
Additional Reading
Bacaan Tambahan
The land where Naaman had his house is a long way from Israel.
Tempat tinggal Naaman terletak jauh dari Israel.
So, the journey he took was a very hard one.
Jadi, perjalanan yang ditempuhnya sungguh sukar.
He had an army of helpers to give him comfort along the way and to take care of his goods.
Dia disertai sekelompok bujang untuk melayaninya selama perjalanan dan menjaga barang bawaannya.
Why did he make this long, hard journey?
Mengapa dia menempuh perjalanan yang jauh dan sukar ini?
It was because he had the bad disease we give the name of leprosy to.
Itu karena dia mengidap penyakit yang parah, yang dinamai kusta.
If you got leprosy you had to go away from others and live alone, probably in waste lands.
Jika terkena kusta, kamu harus menjauhi orang lain dan hidup sendirian, mungkin di tanah buangan.
It was as bad as all that.
Sungguh sangat buruk.
Naaman was fearful of that becoming his way of living.
Namaan takut bahwa hidupnya akan berakhir seperti itu.
How did Naaman get the news of a prophet in Israel?
Bagaimana Naaman mendapat berita mengenai nabi di Israel?
A little girl told him.
Seorang gadis kecil yang memberitahukannya.
We do not even have her name.
Kita bahkan tidak tahu siapa namanya.
The only knowledge we have of her is that she had lived in the beautiful high country of Israel when she was a little girl.
Satu-satunya hal yang diketahui tentang gadis kecil itu adalah dia tinggal di daerah perbukitan yang indah di Israel semasa dia kecil.
And she had been made a servant to Naaman's wife by those who took her from her land.
Dan dia telah dijadikan sebagai pelayan dari istri Naaman oleh mereka yang menawan dia dari negri asalnya.
But, she had become a friend to Naaman's wife and was so kind a little girl as to have had thought for Naaman.
Namun dia manjadi sahabat dari istri Naaman dan dia begitu baiknya sehingga memikirkan soal Naaman.
That is why he made that long journey.
Ini sebabnya Naaman menempuh perjalanan panjang itu.
He was very conscious of the need to get rid of his leprosy.
Dia sangat sadar bahwa penyakitnya harus disembuhkan.
Now, when Naaman got to the prophet in Israel, he was troubled.
Setibanya tempat kediaman nabi di Israel, dia menjadi kecewa.
The prophet did not come outside of his house to see him.
Nabi itu tidak keluar dari rumah untuk menyambutnya.
No one had ever shown so little respect for him before.
Belum pernah ada yang bersikap tidak hormat seperti itu kepadanya.
That is why he did not go quickly and take a bath in the slow running current of water in the Jordan river.
Itu sebabnya dia tidak segera pergi dan mandi di sungai Yordan yang berarus tenang.
He had too high an opinion of himself.
Dia memandang dirinya sendiri terlalu tinggi.
It was necessary for Naaman to get a smaller measure of his own importance.
Adalah penting bagi Naaman untuk dihormati atas kedudukannya.
He had two things wrong with him: leprosy and self importance.
Dia menderita dua hal buruk: penyakit kusta dan merasa dirinya penting.
The prophet had help for both.
Nabi itu telah menyembuhkan keduanya.
When Naaman was well again, he was very conscious of his great debt to the prophet.
Sesudah disembuhkan, Naaman menyadari bahwa dia sangat berhutang budi kepada nabi itu.
But it was God who had made him well.
Namun Allah-lah yang menyembuhkannya.
So, Naaman asked for two bags of earth to take back to his own country with him.
Jadi, Naaman memerintahkan untuk membawa dua karung tanah kembali ke negrinya.
It was a common belief in those times that a God lived in the earth of the country.
Adalah kepercayaan umum yang berlaku ketika itu bahwa dewa berdiam di tanah negri itu.
So, Naaman would have to make his offerings to the God of Israel when he was kneeling on that country's earth.
Jadi, Naaman harus memberikan persembahannya kepada Allah Israel dengan berlutut di atas tanah negri itu.
We now hold the view that the reason for a belief like that was a quite sensible one.
Kita sekarang berpendapat bahwa kepercayaan seperti itu boleh jadi cukup masuk akal.
In the Mediterranean countries the soil of some fields grew better plants than others.
Di negri-negri Mediterania, tanah dari beberapa padang menumbuhkan tanaman yang lebih baik ketimbang di tempat lainnya.
There were organisms in them that made them good for plants.
Ada organisme di dalam tanah yang membuat tanaman bertumbuh baik.
This seemed to say to them that a god lived in those soils.
Ini diartikan oleh mereka bahwa ada dewa yang berdiam di tanah.
And, so it was right to make offerings to that god, if you might get the earth on which to do it.
Dan, adalah benar untuk memberikan persembahan kepada Allah jika kamu bisa mendapatkan tanah untuk melakukan itu.
It was a widely held belief that offerings should be made to that god.
Itu adalah kepercayaan yang dipegang teguh bahwa persembahan harus diberikan kepada dewa itu.
Helpful Notes
Catatan Penolong
leprosy




kusta

a greatly feared disease.




penyakit yang sangat ditakuti.
talents




talenta

a money measure.




satuan uang.
shekels




syikal

a money measure.




satuan uang.
prophet




nabi

a man of god.




abdi Allah.
make prayer




doa permohonan

be crying to God for help.




berseru meminta pertolongan Allah.
waste lands




tanah buangan

hard places for living.




tempat yang sulit untuk didiami.
offerings




persembahan

something offered to the gods.




sesuatu yang dipersembahkan kepada dewa-dewi.
organisms




organisme

small living things.




makhluk hidup kecil.
salvation




keselamatan

the act of being made safe.




hasil dari penyelamatan.
Syrians




Aram

a war-like group of those times.




bangsa yang gemar berperang pada zaman itu.