Unit 1: Memories
Ingatan
Memories
Ingatan
Excerpt from a biography "Memorial to Joan Gates"
Penggalan dari biografi "Memorial of Joan Gates".
Another example of God's protection was an offer to Clive of a Ford V8 for $110, so we accepted the offer.
Contoh lain dari perlindungan Allah adalah tawaran kepada Cliff berupa sebuah Ford V8 seharga $110, kamipun menerima tawaran itu.
It was a very good car and we had some great trips: The Sequoias, the Grand Canyon, Yosemite National Park, Indio Desert with Dr Fritz Whent, Disney Land, Sandiago Zoo, Marine Land, and Descanto Camilia Gardens.
Mobil itu masih sangat baik dan kami melakukan beberapa perjalanan yang luar biasa: The Sequoias, the Grand Canyon, Yosemite National Park, Indio Desert dengan Dr Fritz Whent, Disney Land, Sandiago Zoo, Marine Land, dan Descanto Camilia Gardens.
The children just loved Disney Land, and we were given $10 by Prof. Underwood , his Professor in Agriculture in W.A., and his wife when they were visiting Cal Tech, and Clive brought them home to lunch.
Anak-anak sungguh menyukai Disney Land dan kami diberi $10 oleh Prof. Underwood, seorang professor jurusan Pertanian di W.A., dan istrinya yang ketika itu sedang mengunjungi Cal Tech dan Cliff mengajak mereka untuk makan siang di rumah kami.
He said "you must take the children to Disney Land".
Dia berkata "kamu harus membawa anak-anakmu ke Disney Land".
It was amazing.
Tempat itu sungguh mengagumkan.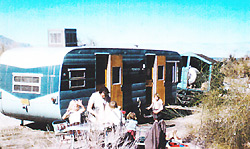 We all enjoyed the trip, such as: Tom Sawyer's Island;
Kami semua menikmati tamasya yang ada, misalnya: Tom Sawyer's Island
the trip down the river, with the Hippos coming up and blowing out water;
tamasya mengarungi sungai dengan kuda nil yang muncul dan menyemburkan air
the boat going under the waterfall without getting wet;
perahu itu menembus kaki air terjun tanpa kebasahan
a Red Indian camp, complete with Indians, wigwams, and campfire blazing;
tempat perkemahan Red Indian, lengkap dengan orang Indian, tenda Indian dan api unggun yang menyala
the big black Gorilla beating his chest all very realistic and thrilling to the children.
gorila hitam yang besar sedang memukuli dadanya sungguh terlihat hidup dan mendebarkan bagi anak-anak.
The purchase of the car took all our money till the next pay came through, as well as the payment of our Health Insurance, which is essential in USA, as medical is very expensive.
Pembelian mobil itu menghabiskan semua uang kami dan kami harus menanti gaji bulan berikutnya dibayarkan namun bersamaan dengan itu, kami juga harus membayar asuransi kesehatan yang adalah sangat penting di AS karena biaya pengobatan sungguh mahal.
So we only had the food that was in the house.
Jadi kami hanya memiliki makanan yang tersedia di rumah.
However, we all went down with Asian Flu and no one wanted to eat much.
Meski demikian, kami semua terjangkit Flu Asia dan tidak seorangpun bernafsu makan banyak.
Our daughter recovered first and went back to school.
Putri kami lebih dahulu sembuh dan kembali bersekolah.
Her lunch that day was limited, so she had to make a big thing of it and told her friend, "this is all the food we have".
Makan siangnya hari itu terbatas sehingga dia harus mencari-cari alasan soal itu dan berkata kepada kawan-kawannya, "hanya ini makanan yang tersisa untuk kami".
The story reached her teacher, so when her mother was interviewed by her teacher, she said she was concerned for our welfare.
Cerita didengar oleh gurunya sehingga ketika ibunya diwawancarai oleh si guru, dia berkata bahwa dia prihatin dengan kesejahtaraan kami.
We assured her we were quite alright, and explained the purchase of the car and Health Insurance coming together had temporally left us short till next pay.
Kami meyakinkan dia bahwa kami baik-baik saja dan menjelaskan bahwa pembelian mobil itu dan pembayaran asuransi kesehatan yang datang bersamaan telah membuat kami sementara tidak punya uang hingga gajian berikutnya.
We thanked her very much for her kind concern.
Kami berterima kasih karena perhatiannya yang begitu besar.