Unit 19: Jonah
Yunus
Jonah
Yunus
The story of the adventures of the wooden puppet, Pinocchio, concludes with his being cast into the sea supposedly to drown, but instead he is swallowed by a gigantic whale.
Kisah petualangan boneka kayu Pinokio berakhir dengan dirinya dibuang ke laut supaya tenggelam namun sebaliknya dia justru ditelan oleh ikan paus raksasa.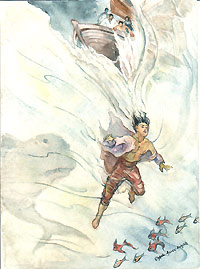 Thereafter, he lives in the belly of the great fish until he escapes to the sea again.
Setelah itu, dia tinggal di dalam perut seekor ikan besar hingga dia mencapai ke laut lagi.
One wonders just how much of the account of the concluding phases of Pinocchio's life is modelled on the adventures of Jonah when he felt constrained to go to Nineveh.
Kita mungkin bertanya-tanya seberapa banyak dari tahap akhir kisah Pinokio yang meniru petualangan Yunus ketika dia merasa enggan untuk pergi ke Niniwe.
One can only guess, but it is an appealing possibility.
Kita hanya bisa menebak-nebak namun kemungkinan itu cukup besar.
The fact is that although the account of Jonah forms a relatively insignificant part of the Scriptures, it has struck a cord in the hearts of many readers.
Kenyataannya adalah meskipun catatan tentang Yunus bukan bagian yang terlalu penting dari Kitab Suci, kisah ini mengena di hati banyak orang.
It contains an element of the fanciful as well as the awe inspiring that has made it better known than the general message of the book.
Kisah ini mengandung unsur khayalan dan juga hal yang sungguh mengilhami sehingga bagian ini menjadi lebih dikenal ketimbang isi keseluruhan dari kitab Yunus.
The artist has captured the detail of the story in her own inimical style.
Si seniman berhasil menangkap rincian dari kisah itu melalui gayanya yang khas.