Unit 19: Jonah
Jonah
Jonah
Jonah
The story of the adventures of the wooden puppet, Pinocchio, concludes with his being cast into the sea supposedly to drown, but instead he is swallowed by a gigantic whale.
La historia de las aventuras de la marioneta de madera, Pinocchio, concluye con su que es echado en el mar supuesto para ahogarse, sino que por el contrario una ballena gigantesca lo traga.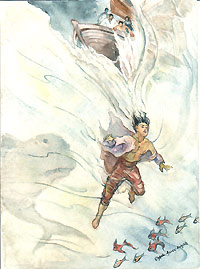 Thereafter, he lives in the belly of the great fish until he escapes to the sea again.
Después de eso, él vive en el vientre de los grandes pescados hasta que él se escapa al mar otra vez.
One wonders just how much of the account of the concluding phases of Pinocchio's life is modelled on the adventures of Jonah when he felt constrained to go to Nineveh.
Uno se pregunta apenas cuánto de la cuenta de las fases que concluyen de la vida de Pinocchio se modela en las aventuras de Jonah cuando él se sentía obligado para ir a Nineveh.
One can only guess, but it is an appealing possibility.
Uno puede conjeturar solamente, pero es una posibilidad atractiva.
The fact is that although the account of Jonah forms a relatively insignificant part of the Scriptures, it has struck a cord in the hearts of many readers.
El hecho es que aunque la cuenta de Jonah forma una parte relativamente insignificante del Scriptures, ha pulsado una cuerda en los corazones de muchos lectores.
It contains an element of the fanciful as well as the awe inspiring that has made it better known than the general message of the book.
Contiene un elemento del imaginario así como el temor que inspira que ha hecho le mejor sabido que el mensaje general del libro.
The artist has captured the detail of the story in her own inimical style.
El artista ha capturado el detalle de la historia en su propio estilo hostil.