Unit 8: Providence in Beijing
Providence en Beijing
Providence in Beijing
Providence en Beijing
Fear ye not, stand still and see the salvation of the Lord.
Tema el ye no, todavía esté parado y vea la salvación del señor.
Arrived at Beijing last night temperature 28°C perspiration pouring off me in winter clothes and sheepskin (so dressed, simply because I could not carry, push or drag another thing!).
Llegado la transpiración de la temperatura 28°C del ayer por la noche de Beijing que vierte de mí en las ropas y la zalea del invierno (vestidas tan, simplemente porque no podría llevar, empujar o arrastrar otra cosa!).
My destination was Yanji, 30 hrs journey away by train, via the Provincial city of Jilin.
Mi destinación era Yanji, 30 horas viaja lejos en tren, vía la ciudad provincial de Jilin.
That would be the nearest I could get to the border to North Korea.
Ése sería el más cercano que podría conseguir a la frontera a Corea del norte.
In view of the chronic communication lapses connected with my endeavour to date, it did not surprise me that there was no one to meet me, but the Lord had something better planned.
En la vista de la comunicación crónica los lapsos conectaron con mi esfuerzo hasta la fecha, él no me sorprendieron que había nadie para satisfacerme, pero el señor tenía algo mejor previsto.
He provided His angel a young English speaking Chinese one of His Family who procured a taxi, accompanied me to the train station;
Él proporcionó su ángel un chino de discurso uno del inglés joven de su familia que procuró un taxi, acompañado me a la estación de tren;
helped me hundreds of meters to the correct ticket office with my luggage;
ayudado me centenares de metros a la oficina correcta del boleto con mi equipaje;
ascertained that there was no possibility of my being on a train to Jilin before Thursday night, secured the ticket (a "soft sleeper");
comprobado que no había posibilidad de mi estar en un tren a Jilin antes de noche de jueves, asegurada el boleto (un "durmiente suave");
found a hotel (exceptionally difficult at this time of the year), which provides a very nice room at a reasonable price (less than $40 U.S. for two nights);
encontró un hotel (excepcionalmente difícil en esta época del año), que proporciona un cuarto muy agradable en un precio razonable (menos de $40 ESTADOS UNIDOS por dos noches);
took complete charge of my financial affairs so that I could get the most benefit out of what I was prepared to spend in Beijing;
tomó la carga completa de mis asuntos financieros de modo que pudiera conseguir la mayoría de la ventaja de lo que fui preparado para pasar en Beijing;
found a place where we could eat about 11 o'clock at night;
encontró un lugar en donde podríamos comer cerca de las 11 en la noche;
and arranged to meet me today (his day off) together with his like minded young lady, to accompany me by cab to the Great Wall of China.
y arreglado satisfacerme hoy (su día apagado) junto con el suyo como señora joven importada, para acompañarme en taxi a la gran pared de China.
As in Hong Kong, you cannot see the sky.
Como en Hong-Kong, usted no puede ver el cielo.
The pall extends out across the plain and in among the steep, rugged mountains, where we drove through picturesque scenery and interesting sights including many mule-drawn carts, and some pulled by strong little donkey
El pall extiende hacia fuera a través del llano y adentro entre el escarpado, las montañas rugosas, adonde condujimos con paisaje pintoresco y vistas interesantes incluyendo muchos carros mula-dibujados, y algunas tiraron por el pequeño burro fuerte
The trees along many city roads are really beautiful, and most of the small houses are made of brick and natural stones mortared together, which gives them a distinctive character, though, at least facing the road, the
Los árboles a lo largo de muchos caminos de la ciudad son realmente hermosos, y la mayoría de las casas pequeñas se hacen del ladrillo y las piedras naturales mortared juntas, que les da un carácter distintivo, aunque, haciendo frente por lo menos al camino,
Of course, tall apartment buildings proliferate, but not sky scrapers.
Por supuesto, los edificios de apartamento altos proliferan, pero no los raspadores del cielo.
I prefer the more open aspect of a city without sky scrapers.
Prefiero más aspecto abierto de una ciudad sin los raspadores del cielo.
It was quite a thrill to be walking with Chinese friends on the Great Wall of China, having not one arrangement to make or problem to meet during the whole period since the young man spoke to me at the airport.
Era absolutamente una emoción a caminar con los amigos chinos en la gran pared de China, teniendo no un arreglo para hacer o problema a satisfacer durante el período entero puesto que el hombre joven me habló en el aeropuerto.
If there was an example of provision made for me it was that divinely arranged encounter .
Si había un ejemplo de la disposición hecho para mí era ese encuentro divinamente dispuesto.
Without it, I could not possibly have understood what was being said to me at the railway station, or even carried my things there, or found a place to stay.
Sin él, no habría podido entender posiblemente qué era dicha a mí en el ferrocarril, o aún llevado mis cosas allí, o encontrado un lugar a permanecer.
But the wonderful thing, to me, is that it was not a one in ten thousand or more chance that I had meet this young man (in a city of 10 million);
Pero la cosa maravillosa, a mí, es que no era la que esta' en diez mil o más ocasiones que tenía reunión este hombre joven (en una ciudad de 10 millones);
it was a certainty.
era una certeza.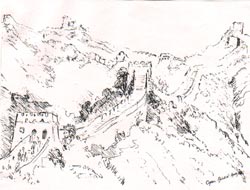 Have passed through Sheng Yang, Manchuria's largest city.
Han pasado con Sheng Yang, la ciudad más grande de Manchuria.
can not see much for miles around cities, everything fades into oblivion in a few hundred meters, even in a hundred it is dim.
no puede ver mucho para las millas alrededor de ciudades, todo se descolora en el oblivion en algunos cientos metros, uniformes en ciento que es dévil.
This soft sleeper is very comfortable, quite old with connotations of elegance in the lace antimacassars and pleated edges on the seat covers which make me think of old hotels or possibly coach interiors so to me eminently satisfactory.
Este durmiente suave es muy cómodo, absolutamente viejo con connotaciones de la elegancia en los antimacassars del cordón y los bordes plisados en las cubiertas del asiento que hacen que piensa en viejos hoteles o que entrena posiblemente interiores tan a mí eminentemente satisfactorio.
This train stops at Jilin so I have to catch another to Yanji.
Este tren para en Jilin así que tengo que coger otro a Yanji.
I wired from Beijing and asked to be met, but it seems highly unlikely do not see how anyone can, as it is impossible to find out when anything arrives or departs from anywhere.
Até con alambre de Beijing y pedí ser satisfecho, pero se parece que altamente inverosímil no vea cómo cualquier persona lata, pues es imposible descubrir cuando cualquier cosa llega o sale de dondequiera.
Even Chinese-speakers cannot do it, because nobody knows, one must find out by experience.
Incluso los Chino-altavoces no pueden hacerlo, porque nadie sabe, uno deben descubrir por experiencia.
As I am reclining comfortably at the moment, it seems of little concern.
Mientras que estoy descansando comfortablemente en el momento, se parece de poca preocupación.