Unit 4: The Importance of the Verb Operators
Pentingnya Operator Kata Kerja
Pictured Words
Kata benda konkret
New Words
Kata-kata baru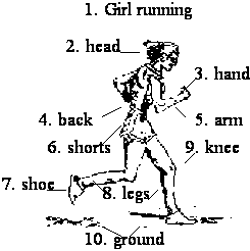 1.girl running
1. Gadis yang Berlari
2.head
2. kepala
3.hand
3.tangan
4.back
4.punggung; belakang
5.arm
5.lengan
6.shorts
6.celana pendek
7.shoe
7.sepatu
8.legs
8.tungkai
9.knee
9.lutut
10.ground
10.permukaan tanah
Nouns
Kata benda
servant
Bujang, hamba, pelayan
Adjectives
Kata sifat
low - high
Rendah - tinggi
Structure Words
Kata struktur
Sayings
Perkataan
This is a woman.
Ini adalah seorang wanita.
Have you seen her?
Apakah Anda pernah melihatnya?
She is running.
Dia sedang berlari.
She is good looking.
Dia cantik.
What is her name?
Siapa namanya?
Mrs. = Misses
Nyonya
said to an older woman.
Digunakan untuk menyapa perempuan yang lebih tua.
Ms.
Nona
may be said to either.
Bisa digunakan untuk perempuan yang lebih tua maupun muda.
The importance of verbs
Pentingnya kata kerja
We use 16 verbs and the helpers "may " and "will"to say anything we may wish.
Kita memakai 16 kata kerja dan kata bantu "boleh" dan "akan" untuk menyatakan apa yang diinginkan.
We will be joining other words to them.
Kita akan menggabungkan ke-16 kata itu dengan kata-kata lain.
These verbs may change in form in their relation to other words, so we now show some of their uses:
Kata kerja ini mungkin berubah bentuk dalam hubungannya dengan kata-kata lain sekarang kami memperlihatkan beberapa cara penggunaannya:
Put
Menaruh
to be put on the list
Untuk ditaruh di dalam daftar
She put him to rest in the place where the cattle had their food.
Dia membaringkannya di palungan tempat makan ternak.
putting questions to them
Menanyai mereka
Take
Mengambil
They took him to Jerusalem.
Mereka membawanya ke Yerusalem.
He took him in his arms.
Dia menggendongnya.
Give
Memberi
I give you good news.
Saya memberi Anda kabar baik.
They gave them an account of the things.
Mereka menceritakan tentang hal itu.
gave much thought to them
Sungguh-sunguh memikirkannya
gave praise to God
Memuji Allah
the answers which he gave
Jawaban yang diberikannya
Get
Menerima
Then Mary got up and went quickly.
Lalu Mary bangun dan pergi dengan segera.
Do not make an attempt to get more money .
Jangan berusaha untuk mendapat lebih banyak uang.
Come
Datang
it came about in those days
Terjadi pada masa itu
The time came for her to give birth.
Waktunya tiba bagi dia untuk melahirkan.
An angel of the Lord came to them.
Malaikat Tuhan mendatangi mereka.
They came quickly.
Mereka datang dengan segera.
When the days of the feast came to an end he went down with them and came to Nazareth.
Ketika masa perayaan telah berakhir, dia pergi bersama mereka ke Nazaret.
Go
Pergi
All men went.
Semua laki-laki pergi.
your servant go in peace
Bujang Anda pergi dengan damai
A sword will go through you.
sebilah pedang akan menembus Anda.
They went back to Galilee.
Mereka kembali ke Galilea.
His father and mother went to Jerusalem.
Ayah dan ibunya pergi ke Yerusalem.
Do
Melakukan
There is nothing which God is not able to do.
Tidak ada yang tidak dapat dilakukan oleh Allah.
The things which the Lord has said will be done.
Hal-hal yang telah difrimankan Allah pasti akan terjadi.
to do what was ordered
Melakukan seperti apa yang diperintahkan
They had done all the things.
Mereka sudah melakukan semua hal.
Why have you done this to us?
Mengapa anda melakukan ini kepada kami?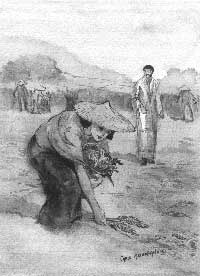 Ruth and Boaz
Rut dan Boas
Ruth the Moabitess said to Naomi, Now let me go into the field and take up the heads of grain.
Rut, orang Moab, berkata kepada Naomi, Sekarang izinkanlah saya pergi ke ladang dan mengumpulkan jelai.
And she said to her, Go, my daughter.
Dan kata Naomi kepadanya, pergilah, anakku.
She went, and came and took up the heads of grain in the field after the cutters;
Dia pergi, dan tiba di ladang dan mengumpulkan bulir-bulir di belakang para pemotong;
and by chance she went into that part of the field which was the property of Boaz.
Dan secara kebetulan dia mendatangi ladang yang dimiliki oleh Boas.
And Boaz came from Bethlehem, and said to the grain-cutters, the Lord be with you.
Dan Boaz kembali dari Bethlehem, dan berkata kepada para pemotong bulir, Tuhan bersamamu.
They made answer, the Lord give you his blessing.
Mereka menjawab, Tuhan memberkatimu.
Then Boaz said to his servant who was in authority over the cutters, Whose girl is this?
Lalu Boaz bertanya kepada bujangnya yang menjadi mandor atas para pemotong di, anak siapakah perempuan ini?
And he said it is a Moabite girl who came back with Naomi out of the country of Moab;
Dan dia mengatakan perempuan itu adalah orang Moab yang ikut bersama Naomi dari negri Moab;
and she said to me, Let me come into the grain-field and take up the grain after the cutters.
Dan katanya kepada saya, Izinkanlah saya berada di ladang dan mengumpulkan bulir-bulir di belakang para pemotong.
So she came, and has been here from morning till now, without resting even for a minute.
Jadi dia melakukan itu, dan telah berada di sini sejak pagi hingga sekarang, tanpa beristirahat sejenakpun.
Then Boaz said to Ruth, Give ear to me, my daughter: do not go to take up the grain in another field, or go away from here, but keep here by my young women: keep your eyes on the field they are cutting, and go
Lalu Boaz berkata kepada Ruth, Dengarkan saya, anakku: jangan pergi mengumpulkan bulir-bulir di ladang lain, atau beranjak dari sini, tetapi tetaplah bersama para pelayan perempuanku: bekerjalah di ladang tempat mereka bekerja, dan pergilah
have I not given orders to the young men not to put a hand on you?
Saya telah memerintahkan kepada para para pelayan pria untuk tidak mengganggumu?
When you are in need of drink go to the vessels and take of what the young men have put there.
Jika kamu haus, ambilah bejana dan minum apa yang telah disediakan oleh para pelayan pria.
Then she went down on her face to the earth, and said to him, Why have I grace in your eyes, that you give attention to me seeing I am from a strange people?
Lalu dia menunduk hingga wajahnya menyentuh tanah dan berkata kepadanya, Mengapa saya mendapat kasih karunia di matamu sehingga kamu memperhatikan saya yang adalah orang asing?
Boaz answering said to her, I have had news of everything you have done for your mother-in-law after the death of your husband;
Boas menjawabnya, saya sudah mendengar semua yang telah kamu lakukan bagi ibu mertuamu setelah kematian suamimu;
how you went away from your father and mother and the land of your birth, and came to a people who are strange to you.
Bagaimana kamu pergi dari ayah dan ibumu dan negri kelahiranmu, dan dan pergi kepada bangsa yang asing bagimu.
The Lord give you a reward for what you have done.
Allah akan melimpahkan karunia kepadamu atas semua yang telah kamu lakukan.
Additional Reading
Bacaan tambahan
In this and coming Stages, some additional reading on the story and its connections will be made.
Di tahap ini dan berikutnya, beberapa bacaan tambahan mengenai kisah itu dan kaitannya akan disajikan.
Thus your knowledge of new words will increase.
Dengan begitu pengetahuan Anda akan kata-kata baru akan bertambah.
Your range of examples will keep growing.
Cakupan contoh-contoh Anda akan bertambah pula.
The first observation to make is that the Story of Ruth has its importance in the fact that she was the great grandmother of the important ruler, King David.
Hal pertama yang perlu diperhatikan adalah kisah Rut menjadi penting dia adalah nenek buyut dari penguasa yang terkemuka, Raja Daud.
Now, she seemed to the Jews to be a person from another country.
Sekarang, dia tampak seperti orang dari negri lain di mata orang Yahudi.
She therefore did not have a good relationship with them.
Karena itu, dia tidak memiliki hubungan yang baik dengan mereka.
But, because Ruth had come all that way with her mother-in-law, she had the warm respect of the group, and especially of Boaz.
Tetapi karena Ruth telah datang sejauh itu bersama-sama dengan ibu mertuanya, dia dihormati dengan hangat oleh mereka, dan terutama oleh Boas.
She was a woman of quality.
Dia adalah perempuan yang luar biasa.
It was also the rule in that land for the poor and needy to take up the grain which might have fallen from the grain-cutters.
Adalah peraturan di negri itu bahwa orang miskin dan yang membutuhkan boleh mengumpulkan bulir-bulir yang terjatuh dari tangan para pemotong.
Naturally, there was not much that was let fall, and that was why Ruth had not rested even for a minute.
Secara alami, tidak ada banyak yang dibiarkan jatuh, dan itu sebabnya mengapa Rut belum beristirahat sejenakpun.
She was trying to see any small grains that had not been taken up by the cutters.
Dia mencoba melihat butiran kecil bulir-bulir yang tidak terambil oleh para pemotong.