Unit 7: Prepositions 2
Kata Depan 2
Pictured Words
Kata benda konkret
New Words
Kata-kata baru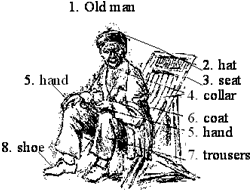 1. old man
1. orang tua
2. hat
2. Topi
3. seat
3. Tempat duduk
4. collar
4. Kerah
5. hand
5. Tangan
6. coat
6. Mantel
7. trousers
7. celana panjang
8. shoe
8.Sepatu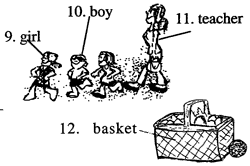 9. girl
9. Anak perempuan
10. boy
10. Anak lelaki
11. teacher
11. Guru
12. basket
12. Keranjang
Nouns
Kata benda
Adjectives
Kata sifat
Structure Words
Kata struktur
Sayings
Perkataan
Prepositions
Kata Depan
You will need to see some prepositions in groups of words.
Anda perlu mengamati beberapa kata depan dalam kelompok kata.
We call them Sentences:
kita menamainya Kalimat:
Against
menentang, melawan
The rulers are against the king of his selection.
Para penguasa melawan raja atas pilihannya.
in great numbers they come against me
Berbondong-bondong mereka datang menentang saya
I will have no fear, though ten thousand are against me.
Saya tidak akan meski sepuluh ribu orang melawan saya.
Be my guide, O Lord, because of those who are against me .
Jadi pemanduku, ya Allah, karena mereka yang menentangku.
They have gone against your authority.
Mereka telah melawan kewenanganmu.
all those who are against me
mereka yang menentang saya
who was against me without cause
Yang menentang saya tanpa sebab
Come up, Lord, against my haters.
Berindaklah, Tuhan, terhadap mereka yang membenciku.
Between
Di antara
God made a division between the light and the dark.
Tuhan memisahkan antara terang dan gelap.
a division between the waters
memisahkan di antara perairan
for a division between the day and the night
untuk memisahkan antara siang dan malam
There will be war between you and the woman.
Akan ada perang di antara kamu dan perempuan itu.
between your seed and her seed
antara keturunanmu dan keturunannya
By
Oleh
be turned by my sharp words
berbaliklah oleh karena perkataanku yang tajam
you were not controlled by my guiding
Anda tidak mengikuti tuntunan saya
to go by dark roads
Untuk melewati jalan gelap
by wisdom and by reason
dengan kebijaksanaan dan akal sehat
By his knowledge the deep was parted.
Oleh karena pengetahuannya, hal-hal yang sulit bisa dipecahkan.
when you have it by you at the time
Ketika Anda memilikinya pada saat itu
the wrong hearted man is hated by the Lord
orang yang bengkok hatinya dibenci oleh Tuhan
In
Di dalam
together in one place, fruit trees giving fruit, in which is their seed
Bersama di satu tempat, pohon buah-buahan menghasilkan buah, dan biji di dalamnya.
God put them in the arch of heaven.
Tuhan menaruh mereka di cakrawala
Let birds be in flight over the earth.
Biarlah burung berterbangan di atas bumi.
Let us make man in our image.
Mari jadikan manusia menurut gambar dan rupa kita.
God made man in his image, in the image of God.
Allah menciptakan manusia menurut gambar dan rupa-Nya, sesuai dengan gambar dan rupa Allah.
all things in them were complete
Di dalam mereka, semuanya menjadi sempurna
On
Di atas
whose mind is on his law
orang yang senantiasa merenungkan firman-Nya
on the holy hill of Zion
Di atas bukit suci Zion
causing destruction to come on you they are increased who make attacks on me!
Mereka yang menghancurkanmu, akan dibalas berlipat ganda mereka yang menyerang saya!
how long will you go on ?
Berapa lama kamu akan bertahan?
I will take my rest on my bed in peace.
Saya akan meninggal dalam damai di atas tempat tidurku.
on those whose words are false
atas kata-kata mereka yang palsu
Off
Di luar
falling back off his seat
terguling ke luar dari tempat duduknya
His head and his hands were broken off on the doorstep.
Kepala dan tangannya patah di ambang pintu.
One man took off his shoe and gave it to the other.
Seorang pria melepaskan sepatunya dan memberikannya kepada orang lain.
He took off his shoe his name may not be cut off.
Dia yang melepaskan sepatunya, namanya tidak akan dihapuskan.
your family will not be cut off by my hand
keturunanmu tidak akan diputus oleh saya
anyone who has not been cut off
Siapa saja yang belum disunat
Over
Lebih; di atas
solid arch stretching over the waters
cakrawala di atas perairan
The waters which were under the arch and those which were over it.
Perairan yang berada di bawah cakrawala dan yang di atasnya.
To have rule over the day and the night.
Untuk menguasai siang dan malam.
Let birds be in flight over the earth.
Biarlah burung berterbangan di atas bumi.
Let him have rule over the fish of the sea and over the birds of the air and over the cattle and over all the earth and over every living thing .
Biarlah dia berkuasa atas ikan di laut dan atas burung di udara dan atas ternak dan atas seluruh bumi dan atas setiap makhluk hidup.
Under
Di bawah
under whose wings you have come
kamu telah datang ke bawah naungan sayapnya
down to the underworld
turun ke dunia orang mati
the waters which were under the arch
perairan di bawah cakrawala
over the earth under the arch of heaven
di atas bumi dibawah cakrawala
from under the heaven
di bawah langit
all the mountains under heaven were covered .
Semua gunung di bawah langit tertutupi.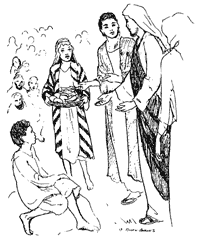 The Boy with the Barley Cakes and Fish
Anak Lelaki dengan Roti dan Ikan
Lifting up his eyes, Jesus saw a great number of people coming to, where he was, and he said to Philip, Where may we get bread for all these people?
Mengangkat kepala-Nya, Yesus melihat orang banyak yang mendatangi tempat-Nya berada, dan kata-Nya kepada Filipus, Di mana kita bisa mendapat roti bagi semua orang ini?
This he said, testing him: for he had no doubt what he himself would do.
Dia mengatakan ini untuk mengujinya: karena Dia tidak ragu sedikitpun akan apa yang akan dilakukan oleh diri-Nya.
Philip made answer, Bread to the value of two hundred pence would not be enough even to give everyone a little.
Filipus menjawab, Roti seharga dua ratus dinar tidak akan cukup untuk memberi makan setiap orang meski masing-masing hanya mendapat secuil.
One of his disciples, Andrew, the brother of Simon Peter, said to Jesus, There is a boy here with five barley cakes and two fishes;
Seorang murid-Nya, Andreas, saudara lelaki Simon Petrus, berkata kepada Yesus, ada seorang anak lelaki di sini yang membawa lima roti dan dua ikan;
but what is that among such a number?
Tetapi apalah artinya jumlah itu jika dibandingkan dengan semua orang ini?
Jesus said, Let the people be seated.
Yesus berkata, suruhlah orang-orang itu duduk.
Now there was much grass in that place.
Di sekitar tempat itu banyak tumbuh rumput.
And those seated on the grass were about five thousand.
Dan yang duduk di tempat itu berjumlah sekitar lima ribu orang.
Then Jesus took the cakes and having given praise to God, he gave them to the people who were seated, and the fishes in the same way, as much as they had need of.
Lalu Yesus mengambil roti dan sesudah mengucap syukur kepada Allah, Dia membagikan kepada mereka yang duduk sebanyak yang mereka butuhkan , dan diperbuat-Nya sama atas ikan itu.
And when they had had enough, Jesus said to his disciples, Take up the broken bits which are over, so that nothing may be wasted.
Dan ketika mereka sudah kenyang, kata Yesus kepada para murid-Nya, kumpulkan potongan yang tersisa, sehingga tidak ada yang terbuang.
So they took them up: twelve baskets full of broken bits of the five cakes which were over after the people had had enough.
dan mereka mengumpulkannya: dua belas keranjang penuh potongan roti dari lima roti yang tersisa setelah semua orang makan hingga kenyang.
When the people saw the sign which he had done, they said, Truly, this is the prophet which is to come into the world.
Ketika orang-orang melihat tanda yang telah dibuat-Nya, kata mereka, Sungguh, ini adalah nabi yang datang ke dalam dunia.
Additional Reading
Bacaan tambahan
This is the only one of Jesus' signs that is spoken of by all those who wrote about him in the gospels.
Ini adalah satu-satunya tanda yang dibuat Yesus yang dinyatakan oleh semua yang menulis tentang Dia dalam Injil.
So, this had a great effect on them all.
Jadi, peristiwa ini mempengaruhi mereka secara luar biasa.
We would give it the name, miracle, in English.
Kami menamainya, mukjizat, dalam bahasa Inggris.
It lets us see a lovely thing.
Hal ini membuat kita melihat hal-hal luar biasa.
The disciples had come back from their journey through the villages.
Para murid telah kembali dari perjalanan mereka ke desa-desa.
Jesus wanted to be alone with them so he took them to a quiet place far away in the direction of the North.
Yesus hendak menyepi bersama mereka, oleh sebab itu Dia membawa mereka ke tempat sunyi jauh di Utara.
A great number of men and women came to where he was.
Sejumlah besar lelaki dan perempuan mendatangi tempat dimana Dia berada.
But he was not too busy.
Tetapi Dia tidak terlalu sibuk.
He took time to give special attention to them, to see their need of food and to say things that were a help to them.
Dia meluangkan waktu untuk memperhatikan mereka, mengetahui bahwa mereka butuh makan dan mengatakan hal yang menolong mereka.
The real sense of this sign is that the needs of all could be covered by God, even when there was a great number of persons there.
Pengertian sesungguhnya dari tanda ini adalah kebutuhan semua orang bisa dipenuhi oleh Allah, meskipun ada banyak sekali orang di sana.
Before Jesus gave the food to the disciples he gave it his blessing.
Sebelum Yesus memberikan makanan kepada para murid, Dia memberkatinya .
He would not take food without giving thanks to the Giver of all good gifts.
Dia tidak akan mengambil makanan tanpa mengucap syukur pada Sang pemberi semua yang baik.
This was a usual thing for all Jews, and they had a special form of words for it.
Kebiasaan ini adalah lazim bagi orang Yahudi, dan mereka mempunyai kata khusus untuk itu.
The help which Jesus gave to this great number of people was more than enough for they took up twelve baskets full of food after all had been fed.
Pertolongan yang diberikan Yesus kepada orang banyak ini adalah lebih dari cukup untuk mengumpulkan dua belas keranjang penuh makanan setelah mereka semua makan.