Unit 4: The Importance of the Verb Operators
Pictured Words
New Words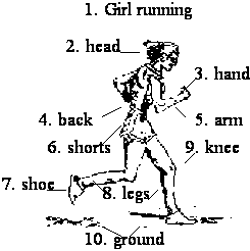 1.girl running
2.head
3.hand
4.back
5.arm
6.shorts
7.shoe
8.legs
9.knee
10.ground
Nouns
Adjectives
Structure Words
Sayings
This is a woman.
Have you seen her?
She is running.
She is good looking.
What is her name?
Mrs. = Misses
said to an older woman.
Ms.
may be said to either.
The importance of verbs
We use 16 verbs and the helpers "may " and "will"to say anything we may wish.
We will be joining other words to them.
These verbs may change in form in their relation to other words, so we now show some of their uses:
Put
to be put on the list
She put him to rest in the place where the cattle had their food.
putting questions to them
Take
They took him to Jerusalem.
He took him in his arms.
Give
I give you good news.
They gave them an account of the things.
gave much thought to them
gave praise to God
the answers which he gave
Get
Then Mary got up and went quickly.
Do not make an attempt to get more money .
Come
it came about in those days
The time came for her to give birth.
An angel of the Lord came to them.
They came quickly.
When the days of the feast came to an end he went down with them and came to Nazareth.
Go
All men went.
your servant go in peace
A sword will go through you.
They went back to Galilee.
His father and mother went to Jerusalem.
Do
There is nothing which God is not able to do.
The things which the Lord has said will be done.
to do what was ordered
They had done all the things.
Why have you done this to us?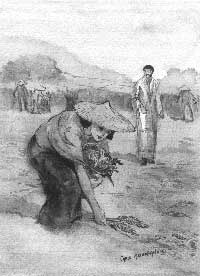 Ruth and Boaz
Ruth the Moabitess said to Naomi, Now let me go into the field and take up the heads of grain.
And she said to her, Go, my daughter.
She went, and came and took up the heads of grain in the field after the cutters;
and by chance she went into that part of the field which was the property of Boaz.
And Boaz came from Bethlehem, and said to the grain-cutters, the Lord be with you.
They made answer, the Lord give you his blessing.
Then Boaz said to his servant who was in authority over the cutters, Whose girl is this?
And he said it is a Moabite girl who came back with Naomi out of the country of Moab;
and she said to me, Let me come into the grain-field and take up the grain after the cutters.
So she came, and has been here from morning till now, without resting even for a minute.
Then Boaz said to Ruth, Give ear to me, my daughter: do not go to take up the grain in another field, or go away from here, but keep here by my young women: keep your eyes on the field they are cutting, and go
have I not given orders to the young men not to put a hand on you?
When you are in need of drink go to the vessels and take of what the young men have put there.
Then she went down on her face to the earth, and said to him, Why have I grace in your eyes, that you give attention to me seeing I am from a strange people?
Boaz answering said to her, I have had news of everything you have done for your mother-in-law after the death of your husband;
how you went away from your father and mother and the land of your birth, and came to a people who are strange to you.
The Lord give you a reward for what you have done.
Additional Reading
In this and coming Stages, some additional reading on the story and its connections will be made.
Thus your knowledge of new words will increase.
Your range of examples will keep growing.
The first observation to make is that the Story of Ruth has its importance in the fact that she was the great grandmother of the important ruler, King David.
Now, she seemed to the Jews to be a person from another country.
She therefore did not have a good relationship with them.
But, because Ruth had come all that way with her mother-in-law, she had the warm respect of the group, and especially of Boaz.
She was a woman of quality.
It was also the rule in that land for the poor and needy to take up the grain which might have fallen from the grain-cutters.
Naturally, there was not much that was let fall, and that was why Ruth had not rested even for a minute.
She was trying to see any small grains that had not been taken up by the cutters.