Unit 11: Word Order
Urutan kata
Pictured Words
Kata benda konkret
New Words
Kata-kata baru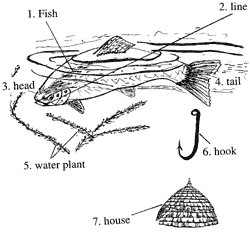 1. fish
1. ikan
2. line
2. garis
3. head
3. kepala
4. tail
4. ekor
5. water plant
5. tanaman air
6. hook
6. kait
7. house
7. rumah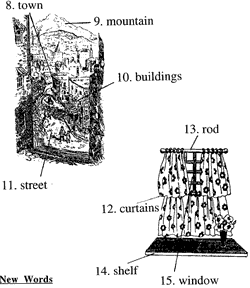 8. town
8. kota
9. mountain
9. gunung
10. buildings
10. gedung
11. street
11. jalan
12. curtains
12. tirai
13. rod
13. tangkai
14. shelf
14. rak
15. window
15. jendela
Nouns
Kata benda
brother
Saudara laki-laki
Adjectives
Kata sifat
awake - asleep
Bangun - tidur
Structure Words
Kata struktur
Sayings
Perkataan
Is it a good place to get fish?
Apakah ini tempat yang baik memancing?
I take much pleasure in fishing.
Saya sangat menikmati memancing.
Water plants are food for fish.
Tanaman air adalah makanan untuk ikan.
The streets are safe in that town.
Jalanan di kota itu aman.
It is a peaceful place.
Ini adalah tempat yang damai.
There are mountains behind the town.
Ada pegunungan di belakang kota.
Not all houses are the same.
Tidak semua rumah adalah sama.
Some are made of plant stems.
Beberapa terbuat dari batang tanaman.
WORD ORDER
URUTAN KATA
Complex statements add extra words to the simple nouns of the subject and the object.
Pernyataan majemuk menempatkan kata tambahan kepada kata benda sederhana dari subyek dan obyek.
They give expansion to the meaning.
Mereka meluaskan arti kalimat.
Here are some examples:
Beberapa contoh:
truly, I say to you
Sesungguhnya, saya berkata kepadamu
"truly" has the effect of making strong the words "I say to you".
"Sesungguhnya" mempunyai efek menguatkan kata-kata "saya berkata kepadamu".
the same is the greatest
dia adalah yang terbesar
"The same" takes the place of a group of words that came before it.
"dia" menggantikan kelompok kata yang mendahuluinya.
Those words are:
Kata-kata itu adalah:
Whoever, then, will make himself as low as this little child the same is the greatest.
Siapapun, lalu, yang merendahkan dirinya seperti anak kecil ini maka dia adalah yang terbesar.
This group of words is complete in itself.
Kelompok kata ini melengkapi diri sendiri.
It has a verb in it and so it is called a clause.
kelompok kata ini memiliki kata kerja d dalamnya dan dinamai klausa.
If it did not have a verb it would be called a phrase.
Jika tidak memiliki kata kerja dinamai frasa.
In actual fact, the form of the simple sentence is still there, but it has been expanded by putting a group of words in the place of a single noun.
Dalam kenyataannya, bentuk kalimat sederhana masih ada, tetapi telah diperluas dengan menempatkan sekelompok kata menggantikan satu kata benda.
A complex sentence gives much more detail than a simple sentence could.
Kalimat majemuk memberi lebih banyak rincian ketimbang kalimat sederhana.
Always have the simple sentence in mind.
Ingatlah selalu kalimat sederhana.
Then see how the words have been added to it as an expansion of its meaning.
Lalu lihat bagaimana kata-kata telah ditambahkan untuk memperluas artinya.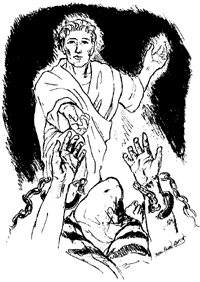 Taken Out of Prison
Dikeluarkan dari Penjara
So Peter was kept in prison: but the church made strong prayer to God for him.
Petrus dipenjara: tetapi segenap jemaat berdoa dengan tekun kepada Allah baginya.
And when Herod was about to take him out, the same night Peter was sleeping in chains between two armed men, and the watchmen were keeping watch before the door of the prison.
Dan ketika Herodes hendak mengadilinya, malam itu Petrus tidur sambil dirantai diantara dua prajurit, dan seorang penjaga sedang berjaga di depan pintu penjara.
And a great light was seen shining in the room, and an angel of the Lord came to Peter and, touching him on his side so that he came out of his sleep, said, Get up quickly.
Dan seberkas cahaya terlihat bersinar di ruangan itu, dan malaikat Tuhan mendatangi Petrus dan, menyentuh bahunya dan menyadarkannya, dan berkata, cepatlah bangun.
And his chains came off his hands.
Dan rantainya terlepas dari tangannya.
Then the angel said, Put on your shoes and get ready to go.
Lalu malaikat itu berkata, kenakanlah kasutmu dan bersiaplah untuk pergi.
And he did so.
Dan dia pun melakukan itu.
And he said, Put your coat round you and come with me.
Dan dia berkata, kenakanlah jubahmu dan ikutilah saya.
And he went out after him;
Dan Petrus pergi mengikutinya;
and he was not certain if what was done by the angel was a fact, for it seemed to him that he was seeing a vision.
Dan dia tidak yakin apakah yang diperbuat malaikat itu sungguh nyata karena Petrus merasa sedang mendapat penglihatan.
And when they had gone past the first and second watchmen they came to the iron door into the town, which came open by itself: and they went out and down one street;
Dan ketika telah melewati penjaga yang pertama dan kedua mereka tiba di depan gerbang kota, yang terbuka dengan sendirinya, mereka keluar dan menyusuri sebuah jalan;
and then the angel went away.
Dan lalu malaikat itu pergi.
And when Peter came to his senses, he said, Now, truly, I am sure that the Lord has sent his angel and taken me out of the hands of Herod, against all the hopes of the Jews.
Dan ketika Petrus tersadar, katanya, Sekarang, sungguh, saya yakin bahwa Tuhan telah mengirim malaikat-Nya dan membebaskan saya dari tangan Herodes dan semua harapan orang Yahudi.
And when he became clear about this, he went to the house of Mary, the mother of John named Mark, where a number of them had come together for prayer.
Dan ketika dia memahami semua ini, dia pergi ke rumah Maria, ibu Yohanes yang disebut Markus, disana beberapa anggota jemaat telah berkumpul untuk berdoa.
And he gave a blow on the door, and a young girl came to it, named Rhoda.
Dan dia mengetok pintu, dan seorang gadis muda menjawabnya, bernama Rode.
And hearing the voice of Peter, in her joy she went running, without opening the door, to say that Peter was outside.
Dan mendengar suara Petrus, dia dalam kegembiraannya pergi berlari, tanpa membuka pintu, untuk mengatakan bahwa Petrus ada di luar.
And they said to her, You are off your head.
Dan mereka mengatakan kepadanya, kamu mengigau.
But still she said, with decision, that it was so.
tetapi dia bersikeras bahwa itu benar.
And they said, It is his angel.
Dan mereka mengatakan, itu adalah roh Petrus.
But Peter went on giving blows on the door: and when it was open and they saw him, they were full of wonder.
Tetapi Petrus terus mengetok pintu: dan ketika mereka membukanya dan mendapati dia, merekapun terheran-heran.
Additional Reading
Bacaan tambahan
We may have a better knowledge of why Peter was in prison if we give the history behind it.
Kita bisa memahami lebih baik mengapa Petrus dipenjara jika kami mengisahkan latar belakangnya.
Peter was there because Herod had taken action to give the Jews pleasure.
Petrus dipenjara karena Herodes berusaha menyenangkan hati orang Yahudi.
They did not like the way things were going in Jerusalem.
Mereka tidak suka apa yang sedang terjadi di Yerusalem.
Herod had always made special attempts to be pleasing to the Jews so that peace would be kept in his country.
Herodes selalu berusaha menyenangkan orang Yahudi agar daerah kekuasaannya tetap damai.
So, he put Peter in prison.
Oleh sebab itu, dia memenjarakan Petrus.
It would keep peace with the Jews.
itu berarti berdamai dengan orang Yahudi.
Great care was taken to see that Peter did not get out of prison.
Penjagaan ketat dilakukan untuk memastikan Petrus tidak bisa melarikan diri.
When the story says "watchmen were keeping watch" it means there were four groups of four men each who had the work of watching.
Ketika dikisahkan bahwa "para penjaga sedang berjaga" itu berarti ada empat kelompok penjaga yang masing-masing terdiri dari empat anggota yang menjalankan perondaan .
This was necessary because they took turns through the day and then through the night, four at each watch.
Tindakan ini diambil karena mereka menjaga secara bergiliran pagi dan malam, empat orang untuk setiap giliran jaga.
In addition, a prisoner usually had chains on one hand whilst he was asleep beside a keeper, but Peter had chains joining each of his hands to each of two keepers that were by his sides.
sebagai tambahan, seorang tawanan biasanya dirantai di satu tangan ketika tidur di samping seorang penjaga, tetapi Petrus dirantai kedua tangannya dan rantai itu dikaitkan dengan dua orang penjaga di sisinya.
He was a very special prisoner.
Dia adalah seorang tawanan yang sangat istimewa.
If Peter got away those guards would be put to death, so they would have been very careful to not let him get away.
Jika Petrus melarikan diri para penjaga itu akan dihukum mati, oleh sebab itu mereka harus sangat berhati-hati untuk tidak membiarkannya kabur.
The fact that Peter did get away is beyond our knowledge.
Kenyataan bahwa Petrus dapat meloloskan diri adalah melampaui pemahaman kita.
It was because the angel came and took him out.
sebabnya adalah malaikat itu datang dan membebaskannya.
The keepers were not able to take any action to put a stop to the whole operation.
para penjaga tidak dapat mengambil tindakan apapun juga untuk menghentikan semua itu.
Light was seen, chains let go, doors came open, and Peter was taken out by the angel to be a free man.
Terlihat cahaya, rantai terlepas, pintu terbuka, dan Petrus dibawa pergi oleh malaikat; dia dibebaskan.
This was truly a miracle.
Ini sungguh-sungguh sebuah keajaiban.
The interesting thing is that those who were praying for Peter were the ones that were not able to make adjustment to his getting free.
Hal menarik adalah mereka yang sedang berdoa bagi Petrus justru tidak mampu menyesuaikan diri dengan pembebasan Petrus.
They were surprised.
Mereka terheran-heran.
But,if they had not prayed it may not have come about at all.
tetapi jika mereka tidak berdoa, semua itu mungkin tidak akan terjadi.
Peter said to give James the news of his being let out by the angel.
Petrus berpesan supaya mengabarkan Yakobus berita bahwa dia dibebaskan dari penjara oleh malaikat .
That was because James was a leader in the church.
Itu karena Yakobus adalah seorang pemimpin jemaat.
He was the brother of Jesus.
Dia adalah saudara laki-laki Yesus.
He came to belief in Jesus after he was put to death on the cross and then came back to life.
Dia percaya kepada Yesus sesudah Dia mati di atas salib dan lalu bangkit kembali.
Helpful Notes
Catatan penolong
angel




Malaikat

a servant of God.




pelayan Allah.
keeper




Penjaga

someone taking strong steps against bad acts.




seseorang yang berjaga-jaga terhadap tindakan perlawanan.
cross




salib

an instrument for death.




alat hukuman mati.
history




sejarah

the knowledge of past acts.




pengetahuan mengenai tindakan di masa lalu.
pleasure




kesenangan

giving a happy mind and heart.




menggirangkan pikiran dan hati.
chains




rantai

a thing putting a stop to body actions.




benda yang digunakan untuk membatasi pergerakan tubuh.
adjustment




penyesuaian

getting good at something..




menjadi terbiasa akan sesuatu ..