Unit 34: Complex Verbs
Kata Kerja Majemuk
Pictured Words
Kata Benda Konkret
New Words
Kata-kata Baru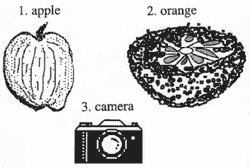 1.apple
1. apel
2.orange
2. jeruk
3.camera
3. kamera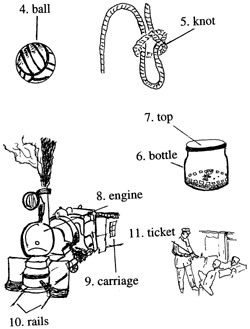 4.ball
4. bola
5.knot
5. simpul, ikatan
6.bottle
6. botol
7.top
7. bagian atas
8.engine
8. mesin
9.carriage
9. gerbong
10.rails
10. rel
11.ticket
11. karcis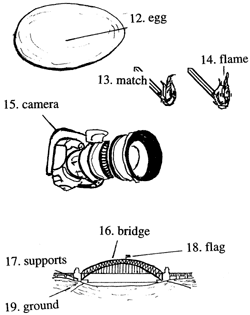 12.egg
12. telur
13.match
13. korek api
14.flame
14. api
15.camera
15. kamera
16.bridge
16. jembatan
17.supports
17. penahan
18.flag
18. bendera
19.ground
19. permukaan
Nouns
Kata Benda
orange
jeruk; warna jingga
restaurant
rumah makan, restoran
Sayings
Perkataan
He is going to have a drink of coffee at the restaurant.
Dia akan pergi minum kopi di rumah makan itu.
She is not going to take an orange but she will take an apple.
Dia tidak akan makan sebutir jeruk namun sebutir apel.
The egg has been too long under the hen and now has only a jelly inside it.
Telur itu terlalu lama dierami dan sekarang hanya berisi agar-agar.
The beef had already been put into the oven but no rice had been cooked.
Daging sapi telah ditempatkan di dalam pemanggang namun nasi belum dimasak.
I have no money but I am going to get a ticket to the ball game.
Saya tidak memiliki uang namun saya akan memperoleh karcis ke pertandingan bola itu.
I am only a beginner but I am going to take her picture with my camera.
Saya adalah seorang pemula namun saya akan memotretnya dengan kamera saya.
That hotel had kept a bottle of whisky but it did not have any tea.
Hotel itu menyimpan sebotol wiski namun tidak memiliki teh.
The bottle machine has not given her any change.
Mesin penjual botol itu belum memberinya uang kembalian.
Complex Verbs
Kata Kerja Majemuk
English expresses time in some special ways:
Bahasa Inggris menyatakan waktu dengan beberapa cara istimewa:
When saying something about the near future, a form of the verb "to be" is followed by "going to":
Ketika mengatakan sesuatu di masa depan yang dekat, sebuah bentuk dari kata kerja "menjadi" diikuti oleh "akan".
see, I am going to do a new thing.
lihat, saya tidak akan melakukan apapun.
In complex sentences "not" is placed after the first part of the verb:
Dalam kalimat majemuk "tidak" ditempatkan setelah bagian pertama dari kata kerja:
the rivers will not go over you.
sungai-sungai itu tidak akan membanjirimu.
When saying something of the past, events that go before the recent past may be said by putting "have" or "had" before the verb:
Ketika mengatakan sesuatu di masa lampau, peristiwa yang terjadi sebelum hal yang baru saja berlalu bisa dinyatakan dengan menempatkan "telah/sudah" atau "telah/sudah" sebelum kata kerja:
the things said before have come about.
perkataan yang telah dinyatakan sudah terjadi.
which he had taken from off the altar.
yang dia telah ambil dari mezbah.
Both "have" and "had" may be used in a sentence to show which act came first:
Baik "telah/sudah" dan "telah/sudah" bisa digunakan di dalam sebuah kalimat untuk memperlihatkan tindakan mana yang lebih dahulu terjadi:
If the prophet had given you orders to do some great thing would you not have done it?
Jika nabi telah memerintahkanmu untuk melakukan sesuatu yang sukar bukankah kamu akan tetap melakukannya?
The verbs you have become used to have some common qualities that make it easier to say complex things.
Semua kata kerja yang sering dijumpai memiliki beberapa ciri umum yang memudahkan untuk menyatakan hal/benda yang rumit.
These are:
Ciri-ciri itu adalah:
1. The root only changes for the past time.
1. Kata dasar hanya berubah untuk masa lampau.
2. The change for the present time is for the 3rd person only.
2. Perubahan untuk masa sekarang hanya berlaku untuk orang ketiga tunggal.
3. The future time is shown by the addition of "will".
3. Masa depan dinyatakan dengan penambahan "akan".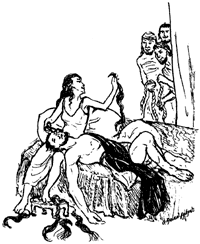 Samson And Delilah
Simson dan Delila
Now after this he was in love with a woman in the valley of Sorek, named Delilah.
Setelah ini, dia jatuh hati kepada seorang perempuan di lembah Sorek yang bernama Delila.
And the chiefs of the Philistines came up to her, and said to her,
Para raja Filistin datang kepada perempuan itu dan berkata kepadanya,
Make use of your power over him and see what is the secret of his great strength, and how we may get the better of him, and put bands on him, so that we may make him feeble;
Gunakanlah pengaruhmu atasnya dan cari tahu rahasia dari kekuatannya yang dashyat dan bagaimana kami bisa menaklukannya dan mengikat dia sehingga kami bisa membuatnya tak berdaya
and every one of us will give you eleven hundred shekels of silver.
dan setiap orang dari kami akan memberimu seribu seratus syikal perak.
So Delilah said to Samson, Make clear to me now what is the secret of your great strength, and how you may be put in bands and made feeble.
Jadi Delila berkata kepada Simson, Terangkan kepadaku apa rahasia dari kekuatan dashyatmu dan bagaimana kamu bisa diikat dan dibuat tak berdaya.
And Samson said to her, If seven new bow-cords which have never been made dry are knotted round me, I will become feeble and will be like any other man.
Dan Simson berkata kepadanya, Jika tujuh tali busur yang belum pernah dikeringkan diikatkan kepadaku maka saya akan menjadi lemah dan menjadi seperti orang biasa.
So the chiefs of the Philistines gave her seven new bow-cords which had never been made dry, and she had them tightly knotted round him.
Jadi para raja Filistin memberinya tujuh tali busur yang belum pernah dikeringkan dan dia mengikatnya erat-erat.
Now she had men waiting secretly in the inner room;
Dia menyuruh para prajurit untuk bersembunyi dan menanti di ruangan dalam.
And she said to him, The Philistines are on you, Samson, And the cords were broken by him as a twist of thread is broken when touched by a flame.
Dan dia berseru kepadanya, Simson, orang Filistin datang untuk menangkapmu. Dan tali-tali itu diputuskannya seperti gulungan benang yang terbakar api.
So the secret of his strength did not come to light....
Jadi, rahasia kekuatannya masih tersembunyi …..
And when Delilah saw that he had let her see into his heart, she sent word to the chiefs of the Philistines saying, "Come up this time, for he has let out all his heart to me".
Dan ketika Delila melihat bahwa Simson telah membuka semua isi hatinya kepadanya, dia mengirim pesan kepada para raja Filistin dan berkata, "Datanglah kali ini karena dia telah mengutarakan semua isi hatinya kepadaku".
Then the chiefs of the Philistines came to her, with the money in their hands.
Lalu para raja Filistin mendatanginya sambil membawa uang di tangan mereka.
And she made him go to sleep on her knees;
Dan dia membuat Simson tertidur di pangkuannya
and she sent for a man and had his seven twists of hair cut off;
dan dia menyuruh orang untuk mencukur ketujuh jalinan rambutnya
and while it was being done he became feeble and his strength went from him.
dan sementara itu terjadi, Simson menjadi lemah dan kekuatannya telah meninggalkan dia.
Then she said, The Philistines are on you, Samson.
Lalu dia berkata, Simson, orang Filistin datang untuk menangkapmu.
And awaking from his sleep, he said, I will go out as at other times, shaking myself free.
Terjaga dari tidurnya, dia berkata, Aku akan membebaskan diriku dan lolos seperti sebelumnya.
But he was not conscious that the Lord had gone from him.
Namun dia tidak sadar bahwa Tuhan telah meninggalkan dia.
So the Philistines took him and put out his eyes.
Jadi, orang Filistin menangkapnya dan membutakan matanya.
Then they took him down to Gaza, and, chaining him with bands of brass, put him to work crushing grain in the prison-house.
Mereka membawanya ke Gaza dan merantai dirinya dengan rantai kuningan dan menyuruhnya bekerja menggiling jelai di penjara.
But the growth of his hair was starting again after it had been cut off.
Namun rambutnya mulai tumbuh kembali setelah dicukur.
Additional Reading
Bacaan Tambahan
As a leading person in his day, Samson was a picturesque and notable man.
Sebagai orang yang terkemuka di zamannya, Simson adalah seorang yang tampan dan gagah.
Even now, knowledge of his name is quite general.
Bahkan hingga sekarang namanya masih dikenal luas.
The moving picture, Samson and Delilah, has kept our memory of him very much alive.
Film "Samson and Delilah" telah membuat kenangan kita akan dirinya tetap hidup.
In his time, Samson made several attacks on the opposing forces, the Philistines.
Di zamannya, Simson beberapa kali menyerang orang kekuatan musuh, orang Filistin.
He was a very strong man, if ever there was one.
Dia adalah seorang yang sangat kuat melebihi siapapun yang pernah ada.
He was able to carry the gates of a big town on his shoulders up a hill.
Dia mampu memikul gerbang dari sebuah kota besar di bahunya sambil mendaki bukit.
He put to death a thousand men with the mouth bone of an ass and he pulled a lion into two parts as simply as one might do a young goat.
Dia membunuh ribuan prajurit dengan tulang rahang seekor kedelai dan dia mengoyak seekor singa menjadi dua bagian seperti orang biasa melakukan itu kepada kambing muda.
The secret of Samson's great strength lay in the directions for his religious life that his mother gave to him at his birth.
Rahasia dari kekuatan dashyat Simson terletak pada arahan kehidupan rohaninya yang diberikan ibunya ketika dia dilahirkan.
One of these was that his hair should never be cut.
Salah satunya adalah rambutnya tidak boleh dipotong.
This was taken as a sign of great strength in his time.
Hal ini menjadi tanda atas kekuatan dashyat di masa itu.
That is the main thought behind this story.
Ini adalah pokok pikiran di balik kisah ini.
But, Samson does not seem to have had respect for all the rules of his religious life.
Namun Simson tampaknya tidak menghormati semua aturan dalam kehidupan keagamaannya.
He certainly did a lot of good for his nation, but he could not keep free from his strong love for women.
Dia memang melakukan banyak hal baik bagi bangsanya namun dia tidak bisa terbebas dari kecintaannya akan perempuan.
He also did not give attention to the rules of his own country and took in marriage women from the enemy forces.
Dia juga tidak memperhatikan aturan negrinya dan memperistri para perempuan dari pihak musuh.
In fact, he married at least two of them.
Bahkan dia menikahi dua perempuan dari pihak musuh itu.
The last one was Delilah, and she got him into a lot of trouble.
Yang terakhir adalah Delila dan dia mendatangkan kesulitan besar kepadanya.
So, for all his record of bravery, his natural desires got the better of him.
Jadi, semua catatan kepahlawanannya dikalahkan oleh hasrat kedagingannya.
Delilah made several attempts to get hold of Samson and give him to the Philistines.
Delila berusaha beberapa kali untuk menangkap Simson dan menyerahkan dia kepada orang Filistin.
But, he was hard to take.
Namun dia sulit ditundukkan.
She first made use of the bow strings and then he said to her that she get hold of him with new thick cords.
Pertama-tama dia mencoba dengan tali busur dan kemudian Simson berkata kepadanya bahwa Delila bisa menaklukannya dengan tali yang masih baru.
These were broken with no trouble.
Kedua tali ini bisa diputuskan tanpa kesulitan.
He then said to her to get the seven twists of his hair and have them worked into her cloth and fixed with the pin of her machine, he would then become feeble and be like any other man.
Dia kemudian berkata kepadanya agar mengikat ketujuh jalinan rambutnya dengan kain dan memancangnya ke tanah dengan patok untuk alat menenun maka dia akan lemah sama seperti orang biasa.
But, when she said the Philistines are upon you, he got up quickly from his sleep, pulling away the cloth and the machine without trouble.
Namun ketika dia berkata, Orang Filistin datang untuk menangkapmu, dia segera bangun dari tidurnya, menyentakkan jalinan dan patok itu tanpa kesulitan
He took them away with him.
Dia kemudian mengalahkan orang-orang Filistin itu.
All the time he was getting nearer to the secret and that was to have his hair cut off, as it says in our story.
Semakin lama dia semakin dekat untuk membocorkan rahasianya dan itu adalah mencukur habis rambutnya, seperti yang dikisahkan di cerita itu.
What a sad feeling he must have had when his strength was gone and he was taken as a prisoner to the main town of the Philistines, Gaza.
Dia pasti merasa sedih ketika kekuatannya hilang dan dia dibawa sebagai tawanan ke kota utama orang Filistin, Gaza.
They gave him the bitter blow of having his eyes put out.
Mereka memberinya pukulan pahit dengan membutakan matanya.
But, they made a big error, for they let his hair grow again.
Namun mereka melakukan kesalahan besar karena membiarkan rambutnya tumbuh kembali.
In the moving picture, there are full details of the play of Samson by men of small size.
Di dalam film, ada adegan yang rinci dimana Simson dipermainkan oleh orang-orang kerdil.
They got him tricked in nets so that he fell over whilst he could not see.
Mereka menipunya dengan jala sehingga di terjerembab karena dia tidak bisa melihat.
These little men had that big strong man tightly penned up.
Orang-orang kerdil ini mengikat Simson dengan erat.
All the notables among the Philistines were laughing and jumping in pleasure at this shameful punishment of the man held in their grip.
Para bangsawan Filistin tertawa dan meloncat kegirangan atas penghinaan yang dialami oleh orang yang mereka tawan itu.
It was a cruel blow for a strong man.
Itu adalah sebuah hinaan kejam bagi seorang yang kuat.
Samson had become strong again, though, and so he could give an expert reward to them by putting his arms around the two central supports of the house where all these notables were.
Simson telah menjadi kuat kembali dan bisa memberi mereka ganjaran yang setimpal dengan melingkarkan lengannya kepada dua pilar utama dari istana tempat para bangsawan itu berkumpul.
He prayed for strength again and then pulled the whole place down.
Dia berdoa agar kekuatannya kembali dan dia merobohkan tempat itu hingga rata dengan tanah.
He put out all his strength, and the house came down on the leaders of the Philistines and all the great company of people there.
Dia mengeluarkan segenap kekuatannya dan istana itu roboh ke atas para pemimpin Filistin dan semua orang yang berada di tempat itu.
He came to a sad end at the same time, but he sent to destruction more than all the Philistines he had put to death in his earlier life.
Hidupnya berakhir dengan sedih pada saat yang sama namun dia berhasil membunuh banyak orang Filistin bahkan lebih banyak daripada semasa hidupnya.
Helpful Notes
Catatan Penolong
valley of Sorek




lembak Sorek

a local name.




nama tempat.
put bands on




mengikat dia

get control over.




menaklukkan.
shekels of silver




syikal perak

a measure of silver by weight.




ukuran perak yang ditimbang.
twist of thread




jalinan benang

lines of thread wound together to give strength.




helai benang yang dijalin agar kuat.
seven twists of hair




tujuh jalinan rambut

seven was an important number.




tujuh adalah angka yang penting.
his natural desires




kehendak kedagingannya

he could not resist her sex.




dia tidak bisa menahan nafsu birahinya.
pin of machine




patok dari alat tenun

the needle that made it firm.




semacam pancang yang membuatnya kokoh.
eyes put out




dibutakan matanya

a painful punishment, he could no long see.




hukuman yang menyakitkan, dia tidak bisa lagi melihat.
tightly penned up




terikat erat

taken prisoner.




ditawan.
notables




bangsawan

the important persons of the land.




orang-orang penting negri itu.
Interesting Facts and Records
Fakta dan Catatan yang Menarik
Town of Palm Trees
Kota Pohon Palem
One of the oldest towns of which we have any knowledge is near the "Dead Sea" in Palestine.
Salah satu kota tertua yang kita ketahui terletak dekat "Laut Mati" di Palestina.
It has the name, Jericho.
Nama kota itu adalah Yerikho.
It also has the name, "Town of Palm Trees" because of the date palms growing there.
Kota itu juga dinamai, "Kota Pohon Palem" karena banyak pohon palem korma yang tumbuh di sana.
It is said by men who are experts in weather conditions that the persons who built Jericho came there at a time when the weather became warmer some twelve thousand years past.
Dikatakan oleh para pakar cuaca bahwa orang-orang yang membangun Yerikho tiba di tempat itu ketika cuaca menghangat sekitar dua belas ribu tahun lalu.
Large quantities of ice turned to water then.
Es dalam jumlah besar mencair ketika itu.
As a result, great increases in sea levels came about.
Akibatnya, permukaan air laut meninggi cukup banyak.
This put a stop to salt and fish industries along the edge of the land in Palestine.
Hal ini menghentikan industri garam dan perikanan yang terdapat di sepanjang pesisir Palestina.
Salt was needed to make leather and to keep fish fresh.
Garam dibutuhkan untuk menyamak kulit dan mengawetkan ikan.
There was another sea that was within the land of Palestine.
Ada laut lain yang berada di wilayah Palestina.
It had the name, The Dead Sea.
Namanya adalah Laut Mati.
At this place salt was easily got.
Di laut ini, garam mudah diperoleh.
Animal skins were also to be had from goats and cows, along with their meat and beef.
Kulit binatang juga diperoleh dari kambing dan sapi dan daging kedua hewan inipun diambil.
There were good quantities of butter from milk, eggs from fowls, and fruit from the palm trees
Ada tersedia mentega dalam jumlah besar yang diambil dari susu, telur dari unggas dan buah dari pohon palem.
Perhaps there were apples, but there were no oranges in those days.
Mungkin juga terdapat apel namun tidak ada jeruk pada masa itu.
There were grapes, wheat and barley to be grown.
Ada anggur, gandum dan sejenis padi-padian yang dibudidayakan.
However, there was no rice.
Namun, tidak ada beras.
The place must have seemed to have the comforts of a hotel to those who had lost their food and houses.
Tempat itu pasti terlihat nyaman layaknya sebuah hotel bagi mereka yang telah kehilangan makanan dan rumah mereka.
We can be sure that the great town of Jericho is very old.
Kita bisa yakin bahwa kota Yerikho yang besar itu berusia sangat tua.
Buildings have been built one after another.
Bangunan didirikan satu persatu.
Often they have been placed on top of earlier ones.
Seringkali bangunan itu didirikan di atas bangunan yang lama.
The place got bigger and did more and more trade.
Tempat itu menjadi semakin besar dan melakukan lebih banyak kegiatan perdagangan.
In summer, the weather was hot as an oven, but the palms gave shade.
Di musim panas, cuacanya panas seperti di dalam pemanggang namun pohon palem menyediakan tempat berteduh.
A person could take his drink of beer or wine in a shady square.
Seseorang bisa meminum bir atau anggurnya di pojokan yang teduh.
There were eat houses, or as we now would say, there were restaurants.
Ada juga rumah makan, yang kita namai sekarang sebagai restoran.
In those times there was no coffee, tea or chocolate to take as drinks.
Di zaman itu, tidak ada kopi, teh, atau coklat untuk dijadikan minuman.
There were no bottles of whisky either, for drinks were put in skins and they were often wine.
Botol wiski juga tidak ada karena minuman ditempatkan di dalam kantong kulit dan seringkali berupa anggur.
Life in Jericho would make a good story on television or in the theatre now.
Sekarang ini, kehidupan di Yerikho akan menjadi berita yang baik di televisi atau di bioskop.
Unfortunately, there were no cameras with which to take pictures in those days.
Sayangnya, tidak ada kamera untuk bisa memotret di zaman itu.
Jericho was a key town in those parts.
Yerikho adalah kota yang penting di wilayah itu.
For that reason, the fighting men under Joshua's management made the town their first point of attack after crossing the Jordan river.
Untuk alasan ini, pasukan yang dipimpin oleh Yosua menjadikan kota itu sebagai sasaran pertama yang diserang setelah menyebrangi sungai Yordan.
They were given guidance by God.
Mereka dipimpin oleh Allah.
They were to walk in a circle round the town until the walls came falling down.
Mereka harus mengelilingi kota itu hingga temboknya runtuh.
It seems a strange idea to us now.
Itu tampak seperti gagasan yang aneh bagi kita sekarang ini.
It seems like a bit of humor to our minds to see so many men going round and round.
Itu tampak seperti lelucon di benak kita untuk melihat begitu banyak orang hanya berputar-putar saja.
All the buildings and the walls, however, were on soft chalky ground.
Semua bangunan dan temboknya didirikan di atas permukaan kapur yang lunak.
They would have been safe against a direct attack but their base was weak.
Mereka mungkin masih aman terhadap serangan langsung namun fondasi mereka lemah.
The ground beneath the walls became like jelly with the stamp of so many feet.
Tanah di bawah tembok menjadi seperti agar-agar karena diinjak oleh begitu banyak orang.
This made them come to destruction as though given a kick by the feet of so many fighting men.
Ini membuat mereka hancur seakan ditendang oleh kaki begitu banyak prajurit.
No machines were used to destroy that great town.
Tidak ada peralatan yang digunakan untuk menghancurkan kota yang besar itu.
Only the wise program given by God was needed.
Hanya dibutuhkan rancangan cerdas yang diberikan Allah.