Unit 32: Adverbs of Time
Kata Keterangan Waktu
Pictured Words
Kata Benda Konkret
New Words
Kata-kata Baru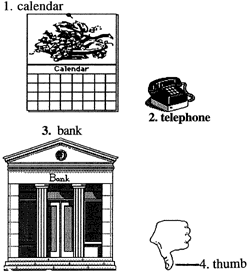 1.calender
1. penanggalan, kalender
2.telephone
2. telepon
3.bank
3. bank
4.thumb
4. ibu jari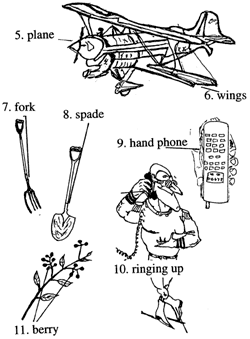 5.plane
5. pesawat terbang
6.wings
6. sayap (jamak)
7.fork
7. garpu (untuk berkebun)
8.spade
8. sekop
9.hand phone
9. telepon genggam
10.ringing up.
10. menelepon
11.berry
11. buah beri
Nouns
Kata Benda
calendar
penanggalan, kalender
Adjectives
Kata Sifat
electric
berhubungan dengan listrik
Sayings
Perkataan
Now we may see the plane: it seems to be a jet.
Sekarang kita bisa lihat pesawat terbang itu: tampaknya itu pesawat jet.
We now have some knowledge of how we make use of our brains to tell the time.
Kita sekarang mengetahui bagaimana kita menggunakan otak untuk menentukan waktu.
Did you have the wrong number yesterday when you were trying to say something?
Apakah kamu menekan angka yang keliru kemarin ketika kamu hendak mengatakan sesuatu?
Yesterday a plane came through the mist and it was a jet.
Kemarin sebuah pesawat terbang menembus kabut dan itu adalah sebuah pesawat jet.
Tomorrow, we will come together to say some more about this suggestion.
Besok kami akan datang bersama-sama untuk membicarakan lebih jauh soal usulan ini.
Today, go to the hardware place and get a fork for the garden.
Hari ini juga, pergi ke toko peralatan dan belilah sebuah garpu untuk kebun.
When you have come, then you will be able to take that spade into the garden.
Ketika sudah tiba maka kamu bisa membawa sekop itu ke kebun.
They now say on the radio that for ever telegrams must be sent by the bank to make payments.
Dikatakan di radio bahwa telegram harus selalu dikirim oleh bank untuk melakukan pembayaran.
Will you be for ever making use of my electric goods?
Akankah kamu menggunakan peralatan listrik saya untuk selamanya?
Why not get you own?
Kenapa tidak membeli milikmu sendiri?
Planes will not ever be safer than trains.
Pesawat terbang tidak akan pernah lebih aman daripada kereta api.
Adverbs of Time
Kata Keterangan Waktu
The time at which an action is expressed may be seen in the words: "now", "then", "yesterday", "tomorrow", "ever", and "together" (which may be used for both degree and time):
Waktu ketika sebuah tindakan dilakukan bisa dinyatakan dengan kata-kata: "sekarang", "kemudian", "kemarin", "besok", "pernah", dan "bersama-sama" (bisa digunakan untuk menunjukkan tingkat dan waktu):
Now
Sekarang
now put you hand against all he has.
sekarang ulurkanlah tanganmu atas semua yang dimilikinya.
now I have become their song.
sekarang saya telah menjadi lagu untuk mereka.
now give ear to my words.
sekarang dengarkanlah perkataan mulut saya.
now my mouth is open.
sekarang mulut saya sudah terbuka.
Then
Kemudian
but then you gave me up.
namun kemudian kamu menyerahkan saya.
why then did you make me?
kenapa kemudian kamu memaksa saya?
then truly your face will be lifted up.
kemudian sesungguhnya wajahmu akan terangkat.
why then do you give me comfort?
kenapa kemudian kamu memberi saya kenyamanan?
then I will give praise to you .
kemudian aku akan memujimu.
Yesterday
Kemarin
The same yesterday, today and forever .
Tetap sama seperti kemarin, hari ini dan selamanya.
For we are but of yesterday.
Karena kita tidak hidup di masa lampau.
Tomorrow
Besok
go, and come again, and tomorrow I will give.
pergi dan kembalilah dan besok saya akan memberikan.
the Lord says tomorrow about this time .
kata Firman Tuhan, besok pada waktu ini.
Ever
Pernah
he will go on living for ever .
dia akan terus hidup selamanya.
have you ever seen destruction come?
pernahkah kamu melihat datangnya kehancuran?
we will be for ever with the Lord .
kami akan selalu bersama Tuhan.
he is ever living to make prayer
dia hidup untuk berdoa.
Together
Bersama-sama
a day when the sons of the gods came together.
satu hari ketika semua anak Allah datang bersama-sama.
all of them come together in a mass.
mereka semua berkumpul membentuk sekumpulan orang banyak.
they get together under the thorns .
mereka bergerombol di bawah duri-duri itu.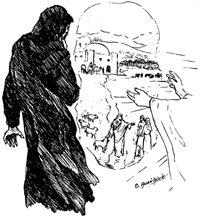 The Troubles Of Job
Kemalangan Ayub
There was a man in the land of Uz whose name was Job.
Ada seorang yang bernama Ayub di negri Us.
He was without sin and upright, fearing God and keeping himself far from evil.
Hidupnya tanpa dosa dan benar, takut akan Allah dan menjauhkan dirinya dari kejahatan.
And he had seven sons and three daughters.
Dia memiliki tujuh putra dan tiga putri.
And of cattle he had seven thousand sheep and goats, and three thousand camels, and a thousand oxen, and five hundred she-asses, and a very great number of servants.
Dalam hal ternak, dia memiliki tujuh ribu kambing domba dan tiga ribu unta dan seribu lembu dan lima ratus keledai betina dan banyak sekali pelayan.
And the man was greater than any of the sons of the east.
Orang itu jauh lebih kaya daripada semua orang yang hidup di negri timur.
His sons regularly went to one another's houses, and every one on his day gave a feast: and at these times they sent for their three sisters to take part in their feasts with them.
Para putranya saling mengunjungi dan masing-masing mengadakan perjamuan setiap harinya dan mereka juga mengundang ketiga saudara perempuan mereka untuk bersukaria bersama mereka.
And at the end of their days of feasting, Job sent and made them clean, getting up early in the morning and offering burned offerings for them all.
Dan setelah perjamuan itu usai, Ayub memanggil dan menguduskan mereka, bangun pagi-pagi dan mempersembahkan korban bakaran bagi anak-anaknya.
For Job said, It may be that my sons have done wrong and said evil of God in their hearts.
Karena Ayub berkata, Mungkin saja anak-anakku telah berlaku salah dan berkata buruk tentang Allah di dalam hati mereka.
And Job did this whenever the feasts came round.
Dan Ayubpun melakukan ini setiap kali anak-anaknya mengadakan perjamuan.
And there was a day when the sons of the gods came together before the Lord, and Satan came with them.
Dan pada satu hari ketika semua anak Allah datang ke hadapan Tuhan dan Setan juga ada di sana.
And the Lord said to Satan, where do you come from?
Dan Tuhan berkata kepada Setan, darimanakah kamu?
Satan said in answer, From wandering this way and that on the earth, and walking about on it.
Setan menjawab, Dari mengelilingi dan menjelajahi bumi.
And the Lord said to Satan, Have you taken note of my servant Job, for there is no one like him on the earth, a man without sin and upright, fearing God and keeping himself far from evil?
Dan kata Tuhan kepada Setan, Sudahkah kamu memperhatikan hamba-Ku Ayub karena tidak ada seorangpun seperti dia di bumi, sesorang yang tanpa dosa dan benar, takut akan Allah dan menjauhkan dirinya dari kejahatan?
Satan said in answer to the Lord, Is it for nothing that Job is a god-fearing man?
Setan menjawab Tuhan, Apakah tidak ada imbalannya sehingga Ayub adalah orang yang takut akan Allah?
Have you yourself not put a wall round him and his house and all he has on every side, blessing the work of his hands, and increasing his cattle in the land?
Bukankah Engkau menempatkan tembok di sekeliling dirinya dan rumahnya dan semua harta bendanya, memberkati semua usahanya dan menambahkan jumlah ternaknya di padang?
But now, put out your hand against all he has, and he will be cursing you to your face.
Namun sekarang ulurkanlah tanganmu atas semua yang dimilikinya dan dia akan mengutuk diri-Mu di hadapan-Mu.
The Lord said to Satan, See, I give all he has into your hands, only do not put a finger on the man himself.
Kata Tuhan kepada Setan, Lihat, Aku menyerahkan semua miliknya ke dalam tanganmu, hanya saja jangan kau ulurkan tanganmu atas dirinya.
And Satan went out from before the Lord.
Dan Setanpun berlalu dari hadapan Tuhan.
Additional Reading
Bacaan Tambahan
The story we read here is only a part of the argument put forward in the Book of Job.
Kisah yang kita baca di sini hanyalah sebagian dari pendapat yang dikemukakan dalam kitab Ayub.
It is a very picturesque account of an interesting meeting between God and Satan.
Itu adalah sebuah catatan yang melukiskan pertemuan menarik antara Allah dan Setan.
There is a different view put forward at the close of the Book.
Ada gambaran lain yang disajikan di akhir Kitab Ayub.
There, God gives a full reward to Job for all his goodness and for being able to see that God is allmighty and has all knowledge.
Di sana, Allah menganugrahkan ayub imbalan yang berlimpah karena semua kebaikan dan kemampuannya untuk melihat bahwa Allah itu Mahakuasa dan memahami segalanya.
In between these first and last parts of the Book there is an account of what Satan did to Job and of what his friends thought about it all.
Di antara bagian pertama dan terakhir dari Kitab ini, ada catatan mengenai apa yang dilakukan Setan atas Ayub dan apa yang dipikirkan oleh kawan-kawan Ayub mengenai itu.
These two parts of the Book are very old stories, as is in keeping with the thoughts man has always had about his changing conditions of life.
Dua bagian dari Kitab ini adalah cerita yang sangat kuno, sama tuanya seperti pemikiran bahwa manusia selalu berpikir soal perubahan keadaan hidupnya.
He has seen these as a competition between good and evil or, as we see here, between God and Satan.
Manusia melihat ini sebagai pergumulan antara baik dan jahat atau seperti yang kita lihat di sini, antara Allah dan Setan.
The Book of Job makes it quite clear that the most important thing is for man to live in harmony with God's designs for him.
Kitab Ayub menerangkan dengan jelas bahwa yang terpenting adalah bagi manusia untuk hidup selaras dengan rencana Allah baginya.
That is the only way of true happiness.
Hanya inilah jalan menuju kebahagiaan sejati.
Job came face to face with many troubles.
Ayub menghadapi berbagai macam kesukaran.
His story tells us about the nature of God.
Kisahnya menceritakan kepada kita mengenai sifat Allah.
The question is equally common to the Jewish, Muslim and Christian religions, and it may be seen in Eastern ideas of "yin and yang" forces in nature.
Pertanyaan itu adalah sama di agama Yahudi, Islam dan Kristen dan bisa dilihat dalam pemikiran Timur mengenai konsep kekuatan alam "yin dan yang".
To each, the Book as a whole shows that God is greater than any system of thinking that man can put forward.
Bagi masing-masing agama, Kitab itu secera keseluruhan menyatakan bahwa Allah adalah lebih besar dari semea sistem pemikiran manusia yang ada.
God is so great that our limited minds are not able to get a knowledge of his ways.
Allah begitu besar sehingga pikiran kita yang terbatas tidak bisa memahami semua jalan-Nya.
The story is often seen by writers as a story about Job's physical illnesses.
Kisah ini sering dianggap oleh para penulis sebagi cerita mengenai penyakit fisik yang diderita Ayub.
When we take a close look at what is said in the Book of Job, we see that he did not say as much about his physical condition, cruel as it was, as he did about his reaction to the change in his
Ketika mencermati lebih dalam apa yang dikatakan dalam kitab Ayub, kita bisa lihat bahwa dia berbicara sedikit soal keadaan fisiknya, meskipun semua itu membuatnya menderita, namun lebih banyak mengenai tanggapannya atas perubahan dalam hidupnya.
He did not seem to be in agreement with the view of his friends that God gave well being to the good and punishments to the bad.
Dia tampaknya tidak menyetujui pandangan para sahabatnya yang berkata bahwa Allah memberkati yang baik dan menghukum yang jahat.
Of course, that was the view taken by common agreement in his times.
Tentu saja, pandangan itu diterima oleh umum pada zamannya.
In fact, that view has always had great attraction to thinkers right throughout time.
Bahkan pandangan itu selalu menarik perhatian para pemikir sepanjang masa.
Job was more conscious of his relations with the people of his own town, with the commoners in his group, and with his own circle of friends than with the physical troubles that were his.
Ayub lebih memperhatikan hubungannya dengan orang-orang di kotanya, dengan orang-orang yang sekelompok dengannya dan dengan kawan sepergaulannya ketimbang penderitaan fisik yang dialaminya.
His near circle of friends were the ones that gave him most pain.
Para sahabat dekatnya adalah orang-orang yang justru menyakiti dia.
They said he was ill because he had done wrong.
Mereka berkata bahwa dia menjadi sakit karena telah berdosa.
But, he was not in agreement with them.
Namun dia tidak setuju dengan mereka.
He said he had not done anything to give God a reason for having him punished.
Dia berkata bahwa dia tidak melakukan apapun yang memberikan alasan kepada Allah untuk menghukumnya.
It was quite usual for the circle of people among whom he had lived to have property and spend their time in play.
Adalah umum bahwa di dalam lingkungan pergaulan dimana Ayub untuk memiliki banyak harta benda dan dan menghabiskan waktu dengan bersukaria.
Others had to do hard work, but they had lives of ease.
Orang lain harus bekerja keras namun mereka hidup dengan nyaman.
So, it seemed to Job's friends that he had done something for which to be punished, even if only for his own personal profit.
Jadi, para sahabat Ayub menganggap dia telah melakukan sesuatu yang patut dihukum, meskipun perbuatan itu hanya berupa keuntungan bagi dirinya sendiri.
Job put strong arguments against that idea.
Ayub menentang keras pendapat itu.
Helpful Notes
Catatan Penolong
land of Uz




negri Us

we have no knowledge of this land now.




kita tidak mengetahui di mana negri ini berada sekarang.
keeping far from evil




menjauhkan diri dari kejahatan

a right living man.




orang yang hidupnya saleh.
oxen and asses




lembu dan keledai

these were signs of progress, a man of substance.




ini adalah tanda dari kemakmuran, hartawan.
offering burned offerings




mempersembahkan korban bakaran

a religious service.




ibadah keagamaan.
put a wall round




menempatkan tembok mengelilingi

given special care.




menjaga dengan khusus.
picturesque account




catatan yang menggambarkan

an interesting way of saying things.




cara yang menarik untuk menyatakan sesuatu.
yin and yang




ying dan yang

the view of life taken by Asian countries.




pandangan hidup yang dianut oleh negara-negara di Asia.
physical condition




keadaan fisik

state of health.




kesehatan jasmani.
conscious of relations




sadar akan hubungan

having knowledge of other's feelings.




mengetahui perasaan orang lain.
Interesting Facts and Records
Fakta dan Catatan yang Menarik
Weather And Nature
Cuaca dan Alam
Early man was very close to nature.
Manusia pada zaman dahulu sangatlah dekat dengan alam.
His whole life was in rhythm with the changes of the seasons.
Seluruh hidupnya dipengaruhi oleh perubahan musim.
So, it comes as no surprise that one of the oldest books, that of Job, says much about natural things, as we may see here:
Jadi, tidak mengherankan bahwa salah satu Kitab yang tertua, yakni Ayub, berbicara banyak soal hal-hal alami, seperti yang kita lihat dalam:
By whom has the way been cut for the flowing of the rain, and the flaming of thunder;
Bagi dia jalan telah diputus oleh aliran air hujan dan kilatan petir.
Causing rain to come on the land ...
Menurunkan hujan ke atas bumi ….
to make dry land green with young grass?"
untuk menumbuhi tanah tandus dengan rumput muda?"
Life was on a completely different plane then by comparison with now.
Hidup adalah sesuatu yang berbeda ketika itu jika dibandingkan dengan sekarang ini.
In those times there were no railways, radios, telephones or telegrams.
Di zaman itu, belum ada jalur rel, radio, telepon atau telegram.
These are the products of modern hardware in today's way of life.
Semua ini adalah perangkat keras modern yang dihasilkan oleh gaya hidup zaman sekarang.
Time was not being troubled in early times by calendars with their weeks and months.
Pada zaman dahulu, waktu tidak direpotkan dengan penanggalan yang menghitung minggu dan bulan.
Man could comb the forests for wild berries, take the liquid stored in a sweet fruit.
Manusia bisa memetik buah beri liar di hutan, menyimpan cairan yang terdapat dalam buah-buahan manis.
He could go digging with a spade in the fields.
Dia bisa menggali tanah dengan sekop.
He could smell with his nose the perfume of the flowers.
Dia bisa mengendus wangi bunga dengan hidungnya.
His only desire was to get knowledge of nature's secrets and unlock them for his own existence.
Satu-satunya hasrat dirinya adalah untuk memahami rahasia alam dan memecahkan itu untuk kelangsungan hidupnya.
In this, the weather had a decisive role.
Dalam hal ini, cuaca berperan penting.
There are two main effects of changes in the weather.
Ada dua dampak utama dari perubahan cuaca.
There are the short bursts that man is conscious of from day to day.
Ada yang berjangka waktu pendek yang dialami orang setiap harinya.
There are also trends over a long time that he is unable to sense as they are occurring.
Ada juga kecenderungan yang berlaku untuk waktu yang lama dan tidak bisa dirasakan manusia ketika itu terjadi.
of rain, ice and fire" is a short burst that can have great effects.
Hujan, es dan api adalah hal-hal jangka pendek yang bisa berdampak besar.
In battle, ice and thunder in an electrical storm often sent destruction on a lightly dressed army.
Dalam pertempuran, es dan petir dalam badai listrik seringkali menghancurkan pasukan yang tidak berpakaian lengkap.
It is recorded that early this century the Chinese were putting the Mongols to flight.
Tercatat bahwa pada awal abad ini, orang Cina sedang mengusir bangsa Mongol.
A sudden jet of icy air came striking on them.
Semburan es tiba-tiba menyerang mereka.
At this, the heavily clothed Mongols got the upper hand.
Ketika itu, pakaian lengkap yang dikenakan oleh orang Mongol memberikan keuntungan.
We read of similar destruction happening in the Scriptures.
Kita juga membaca kehancuran serupa di dalam Kitab Suci.
Gideon made his attack under cover of darkness.
Gideon melakukan penyerangannya di tengah kegelapan.
A thick mist or a coal black bank of cloud were just as effective.
Kabut tebal atau awan gelap juga sama efektifnya.
Farmers have always lived close to nature.
Para petani selalu hidup dekat dengan alam.
For hundreds of years farmers have put their seed into the earth.
Selama ratusan tahun, para petani telah menyebar benihnya ke atas tanah.
They would wait for rain before breaking up the land with forks or spades.
Mereka akan menanti hujan sebelum membolah-balik tanah dengan garpu atau sekop.
They would let the ice and snow of winter make the earth soften further and they would put out the plants at the right turn of the moon.
Mereka akan membiarkan es dan salju di musim dingin membuat tanah menjadi lebih empuk dan mereka akan menanam tumbuhan pada saat pergantian bulan yang benar.
These are all short time effects of changing weather.
Ini semua adalah dampak jangka pendek dari perubahan cuaca.
There are also long time effects.
Ada juga dampak jangka panjangnya.
The events that the prophets had so much to say about all took place while a very long time change was taking place.
Peristiwa yang telah dinyatakan oleh para nabi terbukti sementara itu sebuah perubahan jangka panjang juga sedang berlangsung.
Men who have become experts on changes in the weather tell us that the earth got gradually colder from the time of King David until the tail end of the times of the prophets.
Mereka yang telah memahami tentang perubahan cuaca memberitahukan bahwa bumi secara bertahap bertambah dingin sejak zaman Raja Daud hingga akhir dari masa para nabi.
It then began to get warmer.
Kemudian bumi mulai menghangat.
For these reasons water turned to ice in the north as it got colder.
Untuk semua alasan inilah, air berubah menjadi es di utara ketika bumi mendingin.
When the weather became warmer this ice melted and sea levels rose.
Ketika cuaca menghangat, es ini mencair dan permukaan air laut akan naik.
The rise in the sea was enough to make the town of Tyre, on the edge of the Mediterranean, go beneath the waves.
Naiknya permukaan laut cukup untuk membuat kota Tirus yang terletak di tepi Mediterania untuk ditelan ombak.
The strange thing is that the prophet Isaiah had said this would happen hundreds of years before.
Hal yang aneh adalah nabi Yesaya telah menyatakan ini ratusan tahun sebelumnya.