Unit 35: Money
Uang
Pictured Words
Kata Benda Konkret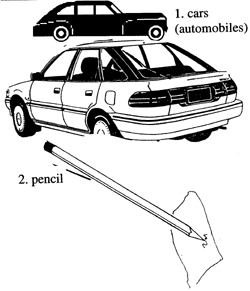 cars (automobiles)
mobil
pencil
pensil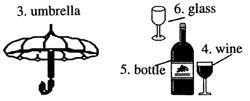 umbrella
payung
wine
minuman anggur
bottle
botol
glass
gelas
New Words
Kata-kata Baru
Nouns
Kata Benda
police
polisi, kepolisian
Adjective
Kata Sifat
Sayings
Perkataan
Is this the bus stop?
Apakah ini perhentian bus?
What is the price of a rail ticket?
Berapa harga karcis kereta?
Please give me some small change to put in my pocket.
Tolong berikan saya uang receh untuk dimasukkan ke dalam saku.
Are the police at the station?
Apakah para polisi berada di stasiun?
What time does the train leave?
Jam berapa kereta api berangkat?
You may get the time from the clock.
Kamu bisa mengetahui waktu dari jam dinding itu.
There are taxis at the station, which is near the town square.
Ada beberapa taksi di stasiun yang terletak dekat dengan alun-alun kota.
I have come to hire a car, fill it up, please.
Saya datang untuk menyewa sebuah mobil, tolong diisi penuh tangki bensinnya.
Where will I get some wine?
Dimana saya bisa memperoleh minuman anggur?
Money
Uang
You have seen the words talent and shekel in some of the stories:
Anda telah menjumpai kata talenta dan syikal di beberapa cerita:
The Queen of Sheba gave King Solomon "a hundred and twenty talents of gold".
Ratu negri Syeba memberi Raja Salomo "seratus dua puluh talenta emas".
Naaman took with him "ten talents of silver and six thousand shekels of gold".
Naaman membawa serta "sepuluh talenta perak dan enam ribu syikal emas".
These are examples of special measures for money in Israel.
Keduanya adalah contoh khusus dari satuan uang di Israel.
The two metals gold and silver have always been of great value in trade between nations.
Kedua logam emas dan perak selalu bernilai tinggi dalam perdagangan antar bangsa.
In other countries, there are many other substances which were made use of as money, even down to brightly colored bits of glass.
Di negara lain, ada banyak bahan lain yang digunakan sebagai uang bahkan digunakan pula pecahan gelas yang berwarna cerah.
You will need to know the English systems of money measurement.
Anda perlu mengetahui sistem penghitungan uang dalam bahasa Inggris.
They were once based on a weight of gold and silver.
Mereka dulu didasarkan atas berat emas dan perak.
The term pound was once such a measure.
Istilah pound adalah ukuran yang semacam itu.
The pound is still the main measure in Britain.
Pound masih menjadi ukuran di Inggris.
But in America the main unit of money is the dollar.
Namun di Amerika, satuan utama uang adalah dolar.
Pounds are divided into shillings and pence in Britain.
Pound dibagi ke dalam shiling dan pence di Inggris.
Dollars are divided into quarters and cents in America.
Dolar dibagi ke dalam dua puluh lima sen dan sen di Amerika.
There are special names for the sub-divisions of these units in different countries that now use the English language. So, it is not possible to give a full list here.
Ada nama-nama khusus bagi pembagian dari semua satuan ini di berbagai negara yang menggunakan bahasa Inggris. Jadi, tidak mungkin untuk menyediakan daftar yang lengkap di sini.
All you need to know is that the British say pounds, shillings and pence and the Americans say dollars, quarters and cents.
Yang perlu Anda ketahui adalah bahwa orang Inggris menggunakan pound, shiling dan pence sedangkan orang Amerika menggunakan dolar, dua puluh lima sen dan sen.
You will quickly make adjustments in the country of your choice.
Anda akan segera menyesuaikan satuan ini di negara yang Anda pilih.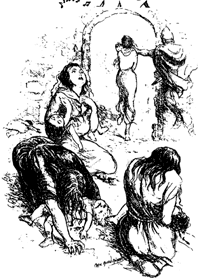 Herod Takes Action
Herodes Bertindak
An angel of the Lord came to Joseph in a dream, saying, Get up and take the young child and his mother, and go into Egypt, and do not go from there till I give you word;
Seorang malaikat Tuhan mendatangi Yusuf dalam mimpi, berkata, Bangunlah dan bawa Anak bayi itu dan ibu-Nya, dan pergilah ke Mesir dan jangan pergi dari sana hingga kuberitahukan kepadamu
for Herod will be searching for the young child to put him to death. So he took the young child and his mother by night, and went into Egypt;
karena Herodes akan mencari anak-anak bayi untuk dibunuh. Jadi dia membawa Anak bayi itu dan ibu-Nya di malam hari dan pergi ke Mesir
and was there till the death of Herod, so that the word of the Lord through the prophet might come true, Out of Egypt have I sent for my son.
dan mereka tinggal di sana hingga Herodes mati sehingga firman Tuhan melalui perantaraan para nabi digenapi, Dari Mesir kupanggil Anak-Ku.
Then Herod, when he saw that he had been tricked by the wise men, was very angry;
Lalu Herodes ketika mengetahui bahwa dirinya ditipu oleh para orang Majus menjadi sangat marah
and he sent out, and put to death all the male children in Beth-lehem and in all the parts round about it, from two years old and under, acting on the knowledge which he had got with care from the wise men.
dan dia memerintahkan untuk membunuh semua bayi lelaki yang berusia dua tahun dan di bawahnya, di Betlehem dan daerah sekitarnya karena begitulah apa yang berhasil diketahui oleh Herodes dari para orang Majus.
But when Herod was dead, an angel of the Lord came in a dream to Joseph in Egypt saying, Get up and take the young child and his mother, and go into the land of Israel: because they who were attempting to take
Namun ketika Herodes sudah mati, seorang malaikat Tuhan mendatanginya dalam mimpi di Mesir dan berkata, Bangunlah dan bawa Anak kecil itu dan ibunya, dan pergilah ke negri Israel: karena mereka yang berusaha untuk membunuh Anak itu sudah mati.
And he got up, and took the young child and his mother, and came into the land of Israel.
Dan dia bangun dan membawa Anak kecil itu dan ibu-Nya dan kembali ke negri Israel.
But when it came to his ears that another was ruling in the place of his father Herod, he was in fear of going there;
Namun ketika didengarnya bahwa anak Herodes menggantikan Herodes sebagai raja maka dia takut untuk kembali ke sana
and God having given him news of the danger in a dream, he went out of the way into the country parts of Galilee.
dan Allah memberitahukan dia soal bahaya itu melalui mimpi. Dia pergi ke arah daerah pedesaan di Galilea.
And he came and was living in a town named Nazareth.
Dia tiba dan menetap di sebuah kota yang disebut Nazaret.
Additional Reading
Bacaan Tambahan
There are two sides to this story.
Ada dua sisi dari cerita ini.
Both of them come about because there could not be two kings -- or so Herod had in mind.
Keduanya terjadi karena tidak mungkin ada dua orang raja-- setidaknya itulah yang dipikirkan oleh Herodes.
On the one hand Herod gave the order for all the male children to be killed in the place where Jesus had his birth.
Di satu sisi, Herodes memerintahkan untuk membunuh semua anak lelaki di tempat dimana Yesus dilahirkan.
It was a very sad time, as we can see from the picture of them being put to death.
Itu adalah masa yang menyedihkan, seperti yang terlihat di gambar dimana mereka semua dibunuh.
The mothers were all crying at this cruel act.
Para ibu menangisi tindakan kejam ini.
On the other hand, we see that God said to Joseph to take his baby to the far distant country of Egypt.
Di sisi lain, kita melihat bahwa Allah berfirman kepada Yusuf untuk membawa bayinya ke negri Mesir yang jauh.
There would be no fear of what King Herod might do when at so great a distance.
Tidak ada yang perlu ditakuti akan apa yang dilakukan oleh Herodes di negri yang letaknya jauh itu.
We give this the name, "The Flight to Egypt".
Kita menamai peristiwa ini, "Penyingkiran ke Mesir".
This was not a good time for Joseph and Mary.
Ini bukanlah saat yang baik bagi Yusuf dan Maria.
There would be many hard experiences, both when walking so far and when making a new home in a strange country.
Akan ada banyak pengalaman sukar, baik ketika berjalan sejauh itu maupun saat berdiam di negri yang asing.
We may get some knowledge of these experiences from like troubles in the world today.
Kita bisa mengetahui beberapa pengalaman ini dari kesukaran yang dihadapi dunia dewasa ini.
Many persons now have to make long journeys to get out of danger.
Saat ini, banyak orang menempuh perjalanan jauh agar terhindar dari bahaya.
A lady gives us the story of a girl from Cambodia to whom she was teaching English, just as you are learning!
Seorang perempuan menceritakan kisah seorang gadis Kamboja yang belajar bahasa Inggris darinya, seperti halnya yang sedang Anda lakukan.
As she gave her a picture of "The Flight to Egypt" she kept looking at Mary, the baby Jesus, Joseph and the animal walking all that long way.
Ketika dia memberinya gambar "Penyingkiran ke Mesir" dia terus memandangi Maria, bayi Yesus, Yusuf dan hewan yang berjalan sejauh itu.
She had had the same experience as she made her way to America through the Philippines, where she had almost been kept back by the authorities.
Dia juga pernah mengalami hal serupa ketika dia pergi ke Amerika melalui Filipina dimana dia hampir saja ditangkap oleh pihak yang berwenang.
She said "How hard it must have been on their feet!
Dia berkata "Pasti sangat bagi mereka untuk berjalan kaki sejauh itu!
Were they short of food and water?
Apakah mereka kekurangan makanan dan air?
Was it not hard to go away from their own country to get away suddenly from King Herod?"
Apakah tidak sulit untuk pergi dari negri mereka untuk melarikan diri dari Raja Herodes?"
Getting free of the authorities!
Meloloskan diri dari pihak yang berwenang!
Somehow we see that as being an experience for today only.
Untuk alasan tertentu, kita melihat itu hanya terjadi dewasa ini.
But, Jesus and his family had to get away from authorities too, just as so many are doing now.
Namun Yesus dan keluarga-Nya juga harus melarikan diri dari pihak yang berwenang seperti yang dialami oleh banyak orang saat ini.
We do not readily see the journey to Egypt as a get away, but it is a story for each of us today in our own troubles and it has always been quite as true for all men.
Kita tidak segera melihat perjalanan ke Mesir sebagai melarikan diri namun itu adalah cerita bagi masing-masing dari kita yang memiliki kesukaran tersendiri dan itu adalah sesuatu yang benar bagi setiap manusia.
Helpful Notes
Catatan Penolong
angel of the Lord




malaikat Tuhan

bearer of news from God.




pembawa firman dari Allah
got with care




didapat dengan hati-hati

with careful questioning.




melalui pertanyaan.
hard experiences




pengalaman berat

troubles and hard times.




kesulitan dan masa sukar.
Cambodia




Kamboja

a country near India.




sebuah negara dekat India.
free of authorities




lolos dari pihak yang berwenang

away from government control.




melarikan diri dari kekuasaan pemerintah.
a get away




pelarian diri

getting one's freedom.




mendapat kebebasan.
Interesting Facts and Records
Fakta dan Catatan yang Menarik
Looking At Language
Mengamati Bahasa.
The main difficulty for the early followers of Jesus must have seemed their ability to really do what he said: "Give the Good News to all men, beginning at Jerusalem".
Kesulitan utama para pengikut Yesus yang mula-mula tampaknya adalah kemampuan mereka untuk sungguh-sungguh melakukan apa yang Dia katakan: "Beritakanlah Kabar Baik ini kepada semua orang, mulai dari Yerusalem".
There were so many different languages.
Ada begitu banyak bahasa yang berbeda.
How would one say things with good sense to persons who had a different language?
Bagaimana seseorang bisa berkata-kata dengan jelas kepada orang-orang yang memiliki bahasa berbeda?
It is said that a man with the name, Francis Xavier, went to the East from Europe and said words in his own language to the persons there.
Dikatakan oleh seorang yang bernama Francis Xavier, yang pergi ke Timur dari benua Eropa dan berkata-kata dalam bahasanya sendiri kepada orang-orang di sana.
He was heard with sense by persons who had another quite different language!
Dia dipahami dengan jelas oleh orang-orang yang memiliki bahasa lain yang sangat berbeda.
Such a thing certainly happened on the day which has the name, The Day of Pentecost.
Hal semacam itu pastinya terjadi pada hari yang dinamai, Hari Pentakosta.
It was a great surprise to men from other countries.
Hal itu adalah sebuah kejutan bagi orang-orang yang datang dari negri lain.
This sign gave great pleasure to the followers of Jesus.
Tanda ini memberikan kegembiraan yang luar biasa bagi para pengikut Yesus.
They could go and say things with sense to their hearers!
Mereka bisa pergi dan berkata-kata dengan jelas kepada para pendengarnya.
There is a church in India with the name: Church of Thomas.
Ada sebuah gereja di India yang bernama: Gereja Tomas.
We have knowledge of Thomas as, "Doubting Thomas".
Kita mengetahui bahwa Tomas adalah "Tomas si Peragu".
That does not seem right for him.
Tampaknya itu tidak tepat.
History has it that Thomas went on Arab boats to South India and gave the Good News there.
Sejarah mencatat bahwa Tomas berlayar di atas kapal-kapal Arab ke India Selatan dan memberitakan Kabar Baik di sana.
The language there was quite different to that of Thomas.
Bahasa di sana sangatlah berbeda dari bahasa yang digunakan Tomas.
How did he make his words have clear sense to persons there?
Bagaimana dia membuat perkataannya menjadi jelas kepada orang-orang di sana?
It is also said that Thomas went to North India by walking overland.
Juga dikatakan bahwa Tomas pergi ke India Utara menempuh perjalanan darat.
Again, the language is quite different in North India.
Lagi-lagi, bahasa di India Utara sangatlah berbeda.
We have knowledge of other persons who took long journeys to take the Good News.
Kita mengetahui tentang orang-orang lain yang menempuh perjalanan jauh untuk memberitakan Kabar Baik.
There were no automobiles, no time tables nor even clocks for journeys in those days.
Tidak ada mobil, jadwal perjalanan ataupun jam untuk perjalanan di masa itu.
There is in China a large stone with records cut into it.
Di Cina, ada sebuah batu besar dengan catatan yang terukir di atasnya.
These say that many persons came there with the Good News.
Mereka berkata bahwa banyak orang datang ke sana sambil membawa Kabar Baik.
This stone has the name: The Nestorian Monument.
Batu itu bernama Monumen Nestorian.
The persons who came there made their journey from the South of Europe to that far away place.
Orang-orang yang datang ke sana menempuh perjalanan mereka dari Eropa bagian selatan ke tempat yang jauh itu.
It is a very great distance to go for a journey.
Itu adalah jarak yang jauh untuk sebuah perjalanan.
The language differences are very great and increase all the way along that journey.
Perbedaan bahasa sangatlah besar dan semakin berbeda ketika perjalanan itu semakin jauh.
These folk took very wise steps to overcome these difficulties.
Orang-orang ini bertindak bijak untuk mengatasi semua perbedaan itu.
They took work as care takers of horses and as house girls.
Mereka berkerja sebagai perawat kuda dan pelayan rumah tangga perempuan.
Their sole purpose was to take the Good News wherever they went.
Tujuan utama mereka adalah untuk menyebarkan Kabar Baik kemanapun mereka pergi.
They had no porters, no taxis, no railways, they simply went on foot.
Mereka tidak memiliki kuli angkut, taksi, jalur rel, mereka hanya berjalan kaki.
There were no police to care of them.
Tidak ada polisi yang bisa melindungi mereka.
Their sense of responsibility to the spread of the Good News was stiff and strong.
Rasa tanggung jawab mereka untuk menyebarkan Kabar Baik sungguh teguh dan kuat.
The acid test to their will was the degree to which they kept going.
Ujian terberat atas tekad mereka adalah seberapa jauh mereka terus melanjutkan usahanya.
And they got as far as China!
Dan mereka bisa mencapai sejauh Cina!
Others have made journeys to distant countries.
Yang lain menempuh perjalanan ke negri yang jauh.
Not long ago the Church in Russian countries paid respect to a man named: St. Cyril.
Baru-baru in, Gereja di negara Rusia melakukan penghormatan kepada seseorang yang bernama: St. Cyril.
Cyril came to Russia from the South of Europe 1000 years ago with the Good News.
Cyril datang ke Rusia dari Eropa bagian Selatan 1000 tahun yang lalu untuk menyebarkan Kabar Baik.
All was danger then.
Saat itu sungguh berbahaya.
But he was not one to catch a cold and sneeze in order to get away from difficulties.
Namun dia bukanlah jenis orang yang berusaha menghindari semua kesulitan.
He put a small group of followers there and it kept growing.
Dia membentuk sebuah kelompok kecil yang terdiri dari orang percaya di sana dan kelompok itu terus bertumbuh.
Under the umbrella of this small group or nucleus of followers the Good News went throughout Russia.
Di bawah payung kelompok kecil atau inti dari para orang percaya inilah maka Kabar Baik bisa tersebar di seluruh Rusia.
St. Cyril was a clever person.
St. Cyril adalah orang yang cerdas.
He invented a writing system for his teachings of the Good News.
Dia menciptakan sistem penulisan untuk ajarannya tentang Kabar Baik.
This system has been given the name of Cyrillic writing.
Sistem ini diberi nama tulisan Cyrillic.
It is made use of throughout the Russian countries.
Tulisan ini digunakan di seluruh wilayah Rusia.
There have been many persons who have taken a pencil from their pocket and have made writings of the Good News in new languages.
Ada banyak orang yang mengambil pensil dari sakunya dan menuliskan Kabar Baik ke dalam bahasa yang baru.
They have often made long journeys to do this.
Seringkali mereka harus menempuh perjalanan jauh untuk melakukan ini.
Their languages are now in print and are made use of on radio.
Sekarang, bahasa mereka telah dicetak dan digunakan di radio.