Unit 31: Adverbs of Degree
Kata Keterangan Tingkat.
Pictured Words
Kata Benda Konkret
New Words
Kata-kata Baru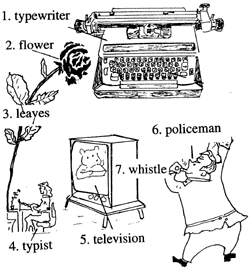 1.typewriter
1. mesin ketik
2.flower
2. bunga
3.leaves
3. dedaunan
4.typist
4. juru ketik
5.television
5. televisi
6.policeman
6. polisi
7.whistle
7. peluit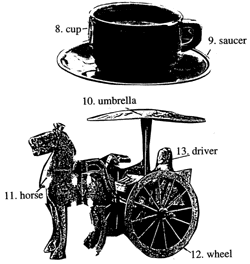 8.cup
8. cangkir
9.saucer
9. piring kecil
10.umbrella
10. payung
11.horse
11. kuda
12.wheel
12. roda
13.driver
13. kusir
Nouns
Kata Benda
Aids
penyakit AIDS (penyakit yang menyerang sistem kekebalan tubuh)
drain
pembuangan air, parit
Sayings
Perkataan
My cup is so full.
Cangkir saya terisi penuh.
Influenza is a virus that puts one in bed for so long before getting well again.
Flu adalah sejenis virus yang mengharuskan sesorang beristirahat panjang supaya pulih kembali.
Aids is not the only virus that makes us so very weak and tired.
AIDS bukanlah satu-satunya virus yang membuat kita menjadi sangat lemah dan letih.
That university had its beginning in only a canvas tent.
Universitas itu pada awalnya memulai kegiatan di dalam sebuah kemah kanvas.
How the secretay smiled as she took the sponge and wiped off the ink from that very paper.
Sekretaris itu tersenyum ketika mengambil busa dan menghapus tinta dari atas kertas itu.
How clearly will we be able to see the video or television to night?
Seberapa jelas kita bisa menyaksikan tayangan video atau televisi pada malam ini?
The only flow in this drain is so slow as to be like a sponge.
Satu-satunya aliran pada saluran pembuangan ini sangatlah lambat seperti dihisap oleh busa.
The very cup from which the chief drank before he went to bed.
Cangkir yang digunakan oleh ketua untuk minum sebelum pergi tidur.
Adverbs of Degree
Kata Keterangan Tingkat.
The degree with which an action is expressed may be seen in the words: "how", "very", "only" or "so":
Tingkat dimana sebuah tindakan dinyatakan bisa dilihat pada kata-kata berikut: "bagaimana", "sangat", "hanya" atau "sehingga".
How
Bagaimana
how is it possible?
bagaimana mungkin itu terjadi?
how may the son of woman be upright?
bagaimana mungkin anak lelaki seorang perempuan menjadi benar?
how long will you make my life bitter .
berapa lama kamu akan menyusahkan hidupku.
how the evil man goes free.
bagaimana orang jahat itu bebas.
how he makes the light of his cloud to be seen.
bagaimana dia membuat petirnya terlihat.
Very
Sangat
at the very thought of it.
ketika sangat dipikirkan.
you are very old.
kamu sangat tua.
they saw that his pain was very great.
mereka melihat bahwa deritanya sangatlah besar.
Only
Hanya
only two things do to me.
hanya dua hal yang kualami.
only put your hand on him.
hanya tumpangkan tanganmu atasnya.
only do not put a finger on the man himself.
hanya saja jangan menyentuh orang itu.
So
Sehingga
and so a hollow-minded man with set wisdom.
dan seperti seorang bodoh yang diberi hikmat.
so that he may have pleasure.
sehingga dia boleh bersukaria.
so man goes down to his last resting place.
sehingga manusia berjalan menuju peristirahatan terakhirnya.
so that he may give decision.
sehingga dia bisa memberi keputusan.
so I came out in the hope of meeting you.
sehingga aku keluar untuk bisa bertemu denganmu.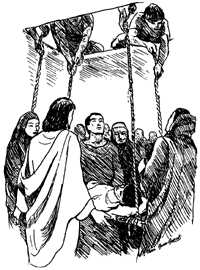 Let Down Through The Roof
Diturunkan Melalui Atap
And it came about that on one of these days he was teaching;
Dan itu terjadi di satu hari ketika Dia sedang mengajar
and some Pharisees and teachers of the law were seated there, who had come from every town of Galilee and Judaea and from Jerusalem;
dan beberapa orang Farisi dan pengajar Taurat sedang duduk di sana, dan juga semua orang yang datang dari setiap kota di Galilea dan Yudea dan dari Yerusalem
and the power of the Lord was with him, to make those who were ill free from their diseases.
dan kuasa Tuhan beserta-Nya untuk menyembuhkan mereka yang sakit.
And some men had with them, on a bed, a man who was ill, without power of moving;
Beberapa orang membawa seorang sakit di atas tempat tidur karena dia menderita kelumpuhan.
and they made attempts to get him in and put him before Jesus.
dan mereka berusaha membawa dia masuk dan menghadapkannya kepada Yesus.
And because of the mass of people, there was no way to get him in;
Karena ada begitu banyak orang, mereka tidak bisa membawa orang itu masuk.
so they went up on the top of the house and let him down through the roof, on his bed, into the middle in front of Jesus.
jadi mereka naik ke atap rumah dan menurunkan orang beserta tempat tidurnya itu dari sana, ke tengah-tengah hadapan Yesus.
And seeing their faith he said, Man, you have forgiveness for your sins.
Dan melihat iman mereka Dia berkata, Hai kamu, dosa-dosamu telah diampuni.
And the Scribes and Pharisees were having an argument, saying, Who is this, who has no respect for God?
Para pengajar Taurat dan orang Farisi meributkan hal itu dan berkata, Siapakah Dia, yang tidak menghormati Allah?
who is able to give forgiveness for sins, but God only?
yang bisa mengampuni dosa seakan diri-Nya adalah Allah sendiri?
But Jesus, who had knowledge of their thoughts, said to them, Why are you reasoning in your hearts?
Namun Yesus, yang mengetahui pikiran mereka, berkata, Mengapa kamu berkata seperti itu di hatimu?
Which is the simpler: to say, You have forgiveness for your sins;
Mana yang lebih mudah: mengatakan, Dosa-dosamu telah diampuni
or to say, Get up and go?
atau mengatakan, Bangkit dan berjalanlah.
But so that you may see that on earth the Son of man has authority for the forgiveness of sins, (he said to the man who was ill,) I say to you, Get up, and take up your bed, and go into your house.
Namun supaya kamu tahu bahwa di dunia Anak Manusia berkuasa untuk mengampuni dosa, (Dia berkata kepada orang lumpuh itu), Aku perintahkan kepadamu, Bangkitlah, dan angkatlah alas tidurmu, dan pulanglah ke rumahmu.
And straight away he got up before them, and took up his bed and went away to his house giving praise to God.
Dan segera orang itu bangkit di hadapan mereka, mengangkat tempat tidurnya dan pulang ke rumahnya sambil memuji Allah.
And wonder overcame them all, and they gave glory to God;
Dan mereka semua menjadi takjub, dan memuliakan Allah.
and they were full of fear, saying, We have seen strange things today.
dan mereka menjadi gempar, katanya, Kita telah melihat hal-hal luar biasa pada hari ini.
Additional Reading
Bacaan Tambahan
Anyone who has seen houses in dry countries will have a good idea of how they are made.
Setiap orang yang telah melihat perumahan di negri yang kering akan mengetahui bagaimana mereka dibangun.
It is quite the normal thing to put large pieces of wood parallel across the roof.
Adalah cukup wajar untuk menempatkan kayu-kayu dengan sejajar sebagai atap.
Then, the spaces between them have branches put in and kept there by hard earth to keep out any rain that may come.
Lalu, celah di antara kayu-kayu itu diisi dengan ranting-ranting dan dilekatkan menggunakan tanah liat untuk melindunginya ketika hujan turun.
There is a small slope for draining off the rain.
Dibuat agak miring untuk mengalirkan air hujan.
That was the sort of roof made on this house.
Itulah jenis atap yang dibuat untuk rumah semacam ini.
So, it was very simple to take out the mud and let this man into the house by the roof.
Jadi, sangat mudah untuk membongkar tanah liat itu dan menurunkan orang itu dari atap ke dalam rumah.
Nor was it uncommon for that to be done.
Hal itu juga bukannya tidak umum untuk dilakukan.
Boxes for the dead were often let into the house in that way.
Peti mati seringkali dimasukkan ke dalam rumah dengan cara itu juga.
The thing that was different was the fact that the man's friends went to so much trouble.
Hal yang berbeda adalah kenyataan bahwa kawan-kawan orang lumpuh itu bersusah payah melakukannya.
They had faith.
Mereka memiliki iman.
Now, Jesus often said that without faith no help could be given.
Yesus seringkali berkata bahwa tanpa iman tidak mungkin ada pertolongan.
It is surprising how often he said to people your faith has made you well.
Sungguh mengherankan betapa Yesus sering berkata kepada orang-orang bahwa imanmu telah menyembuhkanmu.
When he made the observation of their faith he said, "You have forgiveness for your sins".
Ketika melihat iman mereka, Dia berkata, "Dosa-dosamu telah diampuni".
We may wonder why he made this statement first.
Kita mungkin bertanya-tanya kenapa pertama-tama Dia menyatakan ini.
It was because there was a deeply seated belief in that day that illness was the reward of sin.
Ini dikarenakan ada kepercayaan yang dipegang teguh saat itu bahwa penyakit adalah akibat dari dosa.
So strong was this belief that the ill person felt in the grip of some sin or other and so could never be made well.
Begitu kuatnya kepercayaan ini sehingga si sakit merasa dikuasai oleh beberapa dosa tertentu dan tidak akan bisa disembuhkan.
Jesus first gave the man a completely new thought and his faith became stronger.
Yesus pertama-tama memberi orang itu pemikiran baru dan iman orang itu menguat.
This also took away the grip of the teachers of the law.
Ini juga melepaskan pengaruh dari ajaran para pengajar Taurat.
They had all sorts of rules that were hard to keep.
Mereka memiliki berbagai ajaran yang sulit untuk diikuti.
For example, they said that to make people free from their diseases on the Sabbath was a sin.
Misalnya, dikatakan bahwa menyembuhkan orang pada hari Sabat adalah dosa.
They said this could be done only if the person's life was in danger.
Mereka berkata bahwa ini hanya bisa dilakukan jika hidup orang itu terancam bahaya.
It was possible to keep the person from getting worse, but not to do anything on the Sabbath which made him healthy.
Adalah mungkin untuk menjaga agar orang itu tidak bertambah parah namun tidak melakukan apapun pada hari Sabat-lah yang akan menyembuhkannya.
So you could put a simple cover on a wound but not give any medical help.
Jadi Anda bisa menutupi luka itu seadanya namun tidak memberikan pertolongan medis apapun.
It was also said by these teachers that to take up any kind of material on the Sabbath was against the law.
Juga dikatakan oleh para pengajar ini bahwa mengangkat benda apapun pada hari Sabat adalah melanggar Taurat.
So, they said that it would be wrong for the man to take up his bed.
Jadi, mereka berkata bahwa adalah keliru bagi orang itu untuk mengangkat alas tidurnya.
Still more important was the idea that only God was able to give forgiveness for sins.
Yang lebih penting adalah gagasan bahwa hanya Allah yang sanggup mengampuni dosa.
To them this was the greatest of all the errors.
Bagi mereka, inilah kesalahan terbesar.
We must not be surprised, then, that the people were very happy to see themselves free of the crushing conditions that they had been given by these hard to keep laws.
Kita tidak perlu terkejut jika orang-orang ini merasa gembira melihat diri mereka terbebas dari keadaan yang sungguh menekan karena mereka harus mematuhi hukum Taurat.
and they were full of fear, saying, "We have seen strange things today".
dan mereka menjadi gempar dan berkata, "Kita telah melihat hal-hal luar biasa pada hari ini".
The teachers of the law, however, were not so happy.
Para pengajar Taurat menjadi tidak senang.
This was not only putting their laws in doubt, it was also making their authority less certain.
Hal ini bukan saja hukum Taurat mereka dipertanyakan namun juga membuat kewenangan mereka menjadi terbatas.
From then on they took special steps to see that they got free of the teachings of Jesus.
Sejak saat itu mereka mengusahakan secara khusus agar orang-orang itu terbebas dari ajaran Yesus.
In fact, at the last they sent him to the cross for the division that came about between their teachings and his desire to give every man a rest from such detailed controls.
Bahkan pada akhirnya mereka menyalibkan Dia karena perpecahan yang terjadi
Helpful Notes
Catatan Penolong
Pharisees and teachers of the law




orang Farisi dan pengajar Taurat

the religious leaders.




para pemuka agama
Galilee and Judaea




Galilea dan Yudea

places in Palestine.




daerah di Palestina.
power of moving




kekuatan untuk bergerak

ability to move the parts of the body.




kemampuan untuk menggerakkan anggota tubuh.
forgiveness for sins




pengampunan dosa

removal of blame for wrong doing.




menghapus rasa bersalah karena perbuatan keliru.
draining off the rain




mengeringkan air hujan

letting water run away to the ground.




mengalirkan air ke tanah.
boxes for the dead




peti mati

units for persons who have died.




tempat untuk meletakkan jenazah.
crushing conditions




keadaan yang menekan

hard systems to put up with.




sistem yang sulit untuk dipatuhi.
putting in doubt




dipertanyakan

making of little effect.




menjadi tidak berpengaruh.
Interesting Facts and Records.
Fakta dan Catatan yang Menarik
Luke, The Medical Man
Lukas, Si Tabib
There is a story from the time of the Romans that Luke was a painter.
Ada sebuah kisah dari masa pemerintahan Romawi bahwa Lukas adalah seorang pelukis.
That is, he put oils and paint onto canvas to make a picture.
Itu berarti dia mencampur minyak dan cat ke atas kanvas untuk membuat gambar.
There is a painting of Mary, the mother of Jesus, in a big church in Spain.
Ada lukisan Maria, ibu Yesus, di sebuah gereja besar di Spanyol.
It is said that it was the work of Luke.
Dikatakan bahwa itu adalah karya Lukas.
Luke was the only writer of books in the New Testament who was not a Jew.
Lukas adalah satu-satunya penulis Injil di Perjanjian Baru yang bukan orang Yahudi.
He was probably a Greek, for he wrote very good Greek.
Kemungkinan dia adalah orang Yunani karena dia menulis dalam bahasa Yunani dengan sangat baik.
But, his finest quality is that he was a medical man who kept good records.
Namun hal terbaik darinya adalah dia seorang tabib yang pandai mencatat.
When he put pen to paper, it was with care.
Ketika menulis, dia melakukannya dengan hati-hati.
We have no knowledge of his training.
Kita tidak mengetahui latar belakang pendidikannya.
There were no universities or hospitals as we have them now.
Tidak ada universitas ataupun rumah sakit seperti sekarang.
The most common illness in those parts was malaria.
Penyakit yang umum dijumpai di daerah itu adalah malaria.
Such things as influenza had another name, and Aids and viruses were not known.
Penyakit seperti flu dikenal dengan nama lain dan AIDS dan berbagai macam virus belum diketemukan.
In his training, he would have had real life experience with an older teacher.
Dalam pendidikannya, dia tentu memiliki pengalaman langsung bersama seorang guru yang lebih tua.
The writings of Luke were mainly for other ethnic groups than the Jews.
Tulisan Lukas terutama ditujukan kepada suku bangsa selain Yahudi.
These had the name, "Gentiles".
Mereka disebut "Bangsa lain/ bangsa bukan Yahudi"
Both the Gospel and the Book of Acts were written for a Roman with a high scale position in the Government.
Baik kitab Injil maupun Kisah Para Rasul ditulis bagi seorang Romawi yang menduduki jabatan tinggi di pemerintahan.
There were hardly any records taken from the Old Testament.
Hampir tidak ada catatan yang diambil dari Perjanjian Lama.
Luke wrote without much theory.
Lukas menulis tanpa aturan tertentu.
It was for the every day person.
Tulisannya adalah bagi orang kebanyakan.
Luke said that Jesus often spoke with God.
Lukas berkata bahwa Yesus sering bercakap-cakap dengan Allah.
He then set in motion important steps like choosing his followers.
Lalu Dia mengerjakan langkah-langkah penting seperti misalnya memilih murid.
At that time, women had a low position in the social scale.
Di zaman itu, perempuan menduduki kedudukan rendah dalam lapisan sosial.
A Jew had a morning saying: "I thank God I have not been born a Gentile, I am not in servitude and I am not a woman".
Ada sebuah doa pagi orang Yahudi yang berbunyi, "Aku bersyukur kepada Allah karena saya tidak dilahirkan sebagai orang bangsa lain, saya bukanlah seorang budak dan saya bukanlah seorang perempuan".
That was a true picture of the low position of women at that time.
Ini adalah gambaran nyata betapa rendahnya kedudukan perempuan pada masa itu.
But, Luke had a higher view.
Namun Lukas berpandangan lebih tinggi.
His words about women were said with a smile.
Perkataannya tentang perempuan dinyatakan dengan sebuah senyuman.
He spoke of the widow at Nain and the woman who put a sweet perfume on Jesus feet.
Dia berbicara tentang seorang janda di Nain dan perempuan yang menyeka kaki Yesus dengan minyak wangi.
Luke was a special friend of Paul on his long journeys.
Lukas adalah sahabat baik dari Paulus dalam perjalanannnya yang jauh.
He was true to him even in prison.
Dia bahkan menemaninya di dalam penjara.
No doubt he put the sponge to work on his back when the whips had whistled about him.
Tidak diragukan bahwa dia menaruh busa untuk mengobati luka di punggung Paulus ketika dia dicambuki.
Only Luke has told us of the loss of the ship at an island in a wild sea.
Hanya Lukas seorang yang menceritakan tentang kapal yang terdampar di sebuah pulau di tengah lautan.
That would make an interesting video or television movie now.
Hal itu akan menjadi menarik jika dijadikan film video atau televisi.
These two men took their drinks from the same cup and put their beds beside each other, whether with comfort or not.
Kedua orang ini minum dari cangkir yang sama dan tidur berdampingan baik ketika senang maupun susah.
Luke was Paul's secretary who put his feather pen to paper to give us accounts that now make easy reading because he wrote for persons like us.
Lukas adalah sekretaris dari Paulus yang menuliskan kepada kita catatan yang mudah dipahami karena dia menulis bagi orang awam seperti kita.