Unit 28: Adjectives
Kata Sifat
Pictured Words
Kata Benda Konkret
New Words
Kata-kata Baru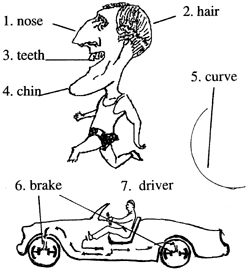 1. nose
1. hidung
2. hair
2. rambut
3. teeth
3. gigi
4. chin
4. dagu
5. curve
5. lengkungan
6. brake
6. rem
7. driver
7. pengendara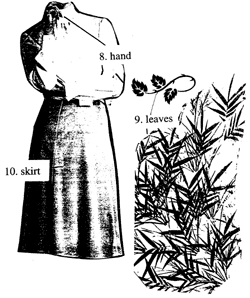 8. hand
8. tangan
9. leaves
9. dedaunan
10. skirt
10. rok
Nouns
Kata Benda
skirt
Rok: pakaian perempuan
Sayings
Perkataan
Amusement is not good for all, some get credit from work.
Hiburan tidaklah baik bagi semua orang, beberapa lebih suka bekerja.
Some say a garden gives a great degree of pleasure, others say only more work.
Sebagian orang berkata sebuah taman mendatangkan kesenangan besar, lainnya berkata mendatangkan pekerjaan tambahan.
All errors can not be the result of alcohol.
Semua kesalahan tidak mungkin diakibatkan karena alkohol.
All knives do not have the same curve to their blades.
Semua pisau tidak memilik lengkungan yang sama pada mata pisaunya.
No branch is so strong as to seem unmoved by the wind.
Tidak ada cabang pohon yang begitu sangat kuatnya sehingga mampu menahan terjangan angin.
Everyone who spends his time gambling is asking for trouble.
Semua orang yang menghabiskan waktu untuk berjudi hanya mencari masalah.
Some curve to the skirt makes the opposite sex happy.
Beberapa belahan pada rok menyenangkan lawan jenis.
The use of the horn can give some protection to all.
Membunyikan terompet bisa membuat semua orang menjadi aman.
All lines to the station may not be of steel, some will be of copper.
Tidak semua tiang di stasiun terbuat dari baja, beberapa dari tembaga.
Adjectives
Kata Sifat
You have seen many adjectives in your lists of New Words.
Anda telah menjumpai banyak kata sifat dalam daftar Kata-kata Baru.
They usually say something about the particular qualities of a noun.
Mereka biasanya menyatakan sifat tertentu dari sebuah kata benda.
They are put just before the noun.
Mereka ditempatkan sebelum kata benda.
There are some words which often do the work of adjectives but do not seem to have relation to any one noun.
Ada beberapa kata yang sering berperan sebagai kata sifat namun tidak terlihat berkaitan dengan kata benda manapun.
The words "some" and "other" are like this.
Kata-kata "beberapa" dan "lainnya" termasuk jenis ini.
Here are some examples of such words in relation to others in their group
Berikut beberapa contoh dari kata-kata itu dalam hubungan mereka dengan yang lainnya di kelompok itu.
Some
Beberapa
some Pharisees and teachers of the law were seated there.
beberapa orang Farisi dan pengajar Taurat duduk di sana.
some men had with them, on a bed.
beberapa orang bersama mereka, di tikar.
some went on the rock.
beberapa di batu karang.
Other
Lainnya
two doves or other young birds.
dua merpati atau burung muda lainnya.
a great number of tax-farmers and others.
sejumlah besar pemungut pajak dan lainnya.
do to others as you would have.
perbuatlah terhadap orang lain seperti apa yang kamu inginkan mereka perbuat kepadamu.
In addition there are words which say something about the quantity we have in mind.
Sebagai tambahan, ada beberapa kata yang menyatakan mengenai kualitas yang kita pikirkan.
Such words are - "all", "every" and "no"
Kata-kata itu adalah "semua", "setiap" dan "tidak".
All
Semua
The eyes of all were fixed on him.
Mata semua orang tertuju padanya.
Did this most evil thing of all.
Yang melakukan hal terburuk di antara semuanya.
Master, we were working all night.
Tuan, kami bekerja semalaman.
Every
Setiap
Every good and true thing is given to us from heaven.
Setiap hal yang baik dan benar adalah pemberian dari sorga.
ready for every good work.
siap untuk setiap pekerjaan baik.
to everyone who has, more will be given.
kepada setiap orang yang memiliki, akan diberikan lebh.
No
Tidak
no prophet is honoured.
tidak satupun nabi dihormati.
do no violent acts to any man.
jangan bertindak kasar terhadap siapapun.
but they had no knowledge of it.
namun mereka tidak mengetahui hal itu.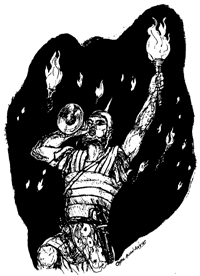 A Horn And A Flame
Sebuah Terompet dan Sebatang Obor
When Gideon came there, a man was giving his friend an account of his dream, saying, See, I had a dream about a cake of barley bread which, falling into the tents of Midian, came on to the tent, over-turning it.
Ketika Gideon datang ke sana, ada seorang yang sedang menceritakan soal mimpinya, katanya, Lihat, aku bermimpi tentang sepotong roti yang jatuh tepat ke atas kemah orang Midian, merubuhkannya,
And his friend in answer said, This is certainly the sword of Gideon, the son of Joash, the men of Israel: into their hands God has given up all the army of Midian.
Dan temannya menjawab, Ini tentu pedang Gideon, anak Yoas, orang Israel itu, ke dalam tangan merekalah Allah telah menyerahkan pasukan orang Midian.
Then Gideon, hearing the story of the dream and the sense in which they took it, gave worship;
Lalu Gideon yang mendengar cerita mimpi itu dan apa yang mereka rasakan, memuji Allah
then he went back to the tents of Israel, and said, Up!
kemudian dia kembali ke perkemahan orang Israel, dan berkata, Bangunlah!
for the Lord has given the army of Midian into your hands.
karena Tuhan telah menyerahkan pasukan orang Midian ke dalam tanganmu.
Then separating the three hundred men into three bands, he gave every man a horn, and a vessel in which was a flaming branch.
Kemudian dia membagi ketiga ratus orang itu menjadi tiga kelompok, dia memberikan setiap orang sebuah terompet, dan sebuah bejana yang berisi obor.
And he said to them, Keep your eyes on me, and do what I do;
Dan dia berkata berkata mereka, Perhatikanlah aba-abaku,dan ikuti apa yang kulakukan
when I come to the outer line of tents, whatever I do, you are to do the same.
ketika aku mendekati bagian tepi perkemahan, apapun yang kuperbuat, perbuatlah juga demikian.
At the sound of my horn, and the horns of those who are with me, let your horns be sounded all round the tents, and say, For the Lord and for Gideon.
Pada bunyi terompetku, dan bunyi terompet mereka yang bersamaku, bunyikanlah juga terompetmu di sekeliling perkemahan, dan berserulah, Demi Tuhan dan demi Gideon.
So Gideon and the three hundred men who were with him came to the outer line of tents, at the start of the middle watch, when the watchmen had only then taken their stations;
Gideon dan ketiga ratus orang yang bersama dengannya mendekati bagian tepi perkemahan itu, ketika pertengahan waktu jaga, ketika para penjaga baru saja menempati pos jaga mereka
And the horns were sounded and the vessels broken.
Dan terompetpun dibunyikan dan bejana-bejana dipecahkan.
So the three bands all gave a loud note on their horns, and when the vessels had been broken, they took the flaming branches in their left hands, and the horns in their right hands ready for blowing, crying out,
Ketiga kelompok itu meniup kuat-kuat terompet mereka, dan ketika bejana telah dipecahkan, mereka menggenggam obor di tangan kiri, dan terompet di tangan kanan bersiap untuk meniupnya sambil berseru lantang
For
Demi Allah dan demi Gideon.
Then they made a line round the tents, every man in his place;
Dan mereka mengepung sekeliling perkemahan itu, setiap orang berada di tempatnya masing-masing.
and all the army, awaking from sleep, came running out, and with loud cries went in flight.
dan semua tentara, terjaga dari tidurnya, berlarian keluar, dan melarikan diri sambil berteriak ketakutan.
And the three hundred gave a loud note on their horns, and every man's sword was turned by the Lord against his brother all through the army;
Dan ketiga ratus orang itu meniup terompet dengan kuat, danTuhan membuat pedang setiap tentara itu menikam kawannya sendiri.
and the army went in flight.
dan semua tentara itu melarikan diri.
Additional Reading
Bacaan Tambahan
The name of Gideon has the sense of "the cutter" or "the destroyer", and this story is all about the destruction of the opposing army of Midian.
Nama "Gideon" berarti "pemotong" atau "penghancur", dan kisah ini adalah tentang penghancuran dari pasukan musuh yakni Midian.
Before this, however, it is said that two things took place.
Sebelum ini, dikatakan bahwa dua hal terjadi.
First of all, Gideon had put an end to the altar which had been built in his town for a bad god.
Pertama-tama, Gideon menghancurkan mezbah penyembahan berhala yang dibangun di kotanya.
Next, he called all the people to come together and become an army to go and fight the Midianites.
Berikutnya, dia memanggil semua orang untuk berkumpul dan membentuk pasukan untuk pergi dan memerangi orang Midian.
This nation had given trouble for a long while and were now about to make another attack.
Bangsa ini telah mendatangkan kesusahan selama beberapa waktu dan sedang bersiap-siap untuk melakukan serangan lain.
The interesting thing is that when Gideon had been able to attract a large army to his cause, God said to him that he had too large a force.
Yang menarik adalah ketika Gideon telah berhasil membentuk pasukan yang berjumlah besar untuk berperang, Allah berfirman bahwa pasukannya terlalu banyak.
He had to take his army down to running water and let them take a drink.
Dia harus membawa para pasukannya ke sungai dan menyuruh mereka minum.
All the men who did this with care and so seemed to have experience in fighting were the best men.
Semua orang yang minum dengan hati-hati dan telihat berpengalaman dalam peperangan adalah orang yang terbaik.
Thus he made a selection from his forces of those who seemed likely to be good fighters.
Jadi dia memilih dari pasukannya orang-orang yang terlihat seperti prajurit yang baik.
The men who seemed to have any fear of the operation were let go back to their own houses.
Orang-orang yang merasa takut untuk berperang diperbolehkan kembali ke rumah mereka masing-masing.
By making these selections Gideon was able to get an army of responsible men.
Dengan pemilihan ini, Gideon mampu memperoleh pasukan yang bertanggung jawab.
But, it was small in number.
Namun jumlahnya sedikit.
It was so small that even Gideon felt he would have to take a look at the tents of the Midianites.
Begitu sedikitnya jumlah pasukan itu sehingga Gideon sendiri merasa bahwa dia perlu mengintai perkemahan orang Midian.
So, Gideon went down to their tents, as our story says.
Jadi, Gideon pergi ke perkemahan itu, seperti yang diceritakan.
What came to his ears there was most pleasing and his small army got ready to make the attack .
Yang didengarnya di sana sungguh menggembirakan dan pasukannya yang kecil bersiap untuk menyerang.
The real reason for the way Gideon did things was that he took action as God said.
Alasan sesungguhnya dari perbuatan Gideon adalah dia melakukan apa yang difrimankan Allah.
He did not do what seemed best to him.
Dia tidak melakukan apa yang dipikirnya adalah baik.
The reward he got was an army of men who were conscious of the danger but well able to make adjustments in their ways of attack.
Imbalannya adalah dia memperoleh pasukan yang sadar akan bahaya yang dihadapi namun mampu menyesuaikan cara bertempur mereka.
They seemed to be in a position that was quite impossible.
Mereka berada dalam posisi yang terlihat mustahil untuk menang.
But their attempt was certain of success because God had given them both purpose and a good system.
Namun usaha mereka pasti berhasil karena Allah memberikan tujuan dan cara yang baik.
Their three bands of men seemed like three separate armies as they were standing around the Midianites.
Ketiga kelompok itu terihat seperti tiga pasukan terpisah ketika mereka mengepung orang Midian.
Their burning branches suddenly gave light when the vessels were broken, they were quickly seen and the sound of their horns made a fearful noise.
Obor-obor mereka menyala ketika bejana dipecahkan, dengan segera mereka terlihat dan bunyi terompet mereka menghasilakan suara yang menyeramkan.
It was a bright idea for an effective military attack.
Itu adalah gagasan yang cemerlang untuk sebuah serangan militer yang efektif.
The great company of Midianites made every attempt to get away.
Pasukan Midian yang besar berusaha melarikan diri.
They did not see they were making a great error.
Mereka tidak sadar bahwa sedang melakukan kekeliruan besar.
They put each other to death in their attempts to get away.
Merka justru membunuh satu sama lain ketika berusaha melarikan diri.
The story also says that Gideon's three bands of men made a quick adjustment of direction and put the opposing forces to flight with Gideon's army running fast behind them.
Kisah ini juga bercerita bahwa ketiga ratus tentara Gideon dengan segera bergerak dan mengejar pasukan Midian yang berusaha melarikan diri.
The Midianites were put into a position of great danger at a narrow point across the river.
Orang Midian disudutkan dihadapkan kepada bahaya besar di sebuah celah sempit di seberang sungai.
There they were put to death in great numbers.
Jumlah tentara Midian yang tewas sangatlah banyak.
The two kings of the Midianites had their heads taken from their bodies and these were given to Gideon.
Kedua raja Midian dipenggal dan kepalanya diserahkan kepada Gideon.
Helpful Notes
Catatan Penolong
Over-turning




merubuhkan

pushing down.




menekan ke bawah
stretched out flat




merentang ke luar

being length ways on the ground.




sejajar dengan tanah.
story of the dream




arti mimpi

dreams seemed to tell of the future




mimpi yang seolah menceritakan masa depan.
taken their stations




menempati pos mereka

got into position.




tiba di posisi
destroyed the altar




menghancurkan mezbah

broke down the place of religious respect.




meratakan hingga tanah tempat pemujaan
running water




sungai

a small river.




telaga kecil.
fear of the operation




takut berperang

no desire for battle.




tidak mau bertempur.
did not




tidak

did not this is a common way of shortening.




tidak ini adalah bentuk singkat yang umum.
made a fearful noise




membuat suara yang menakutkan

making a loud sound.




menghasilkan kegaduhan besar.
Interesting Facts And Records
Fakta dan Catatan yang Menarik
War In Early Times
Zaman Dahulu Kala
"The Lord put me down in the middle of the valley;
"Tuhan menempatkan aku di tengah lembah
and it was full of bones.
yang dipenuhi oleh tulang belulang.
I saw that there was a very great number of them on the face of the wide valley, and they were very dry".
Aku melihat mereka berserakan menutupi lembah itu dalam jumlah besar, dan mereka sudah kering".
So said the prophet, Ezekiel.
Begitulah kata nabi Yehezkiel.
In this picture of death we get a view of the scale of destruction that came about when two armies exchanged at close range on the field of war.
Itu adalah gambaran kematian yang diakibatkan oleh kehancuran ketika dua pasukan bertempur dalam jarak dekat di medang perang.
The question put to Ezekiel was:"Can these bones come to life again?"
Pertanyaan untuk Yehezkiel adalah "Bisakah tulang belulang ini hidup kembali?"
War between nations came about because of the desire for power and profit.
Perang antar bangsa terjadi karena hasrat akan kekuasaan dan keuntungan.
We do not expect the dead to come alive, of course.
Kita tentu saja tidak bisa mengharapkan yang gugur akan hidup kembali.
War was no game of amusement.
Perang bukanlah permainan yang menghibur.
Rulers took to the field, gambling on success.
Raja-raja turun ke medan perang, berjudi atas peluang mereka.
Their fighting men were smashed by each other.
Pasukan mereka saling membantai.
Frequently the men took large drinks of alcohol to make their senses dead.
Seringkali pasukan itu mabuk sebelum berperang sehingga kesadaran mereka lenyap.
It also made the violence of their acts greater.
Itu juga membuat mereka bertindak lebih kejam.
The land of Egypt was a great power in very early times.
Negri Mesir adalah kekuatan besar ketika itu.
Its war apparatus was strong because of a store of copper and tin from its mines.
Armada perangnya kuat karena didukung oleh simpanan tembaga dan timah dari tambang-tambangnya.
This was made into blades and knives for hand to hand fighting.
Logam itu dibuat menjadi pedang dan pisau untuk pertarungan jarak dekat.
But, with the invention of iron making, and later of steel, other nations became stronger than Egypt.
Namun seiring dengan penemuan besi, dan kemudian baja, bangsa-bangsa lain menjadi lebih kuat daripada Mesir.
The nations in Mesopotamia had iron.
Bangsa-bangsa Mesopotamia memiliki besi.
Egypt did not.
Mesir tidak memilikinya.
In Isaiah we read of the error made by Israel whenever it put trust in Egypt.
Dalam Yesaya, kita membaca kesalahan yang diperbuat oleh Israel ketika mereka mengandalkan Mesir.
Its power was coming to an end.
Kekuatannya akan segera berakhir.
Horses were used a lot in war.
Kuda banyak digunakan dalam perang.
Great credit was given to the strength and size of the war horse.
Pujian harus diberikan kepada kekuatan dan ukuran dari kuda perang.
All turned their attention to the number of horses they could bring together in their armies.
Yang utama adalah jumlah kuda yang bisa ditunggangi oleh pasukan.
Men on foot took flight in fear before them, especially from swift carriages being pulled by horses.
Pasukan yang berjalan kaki kabur ketakutan jika menghadapi mereka, apalagi kalau berhadapan dengan kereta cepat yang ditarik oleh kuda.
A fighting man was clothed in a dress of leather with pieces of metal in curves over his chest.
Seorang prajurit mengenakan baju kulit dengan kepingan logam di dadanya.
The leather was a cushion for his skin.
Kulit itu berfungsi sebagai bantalan.
From it there was hanging a hard leather skirt.
Di bawahnya tergantung rok dari kulit yang keras.
His hat was of iron tightened beneath his chin.
Ketopongnya terbuat dari besi yang diikat di bawah dagu.
Only his nose and face were open.
Hanya hidung dan wajahnya yang terbuka.
His movements on the field were under the control of his chief using flags and sounding the horn.
Gerakannya di medan perang tergantung pada aba-aba komandannya yang menggunakan bendera dan membunyikan terompet.
A well organised army would put to flight a larger force that did not have that apparatus.
Pasukan yang terlatih akan berhasil mencerai-beraikan kekuatan lebih besar yang tidak memiliki perlengkapan perang seperti itu.
The troubles that came about because of war were very hard for the opposite sex.
Kesukaran yang ditimbulkan oleh perang sangatlah menyulitkan kaum perempuan.
The condition of women was sad when their army had the bitter experience of loss on the field.
Keadaan para perempuan sungguh menyedihkan ketika pasukan kalah menyakitkan di medan perang.
The hopes they had pinned on their men were suddenly turned to pain.
Harapan yang digantungkan ke atas bahu para pemuda mereka berubah menjadi kepahitan.
Sometimes they were even taken away with hooks through their noses to a fearful existence.
Terkadang hidung mereka dirantai dan dibawa ke tempat penyiksaan.