Unit 17: As A Plant Physiologist
当种植生理学者
As A Plant Physiologist
当种植生理学者
We passed so quickly from the happiness of our marriage to employment at CSIRO at Griffith.
我们通过如此很快从我们的婚姻的快乐到工作在 CSIRO在 Griffith.
As a student, I had no resources so we were indeed blessed that we could do so.
当学生,我没有资源如此我们的确祝福以致我们能做如此.
Our first duty in CSIRO was to help with a tomato harvest.
我们的第一责任在CSIRO是帮助和番茄收.
The growth of tomatoes in response to water shortage was to be my field of research and in accordance with the requirements of the University of Western Australia was to be approved as the basis for a Masters Degree in Science (Agriculture)
番茄的增长响应水不足是是研究的我的域和按照大学的要求的西方人澳大利亚是被赞同作为基础为主人程度在农业.
It was also agreed that they would act as Supervisor for the University, as there was no training provided in Plant Physiology within the University.
它也同意那他们将充当舍监为大学,当没有训练倘若在种植生理学在大学以内 .
I first gained an honours degree, for which I had to take an exam in French and German science literature.
我第一获得荣誉程度,为哪一个我不得不拿考试用法语和德语科学文学.
My wife was remarkably patient, for at the last minute I was told of this requirement and she was expecting, and was sitting inconveniently on a travel case, whilst I was receiving lessons in German at home.
我的妻子非常地有耐心的,为在最后一刻我被讲述这要求和她在盼望,并且在坐不便的在旅行大小写,与此同时我在收到课在德语在家.
I had never learned any German, this was our first child and we had no money.
我德语从不学习任何,这我们的第一孩子和我们没有钱.
Fortunately, we scraped up enough cash to buy a cane chair so that she could be comfortable until our babe was borne.
幸运地,我们凑集充足的现金买藤椅以致她能是舒服的直到我们的小孩是忍受.
I spent the next nine years in chemical analyses of the individual plant parts and in their statistical appraisal.
我花费下一个九年在个体的植物的化学分析部分和在他们的统计的评价.
A great proportion of this was done of an evening because I was mindful of its implications for the Masters Degree and also because I was a mad scientist.
伟大的成比例的这被的晚间因为我是留心的的它的含意为主人程度并且因为我是疯狂科学家.
Fortunately, my wife gradually tamed me by reason of her great natural charm.
幸运地,我的妻子逐渐地驯服的我由于她伟大的自然的迷人.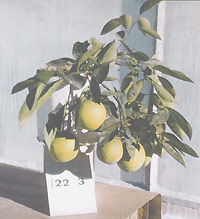 During this time I expressed the view at a science congress that one should be able to grow fruiting citrus trees on cuttings and so avoid the long period involved in the development of trees to the fruiting stage.
正当这一次我表达查看在科学会议那个将能成长生成的柑橘植物树在锐利和如此避免长时期复杂在树的发展生成的阶段.
It might also avoid the uncertainties of large scale field experiments.
它可以也避免大比例的不确定域实验.
It seemed a hunch that might or might not pay off.
它象是预感那可以或不可以还清.
It proved to be successful and clearly demonstrated the importance of correct nutrition with greater certainty than had field experiments.
它证明被成功的和清楚示范正确营养的重要和更伟大的确定比有域实验.
I was told that the Degree of Master of Science (Agriculture) had been awarded when I called at the Faculty in Perth on the way to England with the family in 1947.
我被告诉那程度的的硕士科学(农业)已经授与当我访问能力在 Perth在途中到英国和家庭在 1947.
I was also told by Professor Underwood that the examiners in
我被也告诉由丛林教授那主考者在
Melbourne University had recommended the work be granted a Ph.D., but as I had not fulfilled the required residence at the University I would have to wait until I had.
墨尔钵大学已推荐工作被授予Ph.D.,但是作为我尚未完成必需的住宅在大学我将不得不等直到 我有.
The ensuing years of family needs made this impractical and I never returned to the University as it would have clashed with family needs.
接着而来的岁月家庭需要被做这不切实际和我从未回到了大学因为它与家庭需要会撞击
There was one good response, though, I had received five increments of salary from CSIRO and had been awarded the trip to Oxford University and to California Institute of Technology as a visiting scientist.
有一好反应,尽管,我已收到工资的五增值从CSIRO和已经授与旅行到牛津城大学和加利福尼亚技术的学院作为拜访科学家.
The experience gained in these institutions and their associated visits to other laboratories was of great value to my work with CSIRO.
体验获得这些体系和他们的联合的访问其他实验室是的伟大的值我的和CSIRO一起工作 .
One had to work long hours but the scientific contacts were stimulating.
一不得不工作长小时但是系统的接触刺激的.
At Cal.Tech.
在加州
Tech, for example, a typical day commenced with an 8 am staff lecture and finished at midnight when the samples were scanned overnight for radioactivity.
技术,例如,典型的天开始和8被职员演讲和完成在午夜当示例前晚是扫描为放射性.
You read them on the following morning when the staff lecture was finished.
你读他们在下列早晨当职员演讲被完成.
Fortunately, we lived across the way and I could return during the day for family needs.
幸运地,我们在对面住和我能返回在白天为家庭需要.
I was able to visit quite widely in Europe, the USA and Canada.
我相当能访问广泛地在欧洲, USA和加拿大.
One found that there were marked differences in the scientific approaches of the different countries.
一发现那有显著的差别在系统的接近的不同国家.
A striking feature was the tendency of men of outstanding ability to be selected to administer the work of others, who often were not as skilled.
醒目的特点是男人的趋向的杰出能力是选定管理遗产工作的其他,谁时常不是作为熟练的.
This seemed to be a waste of skill and led to exhaustion of the skilled workers through the burden of administration.
这象是被浪费技巧和导致熟练的工人的疲惫通过管理的负担