Unit 38: The Calendar
日历
The Calendar
日历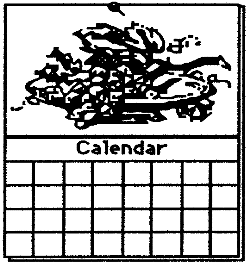 All nations have their own ways of saying things about past time and the different historical events important to them.
所有国家有话的他们的自己方法东西关于过去的时间和不同历史的事件重要的他们.
Some make reference to the Buddha, some to Mohammed, and so on.
一些涉及佛,一些到穆罕默德,等等.
It has been very hard to make sense of the historical relations between nations because of the differences between their systems of keeping their records, or calendars.
它已经非常硬的理解的意思历史的关系位于国家因为差别位于保管的他们的系统他们的记录,或日历.
The early Egyptians and Babylonians had calendars.
早埃及人和罪恶的有日历.
It is thought by experts in the measurement of time that the invention of the calendar to mark off the years was a very important thing.
它被想由时间的度量专家那日历的发明划分出年是非常重要的东西.
In countries where talk is in English, historical events have been related to the birth date of Christ.
在国家讲话是用英语,历史的事件已经涉及出生基督的日期 .
The two main divisions of history are B.C. and A.D.
历史的二主区分是 B.C. and A.D.
Time before the birth of Christ is given by B.C..
在基督的出生前并且 A.D.时间被给由 B.C..
Time after Christ's birth is given by A.D. Those letters are short for two words which are about "the birth of our Lord".
时间后于基督的出生被给由A.D.那些字母简短地二字是关于 "出生的我们的勋爵".
Historical records usually have these letters after the year named.
历史的记录通常有这些字母后于一年指定的.
Just have in mind that the number of the year gets larger the further you go from the birth of Christ, both before and after.
仅仅考虑那一年的编号获得较大的更远你去从基督的出生,在后于前和 .
Each year has 12 months in 4 seasons.
每个年有 12月在 4季节.
The seasons are:
季节是:
Summer, Winter, Autumn and Spring usually said in that order.
夏季,冬天,秋天和春天通常说在那顺序.
The 3 months of each season in Australia are:
3月的每个季节是:
Season




Early




Mid




Late




Summer




夏季

December




12月

January




1月

February




2月

Autumn




秋天

March




3月

April




4月

May




可以

Winter




冬天

June




6月

July




7月

August




8月

Spring




春天

September




9月

October




10月

November




11月
Early Summer is in December, mid Summer is in January, late Summer is in February.
Days of the Week
In each month, the weeks are divided into the seven days:
在每个月,星期被除进入七天:
Each of these days had a religious relation in the early days of English Society, but that is only a matter of interest to you now.
每个这样的天有虔诚关系在英语的早天社会,但是那进行大约感兴趣你现在.
If you have some knowledge of these names you will quickly become familiar with the Calendars which show them in the country with which you have connections.
如果你懂得一点这些名你将很快变成了解日历哪一个给他们表演在乡下和哪一个你有连接.
The longest day of the year comes on the 21st/22nd December.
一年的最长的天来吧第21/12月22日.
The shortest on 21st/22nd June;
最短的在第21/6月22日;
Equal lengths of day and night are on 21st / 22nd of both March and September.
等于长度的日日夜夜地进行第21/第22的 3月和 9月.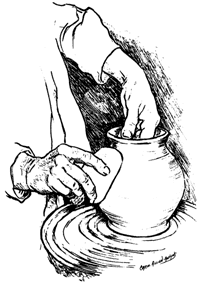 In The Potter's Hand
在陶工的手
The word which came to Jeremiah from the Lord, saying, Up!
字哪一个来到耶利米从勋爵,话,向上!
go down to the potter's house, and there I will let my words come to your ears.
延续至陶工的房子,并且那里我将让我的字来你的耳朵.
Then I went down to the potter's house, and he was doing his work on the stones.
然后我延续至陶工的房子,并且他正在做他的继续工作石头.
And when the vessel, which he was forming out of earth, got damaged in the hand of the potter, he made it again into another vessel, as it seemed good to the potter to make it.
并且当容器,他哪一个在形成缺乏地球,获得被损坏的在陶工的手,他把它再次做成另一个容器,当它象是好陶工制作它.
Then the word of the Lord came to me, saying, O Israel, am I not able to do with you as this potter does?
然后字的来勋爵我,话,O以色列,是我不能对付你作为这陶工?
says the Lord.
说勋爵.
See, like earth in the potter's hand are you in my hands, O Israel.
看见,喜欢地球在陶工的手是你在我的手, O以色列.
Additional Reading
附加读
In 1956 a clever man took a careful look at some old writings imprinted on earthen plates which had been put away carefully in Britain.
入1956聪明的人取小心看一些旧的笔迹铭刻在土制的碟哪一个已经放好小心地在英国.
They had been found in Mesopotamia some time earlier and brought to Britain.
他们已经发现在美索不达米亚某时更早和带来到英国.
They were as hard as stone and were in a very strange form of writing.
他们是和石头一样硬的和是在笔迹的非常奇怪的形式 .
Only an expert could say what the meaning of the writing might be.
仅仅专家能说什么的含义笔迹可以是.
They had been made in the times of the wise and holy man, Jeremiah.
他们已经产于聪明的《泰晤士报》和神圣的人,耶利米.
They were a history of events at that time that was quite separate from the Book of Jeremiah.
他们是历史的事件在那时那相当和耶利米的书分.
The good thing about them is that both they and Jeremiah's sayings are in agreement.
好东西关于他们是那 他们和耶利米的语录是在同意.
The potter is given here as a picture of the power of God in making the future of His people.
陶工在这里被给作为力量的图片的上帝制造中的他的人的未来 .
Jeremiah made use of that idea in saying that the way his nation had to take was complete attention to God's will.
耶利米利用那主意在话那方法他的国家不得不拿是完成注意上帝的将.
As the potter could make, bring destruction to, and remake the vessel he was forming out of the earth, so the nation could be made or come to destruction.
当陶工能制作,带来破坏,并且再作容器他在形成缺乏地球,如此国家能被制作或来到破坏.
The necessary thing for the potter was to have the earth he used soft and manageable.
必需东西为陶工是有地球他使用软和易管理的.
Israel was also to be like that.
以色列也是喜欢那.
The trouble was that the nation was doing wrong and the religious leaders were giving them help in the wrong doing.
麻烦是那国家正在做错误和虔诚领导者在提交他们帮助错误做.
This put Jeremiah in a very serious position.
这把耶利米放入非常严肃的位置.
He was responsible to God for giving his countrymen the knowledge of God's purposes for them.
他向上帝负责为给他的国民上帝的目的的的知识作为他们.
But, they did not have any interest in what he had to say.
但是,他们不有任何对他不得不说什么有兴趣 .
The poor degree of attention they gave to him came about as a response to the complex mixed up situation in which they found themselves.
穷人注意的程度他们给他发生作为回应复合体混和情形在他们发现自己处境哪一个 .
The times were very hard.
《泰晤士报》非常硬的.
Their small country seemed to be under the control of very powerful nations that lay to the north and to the south of them.
他们的小国家象是是受非常强大国家的控制那把归于北和在南方的他们.
They had no respect for the measures Jeremiah said were important for their future.
他们没有尊敬测量耶利米说是重要的为他们的未.
The people let his sayings go by with a laugh or even with a desire for his punishment.
人民让他的语录走过和笑或甚至和要求为他的处.
He was at times put in prison for the fact that he was God's representative to them.
他时常放进监禁为事实是他上帝的代表他们.
He even went close to losing his life.
他甚至去接近于死.
There was no harmony between Jeremiah and his countrymen because the times saw a lot of trouble and destruction.
没有协调位于耶利米和他的国民因为《泰晤士报》看许多麻烦和破坏.
The men who are experts on changes in past weather conditions have made the observation that this was a time when every day existence was hard.
男人是专家在变化在过去的天气条件已制作观察那这是时间当每天存在硬的.
The weather was gradually getting colder over a very long time and thus food stores were becoming lighter.
天气是逐渐地变得更冷的高于于是非常长时间食物商店在变成较亮.
Of course, the rhythm of change makes it hard to say things were fixed at any one level.
当然,节奏的改变制作它硬的说东西固定在任何一层次.
But all the nations were taking steps to put their own development first.
但是所有异教徒在采取措施放他们的拥有发展第.
That led to a lot of competition between them.
那导致许多竞争位于他们.
So, Jeremiah lived in important times historically.
如此,耶利米住在重要的次历史的.
His statements were about important facts of everyday life in hard times.
他的陈述是关于日常生活的重要的事实在硬的次.
He had a very deep relation to God and to the desires of his nation in times of great need.
他有非常深关系到上帝和要求的他的国家及时的伟大的需要.
We may learn a great amount from Jeremiah.
我们可以学习伟大的数量从耶利米.
His sayings under those hard conditions seem equally important now as then.
他的语录在下面那些硬的条件现在似乎同样重要的作为然后.
Above all, he gave attention to the need to have right purposes in all that is done and not to see acts of religion as the only quality that has God's approval.
首先,他注意需要有正确目的的总共那被和别看见行为的宗教作为仅仅质量那有上帝的赞成.
He said that to be right with God it is necessary to be as manageable as soft earth in the potter's hand.
他说那是对它必需合适上帝是和软一样易管理的地球在陶工的手.
Helpful Notes
有用的笔记
potter's house




陶工的房子

the place where earth was made into useful vessels.




放置在哪里地球被制成有用的容器.
work on the stones




继续工作石头

the potter worked on a stone wheel.




陶工继续工作石头旋转.
earthen plates




土制的碟

these were made use of for early records.




这些被利用为早记录.
strange form of writing




笔迹的奇怪的形式

the marks used for an early language.




标记使用为早语言.
rhythm of change




节奏的改变

good or bad reactions coming one after another.




好或坏反应来一个接一个.
manageable as soft earth




易管理的作为软地球

ready adjustment .




就绪调整 .