Unit 36: Numbers
Números
Pictured Words
Palabras Representadas
New Words
Nuevas Palabras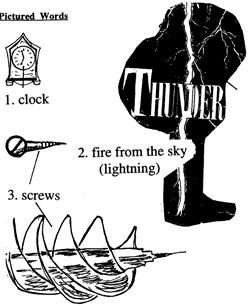 1.clock
reloj
2.fire from the sky (lightning)
fira del cielo (relámpago)
3.screws
tornillos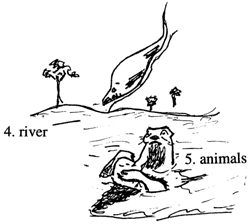 4.river
río
5.animals
animales
Nouns
Sustantivos
Adjectives
Adjetivos
Sayings
Refranes
There are many kinds of animals that take pleasure in swimming in the river or in the sea.
Hay muchas clases de animales que tomen placer en nadar en el río o en el mar.
A screw is a very useful thing.
Un tornillo es una cosa muy útil.
Not all screws are small.
No todos los tornillos son pequeños.
The screw which makes a ship go is very large and is given that name because of its shape.
El tornillo que hace que va una nave es muy grande y se da ese nombre debido a su forma.
Our typewriter is over there on the shelf.
Nuestra máquina de escribir está allá en el estante.
It is not an electric one.
No es eléctrica.
Our office is always at work because we have to see the amount of money that comes in from our businesses.
Nuestra oficina está siempre en el trabajo porque tenemos que ver la cantidad de dinero que venga adentro de nuestros negocios.
The girls put powder on their noses and some gets onto their slips.
El polvo puesto las muchachas en sus narices y algunas consigue sobre sus resbalones.
We got the amounts by the decimal system before, but now the calculator does it automatically.
Conseguimos las cantidades por la sistema decimal antes, pero ahora la calculadora la hace automáticamente.
Calculators make use of the binary system because that suits the way electrical systems do their work.
Las calculadoras hacen uso el sistema binario porque ésa satisface la manera que los sistemas eléctricos hacen su trabajo.
There has been a complete change of business ways of late years because of the invention of electronic machines.
Ha habido un cambio completo de las maneras del negocio de últimos años debido a la invención de máquinas electrónicas.
Numbers
Números
English has a number system that is based on tens.
El inglés tiene un sistema de numeración que se base en diez.
Other countries have other systems.
Otros países tienen otros sistemas.
The Jews used tables of numbers based on 14, whilst in early Mesopotamia the base went up to 60.
Los judíos utilizaron las tablas de los números basados en 14, mientras que en Mesopotamia temprano la base entró hasta 60.
We still have the effects of the 60 system in our measure of time into seconds and minutes.
Todavía tenemos los efectos del sistema 60 en nuestra medida de tiempo en segundos y minutos.
A very important number system now is that based on electric impulses.
Un sistema de numeración muy importante ahora es ése basado en impulsos eléctricos.
It gives a base of 2 and is termed the binary system.
Da una base de 2 y se llama el sistema binario.
Computers go on that system.
Las computadoras van en ese sistema.
But the normal system of numbers is based on tens and goes by the name of the decimal system.
Pero el sistema normal de números se basa en diez y va por el nombre de la sistema decimal.
It is widely used throughout the world, not only by Englishmen.
Es utilizado extensamente a través del mundo, no solamente por englishmen.
*




*

1




one




uno

the first in the series




el primer en la serie

**




**

2




two




dos

the second in the series




el segundo en la serie

***




***

3




three




tres

the third in the series




el tercero en la serie

****




****

4




four




cuatro

the fourth in the series




el cuarto en la serie

*****




*****

5




five




cinco

the fifth in the series




el fifth en la serie

******




******

6




six




seises

the sixth in the series




el sexto en la serie

*******




*******

7




seven




siete

the seventh in the series




el séptimo en la serie

********




********

8




eight




ocho

the eighth in the series




el octavo en la serie

*********




*********

9




nine




nueve

the ninth in the series




el noveno en la serie

**********




**********

10




ten




diez

the tenth in the series




el décimo en la serie

***********




***********

11




eleven




once

the eleventh in the series




el undécimo en la serie

************




************

12




twelve




doce

the twelfth in the series




el twelfth en la serie
the last two are the only ones above ten that have a special name.
los dos pasados están los únicos sobre diez que tengan un nombre especial.
The rest are like the first ten but add "teen" to them:
La repetición del resto los nombres de los primeros diez y agrega "adolescente" a ellos:
thirteen




trece

fourteen




catorce

fifteen




quince

sixteen




dieciséis

seventeen




diecisiete

eighteen




dieciocho

nineteen




diecinueve.
Further groups of ten take their names from the units by adding "ty":
Otros grupos de la toma diez sus nombres de las unidades agregando "ty":
twenty




veinte

thirty




treinta

fourty




fourty

fifty




cincuenta

sixty




sesenta

seventy




setenta

eighty




ochenta

ninety




noventa
Hundreds are the next group in the series.
Los centenares son el grupo siguiente en la serie.
They have the name of the unit before the word "hundred":
Tienen el nombre de la unidad antes de la palabra "ciento":
one hundred




ciento

two hundred




dosciento

and so on.




etcétera.
The next group has the name "thousand".
El grupo siguiente se llama "mil".
one thousand




mil

two thousand




dos mil

and so on.




etcétera.
There is little point in progressing further than this because once the basis is clear, numbers are more quickly put in mind by connection with the country of your choice.
Hay poco punto en progresar más lejos que esto porque una vez que la base esté clara, los números son puestos más rápidamente en mente por la conexión con el país de su opción.
Fire From Heaven
Fuego Del Cielo
He put the wood in order, and cutting up the ox, put it on the wood.
Él puso la madera en orden, y el corte encima del buey, lo puso en la madera.
Then he said, Get four vessels full of water and put it on the burned offering and on the wood.
Después él dijo, consigue cuatro recipientes llenos de agua y los puso en quemado ofrecimiento y en la madera.
And he said, Do it a second time, and they did it a second time;
Y él la dijo, hace una segunda vez, y la hicieron una segunda vez;
And he said, Do it a third time, and they did it a third time.
Y él la dijo, hace una tercera vez, y la hicieron una tercera vez.
And the water went all round the altar, till the drain was full.
Y el agua fue todos alrededor del altar, hasta que el dren era lleno.
Then at the time of the offering, Elijah the prophet came near and said, O Lord, The God of Abraham, of Isaac, and of Israel, let it be seen this day that you are God in Israel, and that I am your servant, and that I have done all these things by your order
Entonces a la hora del ofrecimiento, Elijah el profeta vino cercano y dicho, el señor de O, el dios de Abraham, de Isaac, y de Israel, déjelo se vea este día que usted es dios en Israel, y que soy su criado, y que he hecho todas estas cosas por su orden
Give me an answer, O Lord, give me an answer, so that this people may see that you are God, and that you have made their hearts come back again.
Déme una respuesta, señor de O, déme una respuesta, de modo que esta gente pueda ver que usted es dios, y que usted ha hecho que se vuelven sus corazones otra vez.
Then the fire of the Lord came down, burning up the offering and the wood and the stones and the dust, and drinking up the water in the drain.
Entonces el fuego del señor vino abajo, quemándose encima del ofrecimiento y de la madera y las piedras y el polvo, y de beber encima del agua en el dren.
When the people saw it, they all went down on their faces, and said, The Lord, he is God, the Lord, he is God.
Cuando la gente lo vio, ella toda fue abajo en sus caras, y dijo, el señor, él es dios, el señor, él es dios.
Additional Reading
Lectura Adicional
Fire from the heavens is a very fearful thing.
El fuego de los cielos es una cosa muy temerosa.
Many persons come to death each year in various countries by reason of a fire from the heavens to which we give the name of "lightning".
Muchas personas vienen a la muerte cada año en varios países por causa de un fuego de los cielos a los cuales damos el nombre del "relámpago".
The example of which we have most knowledge in present times is the country of America.
El ejemplo de el cual tenemos la mayoría de conocimiento en las actuales épocas es el país de América.
In the times long ago that are recorded in our story, the wise and holy man, Elijah, the prophet of God, was making a comparison between the true God and the local one that held the respect of the people.
En los tiempos desee hace eso se registran en nuestra historia, el hombre sabio y santo, Elijah, el profeta del dios, hacía una comparación entre el dios verdadero y el local que llevaron a cabo el respecto de la gente.
His name was Baal.
Su nombre era Baal.
Elijah called upon God only once and got an important answer, as we see.
Elijah invitó a dios solamente una vez y consiguió una respuesta importante, como vemos.
The prophets of Baal had been trying all day to do the same thing without anything being done for them by their god.
Los profetas de Baal habían estado intentando todo el dia hacer la misma cosa sin cualquier cosa que era hecha para ellos por su dios.
They put cuts in themselves with swords and knives and gave loud cries, and the blood came streaming out all over them.
Pusieron cortan adentro ellos mismos con las espadas y los cuchillos y dieron gritos ruidosos, y la sangre vino fluyendo fuera de todo sobre ellos.
But there was no voice nor any answer, and no attention was given to them.
Pero no había voz ni ninguna respuesta, y no se dio ninguna atención ellos.
Elijah gave a much better comparison.
Elijah dio una comparación mucho mejor.
There is much more behind this account than what we might have in mind.
Hay mucho más detrás de esta cuenta que qué puede ser que tengamos en mente.
King Ahab lived at a time of great political change and many opposing ideas.
Rey Ahab vivió a la vez de gran cambio político y de muchas ideas de oposición.
Two big nations were in deadly competition at the edges of his kingdom.
Dos naciones grandes estaban en la competición mortal en los bordes de su reino.
Naturally, he tried to go between them and keep his own authority.
Naturalmente, él intentó ir entre ellas y guardar su propia autoridad.
One way of doing this was to let all sorts of religious views be taken up by his people.
Una forma de hacer esto era dejó todas las clases de visiónes religiosas ser tomada por su gente.
Another was to have the trick of marriage with the opposing kingdoms.
Otro debía tener el truco de la unión con los reinos de oposición.
By such measures he was able to let his people live in peace and well being.
Por tales medidas que él podía deje a su gente viva en paz y bienestar.
For at least a while, he gave them property and profit.
Por por lo menos un rato, él les dio la característica y el beneficio.
He was able to do much building in the chief parts of his kingdom.
Él podía hacer mucho edificio en las principales partes de su reino.
The trial between the two strong religious groups that we see here was a great blow to his chances and his changes.
El ensayo entre los dos grupos religiosos fuertes a que vemos aquí éramos un gran soplo a sus ocasiones y el suyo cambia.
His wife was one of those with whom Ahab tried to keep the peace through marriage.
Su esposa era una de ésos con quién Ahab intentó mantener la paz con la unión.
And she was the one who was on the side of the prophets of Baal.
Y ella era la quién estaba en el lado de los profetas de Baal.
Many of Elijah's countrymen were strong in their opposition to her.
Muchos de los paisanos de Elijah eran fuertes en su oposición a ella.
This event led to her destruction in the long run.
Este acontecimiento condujo a su destrucción en el funcionamiento largo.
In another story we see how Elijah took his stand against Ahab when he tried to get his hands on Naboth's vine-garden.
En otra historia vemos cómo Elijah tomó su soporte contra Ahab cuando él intentó conseguir sus manos en el vid-jardi'n de Naboth.
Elijah was finally taken up from the earth in fire.
Elijah finalmente se toma de la tierra en fuego.
It is written, "Suddenly there were carriages and horses of fire and Elijah went up to heaven in a great wind".
Se escribe, "repentinamente había carros y los caballos del fuego y de Elijah fueron hasta cielo en un gran viento".
Elijah was a great prophet at a stage in his nation's history when times were changing and his countrymen had great need to be pointed towards sound religion and to their true God.
Elijah era un gran profeta en una etapa en la historia de su nación cuando los tiempos cambiaban y sus paisanos tenían gran necesidad de ser señalado hacia la religión sana y a su dios verdadero.
For these acts he has a lasting place in our history.
Para estos actos él tiene un lugar duradero en nuestra historia.
Helpful Notes
Notas Provechosas
second, third times




en segundo lugar, terceras épocas

see numbers.




vea los números.
hearts come back




los corazones se vuelven

fresh attitude of approval.




actitud fresca de la aprobación.
blood streaming




el fluir de la sangre

a mark of respect among believers.




una marca del respecto entre believers.
deadly competition




competición mortal

fighting in politics and in battle.




el luchar en política y en batalla.
marriage




unión

gaining by sharing relationships in marriage.




el ganar compartiendo relaciones en la unión.
Interesting Facts and Records
Hechos y expedientes interesantes
The Assyrians And Babylonians
Los Asirios Y Los Babilónico
There were fertile lands to the north east and to the south of Palestine.
Había tierras fértiles al este del norte y al sur de Palestina.
Israel was the land bridge between the two.
Israel era el puente de la tierra entre los dos.
These lands gave good support to the persons living there because they were able to produce enough food.
Estas tierras dieron la buena ayuda a las personas que vivían allí porque podían producir bastante alimento.
They were mostly along the valleys of great rivers.
Estaban sobre todo a lo largo de los valles de los grandes ríos.
The rulers of these lands were always making attempts to get more land and more produce for themselves.
Las reglas de estas tierras hacían siempre tentativas de conseguir más tierra y más producto para sí mismos.
They made attacks on each other in war quite frequently.
Hicieron ataques contra uno a en guerra absolutamente con frecuencia.
One of the first nations to make many such military attempts was the nation of Assyria.
Una de las primeras naciones para hacer muchos a tales militares las tentativas era la nación de Assyria.
The Assyrians had full control for about 100 years from 729 B.C. They often went to war in Palestine.
Los asirios tenían control completo por cerca de 100 años a partir de 729 B.C. Fueron a menudo a guerrear en Palestina.
They won their wars by good organisation and the high quality of their engines of war.
Ganaron sus guerras por la buena organización y la alta calidad de sus motores de la guerra.
They could be named the Romans of those early times.
Podrían ser nombrados el Romans de esas épocas tempranas.
They were cruel when fighting, but less so when they had won.
Eran cruel al luchar, pero menos tan cuando habían ganado.
They tried to frighten their enemies.
Intentaron asustar a sus enemigos.
It is said that in an attack on a town they would put a stick through the stomachs of prisoners and hang them in a hole.
Se dice que en un ataque contra una ciudad pasarían un palillo a través de los estómagos de presos y los colgarían en un agujero.
This was done within full view of the walls of the town.
Esto fue hecha dentro de la vista completa de las paredes de la ciudad.
The process was very cruel.
El proceso era muy cruel.
We have many records of the attacks the Assyrians made on the land of Israel.
Tenemos muchos expedientes de los ataques que los asirios hicieron en la tierra de Israel.
The Assyrians built large towns with fine buildings.
Los asirios construyeron ciudades grandes con los edificios finos.
These were made of mud brick and were only one room high.
Éstos fueron hechos de ladrillo del fango y eran solamente un sitio alto.
They had flat rooves made of wood and mud.
Hicieron los rooves planos hacer de la madera y del fango.
They were made beautiful with pictures and colored bricks in the walls.
Fueron hechos hermosos con los cuadros y colorearon ladrillos en las paredes.
The Babylonians are another great nation that made attacks on Israel.
Los babilónico son otra gran nación que hizo ataques contra Israel.
They took control from Assyria.
Tomaron control de Assyria.
The great town of Babylon is now known for its laws, its large walled towns and its religion.
La gran ciudad de Babylon ahora se conoce para sus leyes, sus ciudades emparedadas grandes y su religión.
They made detailed measures of their movements.
Hicieron medidas detalladas de sus movimientos.
It seemed good to them to divide the heavens on a basis of 60 parts and so they made a number system that went up to 60.
Se parecía bueno ellos dividir los cielos sobre una base de 60 porciones y así que hicieron un sistema de numeración que fue hasta 60.
There was great interest in their knowledge at the time.
Había gran interés en su conocimiento en ese entonces.
Its effects have continued even to the present times in our own divisions of time and space.
Sus efectos han continuado incluso a los actuales tiempos en nuestras propias divisiones del tiempo y del espacio.
We have 60 minutes in an hour, and 60 seconds in a minute because of this relation with those past ways of doing things.
Tenemos 60 minutos en una hora, y 60 segundos en un minuto debido a esta relación con esas últimas maneras de hacer cosas.
We also have 60 seconds in a degree in earth sciences.
También tenemos 60 segundos en un grado en geologías.
Both these nations made records with a system of writing based on marks in plates of wet earth.
Ambas estas naciones hicieron expedientes con un sistema de la escritura basado en marcas en placas de la tierra mojada.
These were put into the fire or the sun to dry.
Éstos fueron puestos en el fuego o el sol para secarse.
Large numbers of these plates have been found.
Se han encontrado una gran cantidad de estas placas.
They were on shelves once but had slipped to the ground and become covered with powdery dust.
Estaban en estantes una vez pero se habían deslizado a la tierra y se habían cubierto con polvo polvoriento.
They were on the subjects of religion, art, medicine and the history of those days.
Estaban en los temas de la religión, del arte, de la medicina y de la historia de esos días.
One of the seven "great things" of past times was the hanging gardens of Babylon.
Uno de los siete "las grandes cosas" de últimas épocas era los jardines que colgaban de Babylon.
These are said to have been built for a queen who came from a mountainous part.
Éstos se dicen para haber sido construidos para una reina que vino de una parte montañosa.
She had no liking for the flat lands around Babylon.
Ella no tenía ningún tener gusto para las tierras planas alrededor de Babylon.
Beautiful trees, flowers and water falls were put in these gardens to give her the sense of being among mountains.
Los árboles, las flores y las caídas hermosos del agua fueron puestos en estos jardines para darle el sentido de estar entre las montañas.
From these gardens we see how great was the wealth and power of Babylon.
De estos jardines vemos cómo es grande eran la abundancia y la energía de Babylon.