About: The Writings
Sobre los Escritos
SeeSayDo is written by Dr. Clive T. Gates
SeeSayDo es escrito por el Dr. Clive T. Gates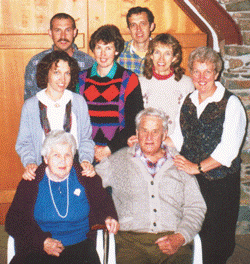 Joan & Clive's golden wedding anniversary with children: Phil, Wes, Heather, Steph, Christine & Kay. (1997)
Aniversario de oro de la boda de Joan y de Clive con sus hijos : Phil, Wes, Heather, Steph, Christine y Kay. (1997)
Extract from a letter Clive wrote to a friend regarding the SeeSayDo books.
El extracto de una carta Clive escribió a un amigo con respecto a los libros de SeeSayDo.
You did ask me for a resume of my background to popularise the books.
Usted me pidió mi currículo viíta para que popularizara los libros.
I think that needs only to be brief, covering the major points:
Pienso que necesita solamente ser breve, cubriendo los puntos principales:
In my teens I was influenced by a Dr. T.Z. Koo who spoke at a church meeting in the Chatswood Town Hall.
En mi adolescencia fui influenciado por el Dr. T.Z. Koo que habló en una reunión con la iglesia en el salón de la intendencia de Chatswood.
I felt called to study agriculture as a basis for Christian work.
Me sentía llamado para estudiar agricultura como base para el trabajo cristiano.
I had to gain entry to University by private study for the Leaving Certificate, and my financial resources did not favour that aim.
Para poder entrar a la universidad tuve que privadamente estudiar para terminar el secundario, y no estuve favorecido con mis recursos financieros.
To make a long story short, the Lord enabled me to succeed and I entered CSIRO at Griffith, NSW.
Para acortar mi historia, Dios me ayudo con muy buenas notas y me pude incorporar al CSIRO en Griffith, NSW.
I have since studied in England at Oxford and Cambridge, in the United States at Cal. Tech.,
Desde entonces estudie En Inglaterra en Oxford y Cambridge, en los Estados Unidos en la universidad de tecnología en California.
and in Japan at the Institute of Protein Research at the Osaka Han Dai, altogether some 3 to 4 years overseas as a CSIRO officer.
Y en el Japón en el Instituto de Proteína Research en Osaka HanDai, todo junto de 3 a 4 anos fuera del país como oficial del CSIRO.
I felt challenged by the Lord to take up the night study of Chinese and Japanese at the Queensland University and at the Institute of Modern Languages.
Sentía que el Señor me desafiaba para que estudiar de noche Chino y Japonés en la Universidad de Queensland y también en el Instituto de Lenguas Modernas.
I completed Honours in each along with the study of Chinese, Japanese and Indian history and culture.
Terminé con honores en cada uno, junto con el estudio de la historia y de la cultura chinas, japonesas e indias.
These seemed important for that challenge.
Éstos eran importantes para ese desafío.
As a result, I twice worked with Dr. Joseph Needham in Cambridge on the agricultural volume of his series "Science and Civilisation in China",
Consecuentemente, trabajé dos veces con el Dr. José Needham en Cambridge en el volumen agrícola de su serie "ciencia y civilización en China",
and have since published during retirement three books: "Climate and Agriculture; Globally, In China, and In Biblical Times".
Desde entonces, y cuando me retire tengo publicado tres: libros "CLIMA Y AGRICULTURA; Global, en China, y en los Tiempos Bíblicos
Also during retirement, we have developed "Gilgal", a 270 acre property for training Christian workers.
También después de mi retiro, hemos construido "Gilgal", una propiedad de 270 acres para enseñar a los cristianos.
It became obvious that the Bible was an ideal basis for teaching English and thus satisfying the hunger for learning that language whilst favouring Biblical knowledge.
Llegó a ser obvio que la Biblia era una base ideal para enseñar el Ingles y así satisfacer el hambre para aprender esa lengua mientras complementarlo con el sabor Bíblico
The present books result from that and are the product of a decade of work.
Los actuales libros resultan de eso y son el producto de una década del trabajo.
My academic qualifications are:
Mis calificaciones académicas son:
Dr. Bib. Stud.(Missouri), B.A. Oriental Studies (Q), M.Sc. Agric., B.Sc. Agric. Hons. (WA), Lay Preaching Hons. (NSW), Digital & Industrial Electronics (ACT), Institute Modern Languages (Q), CSIRO Principal Research Scientist (retired), Life member American Society Plant Biologists.
Publisher's Notes
Notas Del Editor
Prepared for the internet by 'Clive and Wes Gates', with the kind assistance of 'Bill Sutton' of 'SuttonNet'.
Preparado para el Internet por Clive y Wes Gates con la amable ayuda de Bill Sutton de SuttonNet .
Bill designs and hosts the site. He also wrote 'Java' programs to transform bi-lingual spreadsheets into web pages via XML.
Diseños y anfitriones de la cuenta ' el sitio. Él también escribió los programas de ' Java ' para transformar las hojas de balance bilingües en Web pages.
The original set of books are published in Australia and New Zealand by "Gilgal International Training Academy (Inc.)" under the title 'English: To See Say Do'.
El sistema original de libros es publicado en Australia y Nueva Zelandia por "la academia del entrenamiento de Gilgal International (el inc..)" bajo título English: To SeeSayDo.
This web site is a non-profit internet publication of Dr.Clive T.Gates books 'English: To See Say Do'.
Este sitio web es una publicación de Internet sin fines de lucro de Dr.Clive T.Gates libros de Inglés: Para Ver, Decir, Hacer
Literal translations of english to other languages are provided to assist in learning english (not the other language), prepared with the aid of 'Chinese Star SunTendy, USA' and internet translation machines.
Las traducciones literales del inglés a otras idiomas se proporcionan a la ayuda en inglés que aprende (no la otra lengua), preparado de la ayuda de la ' estrella china SunTendy, los E.E.U.U. ' y máquinas de la traducción del Internet.
The words and grammar in this course are the same as that used by the 'Syndics of Cambridge University Press' in their version of the 'Bible in Basic English'.
Las palabras y la gramática en este curso son iguales que ésa usada por el ' Syndics de la universidad de Cambridge Press.in' su versión ' de la biblia en inglés básico '.
Their cooperation in permitting quotation from that version is gratefully acknowledged. We warmly advise the purchase of that version.
Su cooperación en la cita de permiso de esa versión agradecido se reconoce. Aconsejamos con gusto la compra de esa versión.
That volume, and so the present text, makes use of the 'Basic English' developed by:
Que el volumen, y tan el actual texto, hace uso el ' inglés básico ' se convirtió cerca:
Ogden, C.K.' (1935) The ABC of Basic English (in Basic), 3rd print, 'Paul Trench, Trubner, London.'
Ogden, C.K.' (1935) El ABC del inglés básico (en básico), 3ro impresión, ' foso de Paul, Trubner, Londres.'
This is also gratefully acknowledged.
Esto también agradecido se reconoce.
Scriptural Figures by 'Carol Allen-Ankins'.
Figuras de Scriptural por el ' carol Allen-Ankins'-Ankins'.
Apart from any fair dealing for the purposes of private study, research, criticism or review as permitted under the Copyright Act;
Aparte de repartir justo para los propósitos del estudio, de la investigación, de la crítica o de la revisión privada según lo permitido bajo acto de copyright;
this text is copyright. No part of this text may be reproduced by any process, including radio, television, or other electronic media, without the written permission of the author.
este texto es copyright. Ninguna parte de este texto se puede reproducir por cualquier proceso, incluyendo radio, la televisión, u otros medios electrónicos, sin el permiso escrito del autor.
English: To See Say Do
Inglés: Ver, Decir, Hacer
National Library of Australia, ISBN 1 876222 00 X (Set),(1 876222 09-12) Second Edition 2001.
Biblioteca nacional de Australia, ISBN 1 876222 segunda edición 2001 de 00 X (Set), (1 876222 09-12).
Gilgal International Training Academy (Inc)
A small non-profit organisation incorporated in the ACT, Australia (1988-2008)
Una organización no lucrativa pequeña incorporó en el A.C.T., Australia, (1988-2008)