People: Along the Way
La gente en el camino
Memories
Dr. Clive T. Gates is the author of SeeSayDo and keeps happy memories of these people.
Dr. Clive T. Gates es el autor de SeeSayDo y guarda memorias felices de esta gente.
Carol Allen-Ankins
Our friend Carol made the artwork for the stories in SeeSayDo.
Nuestro amigo Carol hizo las ilustraciones para las historias en SeeSayDo.
More of Carol's artwork can be seen in "Bridge to North Korea"
Más de las ilustraciones del carol se pueden ver en "puente a Corea del norte"
Carol's edited letters of her time in South Korea and North-East China.
Carol letras corregidas de su tiempo en Corea del sur y China nordestal.
Carol's family can be contacted through SeeSayDo or ask us how you may buy a copy of this small book.
Carol a familia puede ser entrado en contacto con con SeeSayDo o preguntarnos cómo usted puede comprar una copia de este libro pequeño.
About the book "Bridge to North Korea"
Acerca del libro "Un puente hacia Corea del Norte"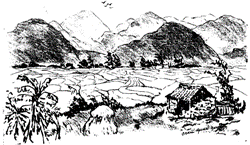 This is the real life story of the experiences in Frontier Mission of Carol Allen-Ankins, B.A., Dip. Ed., Dip Rem. Ed.,
Ésta es la historia verdadera de la vida de las experiencias en la misión de la frontera del carol Allen-Ankins-Ankins, B.A., inmersión Ed., retiro Ed. de la inmersión,
A high school teacher trained in teaching English as a second language.
Un profesor de la High School secundaria entrenó en inglés de enseñanza como segunda lengua.
She has a passion for North Korea born of her love of God and His call to her.
Ella tiene una pasión para Corea del norte nacida de su amor del dios y de su llamada a ella.
Here she tells how she is building a bridge into that country, commencing from South Korea, and stretching over to North-East China, as North Korea slowly opens to its neighbours.
Aquí ella dice cómo ella está construyendo un puente en ese país, comenzando de Corea del sur, y estirando encima a China nordestal, pues Corea del norte se abre lentamente en sus vecinos.
Carol is an Australian pensioner and a grandmother with eight children and 13 grandchildren, who is a gifted artist, as this book clearly demonstrates.
El carol es un pensionista australiano y una abuela con ocho niños y 13 nietos, que es artista dotado, pues este libro demuestra claramente.
She operates on the support of her faith and her pension.
Ella funciona encendido la ayuda de su fe y de su pensión.
The striking feature of her story is the reality of God's provision for her.
La característica llamativa de su historia es la realidad de la disposición del dios para ella.
Her story is in two parts, which tell of her experiences in the apposing ends of her bridge to North Korea :
Su historia está en dos porciones, que dicen de ella experiencias en los extremos apposing de su puente a Corea del norte:
the first part is set in South Korea where she went to gain first hand knowledge of Korean life and language; and the second is in North-East China.
la primera parte se fija en Corea del sur adonde ella fue a ganar conocimiento de primera mano de la vida y de la lengua coreanas; y el segundo está en China nordestal.
There she teaches English to Medical students drawn from among the more than one million North Koreans in that area.
Allí ella enseña inglés a los estudiantes de medicina dibujados entre de los más de un millón coreanos del norte en esa área.
For her, life begins at 60!
¡Para ella, la vida comienza en 60!
She challenges the capacities resident within us all at retirement!
¡Ella desafía las capacidades residentes dentro de nosotros todos en el retiro!
The excellence of her sketches and her dramatic experiences in those areas are both intriguing and amazing
La excelencia de ella los bosquejos y sus experiencias dramáticas en esas áreas es intrigante y asombrosa
Published in Australia by Gilgal International Training Academy (Inc)
Publicado en Australia por la academia del entrenamiento de Gilgal International (inc.)
ISBN 0 9857500 0 9
Dr. T.Z. Koo
Clive heard a message from Dr. T.Z. Koo which sent his life work towards Asia.
Clive oyó un mensaje del Dr. T.Z. Koo que envió su trabajo de vida hacia Asia.
Dr T.Z.Koo was guest speaker at ACM & NZCM for the World Student Christian Federation 1931 - 1941
El dr T.Z.Koo era altavoz de la huésped en ACM y NZCM para la federación cristiana 1931 - 1941 del estudiante del mundo
1. Antipodean Experience of the Federation : The Contribution of Dr. T.Z. Koo
Experiencia antípodas de la federación: La contribución de Dr. T. Z. Koo
http://www.ibiblio.org/ahkitj/wscfap/arms1974/Book%20Series/LivingInAWorldC/part1.htm
2. More Direct Involvement in the WSCF, 1952-1961
Una participación más directa en la FUMEC, 1952-1961
http://www.ibiblio.org/ahkitj/wscfap/arms1974/Book%20Series/LivingInAWorldC/part2.htm
3. Federation in East Asia
Federación de Asia Oriental
http://www.ibiblio.org/ahkitj/wscfap/arms1974/Book%20Series/LivingInAWorldC/part3.htm
Dr Joseph Needham
Dr José Needham
Clive's work with Dr. Needham increased his interest in China.
El trabajo de Clive con Profesor Needham aumentó su interés en China.
Joseph Terence Montgomery Needham (December 9, 1900 – March 24, 1995) was a British biochemist, but was best known as a pre-eminent authority on the history of Chinese science.
José Terence Montgomery Needham (de diciembre el 9, la 1900 – de marcha de 24, 1995) era bioquímico británico, pero era el mejor conocido como autoridad preeminente en la historia de la ciencia china.
Joseph Needham: Wikipedia, the free internet encyclopaedia
José Needham: Wikipedia, la enciclopedia libre del Internet
http://en.wikipedia.org/wiki/Joseph_Needham
The Needham Research Institute
El Instituto de Investigación de Needham
a centre for the study of the history of East Asian science, technology and medicine publishes:
un centro para el estudio de la historia de la ciencia asiática del este, la tecnología y la medicina publica:
Science and Civilisation in China
Ciencia y civilización en China
http://www.nri.org.uk/science.html
Joseph Needham's contribution to the history of science and technology in China by Gregory Blue (Science and Technology in the Transformation of the World : United Nations University : 1979)
La contribución de Joseph Needham a la historia de la ciencia y la tecnología en China por Gregory Azul (Ciencia y Tecnología en la transformación del mundo: la Universidad de las Naciones Unidas: 1979)
http://archive.unu.edu/unupress/unupbooks/uu01se/uu01se0u.htm