Links: Get Knowledge
Consiga el conocimiento
More Stories in Simple Forms of English
Más historias en formas simples de inglés
Bible in Basic English
Biblia en inglés básico
http://www.o-bible.com/bbe
SOON is an easy English web magazine for the world!
¡Un compartimiento fa'cil-Ingle's de la tela para el mundo!
http://www.soon.org.uk/
Wycliffe Associates (UK) also made a form of simple English called EasyEnglish.
EasyEnglish es una forma de inglés simple desarrollado por Wycliffe Associates (Reino Unido).
There is great interest in their stories.
Hay gran interés en sus historias.
http://www.easyenglish.info/
Wycliffe EasyEnglish Dramas
http://www.easyenglish.info/aee/drama/index.htm
Open Book Ministries share great stories of life in English and Urdu
Ministerios Libro Abierto comparten grandes historias de la vida en Inglés y Urdu
http://openbookministries.org/
Read a general history of the world in basic english by C.K. Ogden and E.H. Carter
Lea una historia general del mundo en inglés básico de C.K. Ogden y de E.H. Carretero
http://ogden.basic-english.org/ghos1.html
Wikipedia, a free encyclopedia
Wikipedia, la enciclopedia libre
Tens of thousands of notes on any subject written in simple English.
Decenas de miles de notas sobre cualquier tema escrito en Inglés sencillo.
http://simple.wikipedia.org/wiki/Main_Page
Basic English
Inglés Básico
Basic English: Wikipedia, the free internet encyclopaedia
Inglés Básico: Wikipedia, la enciclopedia libre del Internet
http://en.wikipedia.org/wiki/Basic_English
Ogden's Basic English
Inglés Básico De Ogden
http://ogden.basic-english.org/basiceng.html
A summary of Basic English: A General Introduction with Rules and Grammar by C. K. Ogden
Un resumen del inglés básico: Una introducción general con reglas y la gramática de C. K. Ogden
http://ogden.basic-english.org/booksum1.html
Ogden's Basic English Words through Pictures
Palabras del inglés básico de Ogden a través de cuadros
http://ogden.basic-english.org/wordpic.html
Basic English and Grammatical Reform by 'C.K. Ogden'
Inglés básico y reforma gramatical de ' C.K. Ogden '
http://www.crockford.com/wrrrld/begr.html
Basic-English Institute
Instituto Básico-Inglés
Basic-English Institute has many useful resources in Basic English
El instituto Básico-Inglés tiene muchos recursos útiles en inglés básico
http://www.basic-english.org/
Make a simple sentence in Basic English with John Derry's internet model of Ogden's word wheel.
Haga una oración simple en inglés básico con el modelo del Internet de Juan Derry de la rueda de la palabra de Ogden.
http://www.basic-english.org/learn/oww.html
Thoughts for Teachers
Pensamientos para Maestros
What is Wycliffe EasyEnglish?
¿Qué es Wycliffe EasyEnglish?
http://www.easyenglish.info/eewhatis.htm
A few tips on choosing input byby Tomasz P. Szynalski
Algunos consejos sobre la elección de la entrada por Tomasz P. Szynalski
http://www.antimoon.com/how/readwhat.htm
1. Choose content that you care about
1. Seleccione el contenido que te interesa
2. Read "n+1" texts. ie. One level above your level of English.
2. Lea "n +1" textos. es decir. Un nivel por encima de su nivel de Inglés.
3. Read texts written in "everyday" English.
3. Leer textos escritos en Inglés "todos los días".
4. Read the kind of sentences that you want to write or say yourself.
4. Lea el tipo de frases que desea escribir o decir a ti mismo.
5. Start by reading or listening to texts or programs by the same author.
5. Comience por leer o escuchar los textos o programas por el mismo autor.
6. Watch and listen to many episodes of an interesting series.
6. Ver y escuchar a muchos episodios de una serie interesante.
"The case for narrow reading" by Stephen Krashen : Language Magazine 3(5):17-19, (2004)
"El caso para la lectura estrecha" por Stephen Krashen: Revista Lenguaje 3 (5) :17-19, (2004)
http://www.sdkrashen.com/articles/narrow/all.html
Enquiries
Please forward enquiries about 'SeeSayDo' to Wes Gates
Investigaciones por favor, hagáse seguir sobre ' SeeSayDo ' a las puertas de Wes
Use as E-address prefix: wes
Uso como E-tratan prefijo: wes
Use site as E-address suffix: seesaydo.org
Utilice el sitio como E-tratan sufijo: seesaydo.org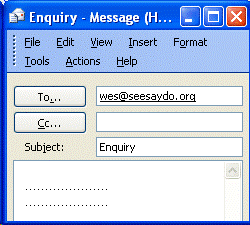 mailto:wes@seesaydo.org
seesaydo.org is still under construction.
seesaydo.org todavía está bajo construcción.
Please direct any technical queries regarding this website to:
Por favor, dirija cualquier consulta técnica relación con esta página:
mailto:webmaster@suttonnet.com.au
SuttonNet
Hosting by SuttonNet
For innovative solutions to your internet maze.
Para las soluciones innovadoras a su laberinto del Internet.
http://www.suttonnet.com.au