Unit 39: Names of Countries And International Terms
Pictured Words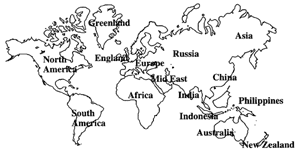 North America
South America
Greenland
England
Europe
Mid-East
Africa
Russia
India
Asia
China
Indonesia
Philippines
Australia
New Zealand
Blind From Birth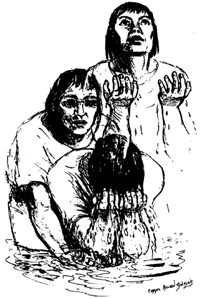 As long as I am in the world, I am the light of the world.
Having said these words, he put earth, mixed with water from his mouth, on the man's eyes, and said to him:
Go and make yourself clean in the bath of Siloam (the sense of the name is, Sent).
So he went away and, after washing, came back able to see.
Then the neighbours and others who had seen him before in the street, with his hand out for money, said, Is not this the man who got money from people?
Some said, It is he: others said, No, but he is like him.
He said, I am he.
So they said to him, How then were your eyes made open?
His answer was: The man who is named Jesus put earth mixed with water on my eyes, and said to me:
Go and make yourself clean in Siloam: so I went away and, after washing, am now able to see.
And they said to him, Where is he?
His answer was: I have no knowledge.
They took him before the Pharisees -- this man who had been blind.
Now the day on which the earth was mixed by Jesus and the man's eyes were made open was the Sabbath.
So the Pharisees put more questions to him about how his eyes had been made open.
And he said to them, He put earth on my eyes, and I had a wash and am able to see.
Then some of the Pharisees said, That man has not come from God, for he does not keep the Sabbath.
Others said, How is it possible for a sinner to do such signs?
So there was a division among them.
Again they said to the blind man, What have you to say about him for opening your eyes?
And he said, He is a prophet.
Now the Jews had no belief in the statement that he had been blind and was now able to see, till they sent for the father and mother of the man whose eyes had been made open, and put the question to them, saying:
Is this your son, of whom you say that he was blind at birth?
How is it then that he is now able to see?
In answer his father and mother said, We are certain that this is our son and that he was blind at birth:
But how it is he is now able to see, or who made his eyes open, we are not able to say: put the question to him;
he is old enough to give an answer for himself.
Additional Reading
The bath of Siloam was in the middle of Jerusalem in a public place.
It was large and basin-like in form and many persons took their water from it.
The water came to the place through a very long pipe-like structure that had been made in times of war by cutting through solid stone.
The cut had been made to take water from a spring which was outside Jerusalem and so it gave support in times of attack.
It had the name "sent" because the water came through from so far away.
This made Jesus' act very public.
Not only so, many had knowledge of who the man was who had been born blind.
The public nature of the event was sure to come to the notice of the authorities, who were the teachers of the law.
It may seem strange to us now that Jesus put earth, mixed with water from his mouth, on the man's eyes.
That would not seem to us to be a healthy thing to do.
But, it seemed then to give the kiss of health to the person who was given water from the mouth.
That belief was held generally in old times.
Historians tell us that a relation, when taking care of a baby, would take it in her arms and put her own mouth's water upon its head and lips.
The purpose was to keep it safe from attack by a spirit which had the name of "the evil eye".
Water from the mouth was used in many different ways to give good health.
This common practice was kept to by Jesus.
That lets us see that he made use of the normal ways of his time to do the good he had in mind.
He did not have to do things that way, but he took the same steps as others in doing his good acts.
The troubles this made with the authorities were many.
The teachers of the law said that he was working on the Sabbath by putting a paint on his eyes.
There were many things they said were wrong to do on that day.
For example, a man might not even be cutting his finger nails or go pulling a hair from his head.
They said that was work.
He might also not have shoes with nails in them because he was working when he took his foot off the ground!
There were many foolish rules like this, or so they seem to us now.
In those times these rules were taken seriously.
Jesus took an opposite view.
Then, too, it was wrong to do things that made people healthy on the Sabbath day.
It was right to keep them from death, but nothing could be done on the Sabbath to make their health better.
Here again Jesus was breaking the laws of the teachers of his day.
It was clearly said in their law that to put water from the mouth on the eyelids on that day was wrong.
It was for these reasons that they said, "That man has not come from God, for he does not keep the Sabbath".
The man whose eyes were made open had another opinion.
He said to the teachers of the law that Jesus was a prophet.
That meant that he was a man who said God's words to men, and so he was a man who let his whole life be near to God.
That was quite different to the view of the teachers.
They were not in agreement with him and they put him out of their society.
The man who now had his eyes open was able to see Jesus.
When he did see him and have knowledge of him he got down on his knees and showed his deep respect and thanks for the complete change which had been his experience.
Helpful Notes
| | |
| --- | --- |
| eyes made open | able to see. |
| | |
| --- | --- |
| old enough to answer | responsible at law. |
| | |
| --- | --- |
| notice of authorities | taken note of by the rulers. |
| | |
| --- | --- |
| attack by a spirit | harm by a strange being from another existence. |
| | |
| --- | --- |
| got down on his knees | a mark of the deepest respect. |
There are nine words which have not been seen among groups of words in the text:
| | |
| --- | --- |
| ball | round object made use of in play. |
| | |
| --- | --- |
| bulb | the root of a plant. |
| | |
| --- | --- |
| button | a means of joining together two pieces of one's dress. |
| | |
| --- | --- |
| collar | a ring around the neck or a long object. |
| | |
| --- | --- |
| drawer | a movable part of a storage box. |
| | |
| --- | --- |
| monkey | a common animal with many human qualities. |
| | |
| --- | --- |
| rub | to move objects against each other. |
| | |
| --- | --- |
| soap | a substance for washing. |
| | |
| --- | --- |
| stocking | a cover for the foot and legs. |
Interesting Facts and Records
International Terms
You have now become skilled in the basics of English, in both the words and the way to say things rightly.
That is a valuable thing because whatever you may wish to say you can now say clearly.
With these skills you can now get your grip on the wider knowledge of the English language that will give you the mark of a well educated person.
There are some words which are used in most major countries of the world, and these we call International Terms.
You have already seen most of them in Interesting Facts and Records.
It is only possible to give a selection of International Terms here because technology is changing very fast, leading to the development of more new terms.
The interest is in helping you to make up your own list with respect to the conditions you meet in the country of your choice.
57 International Terms
26 of these International Terms pertain to recent developments,
31 are older in nature and taken from a selection by "Richards, I.A. and Gibson, C. (1945) Learning Basic English: A Practical Handbook for English Speaking People, Norton & Co., New York".