Unit 17: The Imperative
Pictured Words
New Words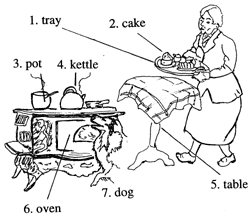 1. tray
2. cake
3. pot
4. kettle
5. table
6. oven
7. dog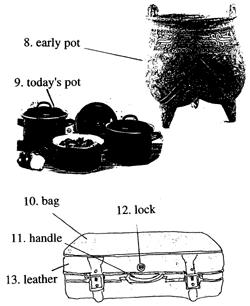 8. early pot
9. today's pot
10. bag
11. handle
12. lock
13. leather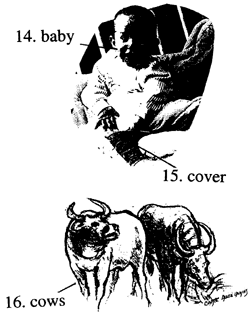 14. baby
1 cover
16. cows
Nouns
Adjectives
Sayings
The cook is putting her cakes on the table.
Meat is cooking in the pot.
Early pots were designed for standing in the fire.
Big bags are necessary for a long journey.
We put our coats on our backs, not in the bag.
The baby is smiling and very happy.
She can see cows outside the window.
Cows are animals that must have grass frequently .
The Imperative
In the two stories, "On a very hot day" and "The boy with the barley cakes and fish", our attention is got by giving orders.
These orders are called the imperative of the verb.
Examples are
he gave orders and said: take up your son.
send for her.
do not say what is false.
take him in to his mother.
send me one of the servants.
let the people be seated.
take up the broken bits which are over.
The simple verb is used without any changes.
This a way of giving force to the statement and giving it the sound of an order to the hearer.
It may also be in the negative, as in the statement :
do not say what is false.
The negatives of the above statements would have been:
he gave orders for the woman and said: do not take up your son
do not send for her.
do not take him to his mother.
do not send me one of the servants.
do not let the people be seated.
do not take up the broken bits which are over.
In these forms the words "do not" are used to change the sense from positive to negative.
The verb "let" is quite usually used to say soft orders:
let the people be seated.
It is still an imperative but it is a soft order.
Some examples from the story would be:
let the rest be for the needs of yourself and your sons.
let us make a little room on the wall.
let her be, for her soul is bitter in her.
The words "let us" only make a suggestion.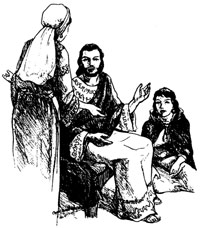 Two Sisters
While they were on their way, he came to a certain town;
and a woman named Martha took him into her house.
And she had a sister, by name Mary, who took her seat at the Lord's feet and gave attention to his words.
But Martha had her hands full of the work of the house, and she came to him and said, Lord, is it nothing to you that my sister has let me do all the work?
say to her that she is to give me some help.
But the Lord, answering, said to her, Martha, Martha, you are full of care and troubled about such a number of things: Little is needed, or even one thing only: for Mary has taken that good part, which will not be taken from her.
Additional Reading
The two sisters were Mary and Martha, and they had a brother.
His name was Lazarus.
You will have in mind that he was the one whom Jesus made to come back from the dead.
Well, Jesus was going down to His own death at Jerusalem.
It says that in other parts of the story.
So He was in effect making an attempt to get some peace and quiet in the house of His friends.
He was always with a great number of people.
Their desires and their needs always got His attention, so He was hardly ever left to Himself.
This was one house where Jesus' friends were, and there He could feel in harmony in His relations with others.
Because they were His friends the two sisters had a strong desire to make Him feel very important.
But the girls were different.
One of them said to herself, He needs food, I must feed Him.
The other girl said to herself, He is tired, I must let Him talk.
They had a different way of doing things.
It was natural that Mary should sit and give attention.
We are told in another story that this was the Mary whom Jesus made free of seven devils.
She was also the Mary who put sweet smelling oil on his feet.
She was a serious and sensitive person.
She had a feeling for his need for peace and quiet, so she gave attention to those needs.
Martha, on the other hand, was a good woman in the house.
It seemed to her that Jesus would need a big meal, so he would have the feeling of being looked after.
Now, it was a big business to get a Jewish meal.
Pots had to be washed a certain way, religious ways had to be given every attention.
Food had to be of a special nature and special care had to be taken with the washing of the hands.
So we can see why Martha got the idea that her sister was not being responsible.
Now-a-days we would say she was not doing her part.
Or so it seemed to Martha.
But, we see that both girls had their own way of behaviour when they put Jesus' needs first.
They were persons of a different nature.
The one thing Jesus had in mind, though, was to have the experience of a happy time with His friends.
He did not put any value on every detail.
He had a different kind of help in mind.
He came to their house for the experience of friendship and love.
As he said Himself, Little is needed and Mary has taken that good part.
Helpful Notes
| | |
| --- | --- |
| gave attention | the act of having thought for another. |
| | |
| --- | --- |
| harmony | pleasant relations with others. |
| | |
| --- | --- |
| seven devils | a serious condition of a person's self control. |
| | |
| --- | --- |
| religious rites | the accepted ways of religion. |
| | |
| --- | --- |
| experience | the position one is in. |